Take a Byte of the BHS Robotics Team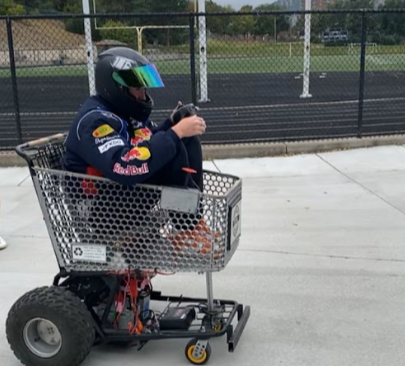 Mr. Zahner was a beloved teacher at Boulder High. One that was passionate about robotics and teaching his students. He was an incredible mentor who taught with enthusiasm that was reciprocated by his pupils. His love for robotics eventually led to the development of the primarily student-run Robotics Team, which has been competing in MATE robotic competitions for three years now. Sadly, Mr. Zahner's passing has left the team without his insightful tips and helpful ideas. This team has had to balance between honoring Zahner, getting funding and beginning the new robotics season.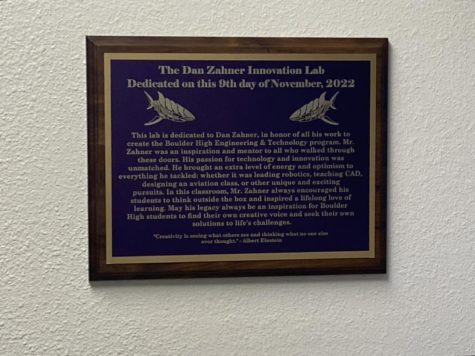 Just recently, on November 9th, the Millennium Lab was renamed to the Dan Zahner Innovation Lab to honor the teacher. In a touching show of support, approximately 70 people showed up to the grand renaming. A plaque was unveiled and stories were shared to commemorate the occasion. Many of Mr. Zahner's old students and family members were able to attend and take a peek into what he meant to others and how much he positively affected the community and school, allowing his legacy to continue to live on.
MATE robotics competitions are underwater-based tournaments, focused on sustainability and using renewable resources. Many students from around the world are given a strict deadline of three months to build a successful robot. Participants get a task manual and rule book in January and must have a completed working robot by March in time for their regional competitions. If the team does well like Boulder High's team did– completing regionals and moving on to the world championships – they get a chance along with participants from countries like Canada, Mexico, Scotland and even as far as Kuwait. Last year, this competition was held in Long Beach, California. Students left Colorado for about five days to compete with teams from all over the world, taking home a 6th place win. This year, the BHS team is hoping for the world championship to be held locally.
Although the team has been very successful, it has not been without difficulties. Students have been required to handle the financial aspects of the group, due to staffing shortages, and this has been a huge added stressor to the team. The old equipment that needs to be replaced and two new beginner teams that require money and new materials have been expensive. With very little corporate funding, the team has been left with outdated equipment that leaves room for more expenses the team must eventually pay to fix. Luckily, this will change later on in the year because, thanks to the Bartlett Foundation and school grants, the team has made enough money to replace some critically valuable equipment and most importantly fund everybody equally for the upcoming competitions.
Mentors, like Mr. Zahner, teach the basics and necessities, but when it comes to competition season, students must entirely build the robots themselves. No advisor help is allowed, which is one of the most appealing aspects of the group. After a very impressive season last year, the team is looking ahead to the next division, setting new goals: the crew plans on winning at least 3rd place in the world championship which would give them the ability to compete in the Explorer class, which is a college level of MATE robotics. "Everybody is welcome, regardless of experience. If you want to learn something you will be taught and accepted" Ryan Barnes '23, Captain of the team urges. Technology is the future and Boulder High's very own team is a part of this huge step forward.
Leave a Comment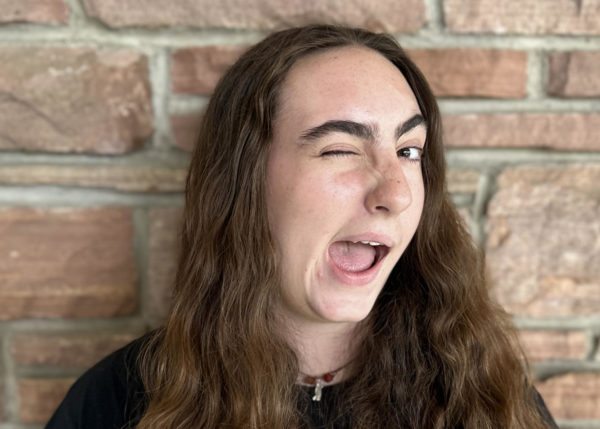 Madelyn Barnes, Arts & Entertainment Editor, Business Manager
Madelyn Barnes is finally a senior and is now faced with the real responsibilities that being an adult comes with. She is fearfully ignoring the ever-impending doom that is college applications and, instead, is choosing to learn how to crochet like the geezer she wants to be. Madelyn is excited to be a part of The Owl again and now is an Arts and Entertainment editor and Business Manager (hit me up if you want to make a sketchy transaction). She loves the hot weather—but is not a fan of global warming—and enjoys mucking about with her friends. Swimming in the rain is a newfound addiction Madelyn has (un)fortunately developed and will be moving to someplace with a beach as soon as possible....