Do the Crime, Pay the Time: Privelege and Punishment
In 1968, President Lyndon B. Johnson signed the first federal hate crimes statute that stated it was a crime "to use, or threaten to use, force to willfully interfere with any person because of race, color, religion, or national origin." Yet, in BVSD (Boulder Valley School District) this statute has not been followed due to the discriminatory aspects of BVSD's suspension policies.
It is no surprise that the United States Sentencing Commission has revealed that Black men statistically receive harsher punishments than white men who commit the same crimes. At every stage of the criminal justice system, black individuals receive harsher treatment than white people. As a result, even here in Boulder, black people are imprisoned at a startlingly higher rate than White people in jails and prisons across the nation. This is mainly due to structural racism, which is present in even the most "woke" communities. BVSD which has been praised as "a leader in Colorado and beyond in academic excellence and instruction innovation" has one of the highest rates of discipline for Black and Latino students in the state. 
The structural disparities in BVSD start as early as middle school. These injustices can have long-lasting effects such as jail time and unfair punishment in school systems. The parents of Black and Latino students in the BVSD became concerned that their children were being targeted more than their white counterparts. They realized that the after-effects of being unjustly targeted could create a dent in their children's life later on. According to Boulder Reporting Lab, BVSD released a detailed dashboard that illustrates that Latinos in the district are three times more likely to be punished than white students. Furthermore, the information released by BVSD suggested that Boulder High School had the highest suspension rate disparities compared to other schools in BVSD, for the 2021-2022 school year. 
At Boulder High alone Latinos account for 25% of our school, yet they make up about 66% of the suspensions. Suspension probability is much higher for students from low-income areas. According to the Education Research Alliance, low-income kids had a 9 percentage point higher likelihood of being suspended in a given year than their peers who are not low-income. This is why it's incredibly important that our school supports these students properly.
The study by Boulder Reporting Lab also revealed that Latinos account for about 19.6% of Broomfield High school, yet they had the lowest suspension rate in the 2021-2022 school year. A study from Regional Educational Laboratory in Mathematica also showed that Black and Latino students are less likely to be suspended in schools with higher proportions of Black and Latino staff and administration. So while having a BIPOC principal is a great step forward, it doesn't solve these issues because most day-to-day interactions students have are with the staff. Recruiting and retaining a more diverse staff is an alternative solution with a lot of promise nationwide. 
Regarding the data, however, Superintendent Rob Anderson said it was not wise to compare high schools because that would be generalizing all student bodies when they are quite different. Instead, it's crucial to analyze this data and recognize other injustices. Racial disparity in school discipline is a national issue. Generalizing all student bodies in terms of conduct is unwise, yes, but I imagine that just because the City of Boulder is not as affordable or diverse as other cities under BVSD does not mean that there aren't marginalized students in our schools who don't feel that they can identify, trust, or work with staff. At the very least, they deserve staff and administrators who are educated and trained to implement culturally relevant and inclusive policies. 
According to a School Psychology Review Study, the judgments made by classroom educators to refer a student for disciplinary action and the actions made by school administrators in response to those referrals cause discipline inequalities. Racial stereotypes may influence these referrals (Two Strikes: Race and the Disciplining of Young Students). A study by PLOS ONE (summarized by Harvard's School of Public Health) that observed white adults who worked with children indicated significant levels of unfavorable racial stereotyping toward non-Whites of all ages. The majority of negative preconceptions (laziness, stupidity, violence, and unhealthy habits) were found to apply to black people, while certain stereotypes also applied to Native Americans and Hispanic/Latinx people. These were most obvious in adults, but they were also noticeable in very young children, 0–8 years old.
If misbehavior can turn into violent behavior, and if the response of administrators can determine the path of a student, it is essential to re-evaluate the current punishments in place for students, who they're given to, and how to prevent offenses. Alternative preventive strategies that are not "race-blind" have proven effective. My Partner-Secondary (MTP-S) is an intervention based on research that seeks to enhance interactions between teachers and students. Several one-on-one coaching cycles make up the curriculum. Each cycle involves the teacher videotaping a session and spending around an hour chatting with the coach. To cut down on travel time, the cycle happens online. The teacher and a coach talk over classroom video clips and pinpoint pedagogical strategies and classroom dynamics that encourage student participation. MTP-S supports educators in creating clear classroom standards, enforcing consistent rules, and cultivating warm, respectful relationships. The program has also led to fewer racial disparities.
Culturally responsive alternatives that prevent punishment and the racial disparity between minority and white students are the steps we need to take to ensure that each student is on a path to success, and they are the steps that the district should consider taking as well. Although we live in a predominantly white area, it is important to account for the minorities at our schools and ensure we are doing our best to prevent them from facing disparities in school. A punishment that encourages, an administrator that acknowledges, and a school willing to break the cycle of structural racism at its roots is the necessary step schools across the nations are becoming aware of day by day.
Leave a Comment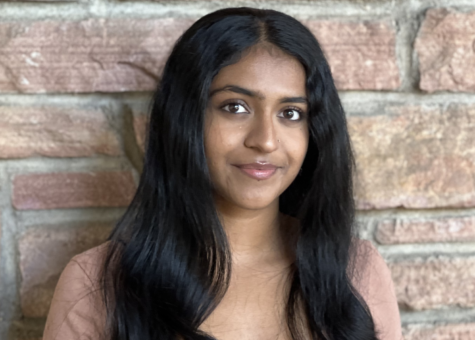 Saisree Kumar, Features & Insights Editor
Saisree is a senior who enjoys interviewing and featuring people at any chance. Since the age of 10, when she wrote an article about Will Smith using a discussion that had never happened, she knew she eventually wanted to interview people. Apart from Newspaper, Saisree enjoys taking contesting courses that she prays she will do well in just for a challenge. She is particularly interested in biotechnology and how it will either benefit or end the human race. She is an artistic person, very much in tune with her culture, and does Indian classical dance, violin, and vocals. To power the force Saisree attempts to be, she relies solely on purple grapes because they are higher in antioxidants and protect...