An Identity Crisis
How the ID Policy has Altered Boulder High
You've probably sat in a class this week and witnessed about 30 students without their IDs on full display. "Disgraceful," you think to yourself, "wow, these people are below me." Then you look down and see that you, in fact, are not sporting one either. 
The ID policy is a mandate at Boulder High that says students need to wear their IDs on their person throughout the day. Yet, one would only need to look around one's class, to see that seemingly no one is wearing their ID. 
Although the ID policy was implemented on September 19th, since then, there hasn't been much to show for it. The students of Boulder High aren't known for their overwhelming inclination to follow the rules, but with the new ID policy, they have truly taken this trait to the extreme. 
Evan McCarthy '26 says, "I wear it because I'm not gonna get busted over something as lame as not wearing my lanyard." Currently, there is no consequence for not wearing a lanyard (if there were, Boulder High would have to punish about 3/4 of the student body).
On the other hand, Sasha Elowe '26 has a visceral reaction to student identification, noting that "sometimes it kinda makes me feel like I'm suffocating, they also look weird and don't go with my outfits."
This isn't a new issue. In March 2019, the Owl published a story titled "The Injustices of Lanyards". This story was about the new policy on lanyard identification at the time, stressing the conflict affiliated with the new mandate. This article details the lack of compliance of students wearing their lanyards even back in 2019. We've tried this before and failed.
"Students can get an ID in the front office during any off period, their lunch, or before school. If students need a lanyard and/or an ID case, they can see Ms. Lily Haynes in the main office," says the Panther Post. Yet in the mornings, students have to wait outside in line to collect a visitor's pass if they don't have their IDs, which makes students visitors in their own school. 
Bella Benson '25 is very honest about her motivations behind wearing her ID: "I wear my ID because when I go through the library I get Hershey's Kisses from the librarian." Administration and teachers alike have been handing out treats as bribes for wearing their IDs, suggesting that the students' real motivation isn't to comply with the safety-inspired policy but simply to get a treat. 
The ID policy has been strenuous to mandate, so the administration seems to have given up on trying to implement it among students. As the students of Boulder High become accustomed to the new policy, the status of the ID mandate will become apparent, but for now, students seem to be choosing their level of compliance for themselves.
Leave a Comment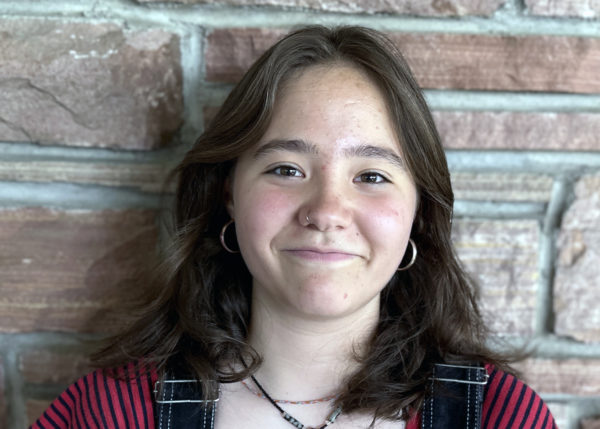 Jules Conners, Editor-in-Chief
This year, Jules Conners is an editor-in-chief of The Owl and a junior at Boulder High School. While not writing scathing and scandalous articles about composting, Jules spends the majority of her time on the basketball court playing alongside her all-star teammates. Jules participates in technical theater and is Head of Front of House for Troupe 60. She spends the rest of her free time creating art galleries for the Boulder Museum of Contemporary Art. Jules has changed so much over her past two years at Boulder High; most notably, she now prefers green grapes over red ones. As her second year at The Owl kicks off, Jules' biggest goal is to positively impact the Boulder High Community through...