Student Spotlight: Osvaldo Garcia Barron
Every day, the students of Boulder High accomplish amazing things. Here at The Owl, we have chosen to recognize these specific students through a segment called "Student Spotlight." This month we will begin by recognizing Boulder High student Osvaldo Garcia Barron '23 for his outstanding achievements in and out of school.
Osvaldo not only has an exceptional academic track record, but he is also the Leadership Enterprise for a Diverse America Scholar. Although wordy, this prestigious honor is only bestowed upon the most remarkable students. The LEDA mission statement is "[s]tudents from under-resourced backgrounds are underrepresented at the nation's top universities, diminishing their opportunities to become leaders in our society. LEDA works to close the gap." This program sends students to esteemed universities such as Brown, Stanford, Harvard, Yale and Princeton. 
Over the summer Osvaldo went to Princeton, in affiliation with LEDA. "Thanks to the LEDA program, I was able to participate in a five week summer institute at Princeton University where I engaged in a college-alike curriculum by taking writing, leadership, and college guidance classes," he says.
Osvaldo, as well as being bilingual in Spanish and English, has won Boulder High's Outstanding Freshman, Outstanding Sophomore, and Outstanding Junior. He also attended the Young Leaders Summit and is an Access Opportunity Scholar. Osvaldo says that although he is proud of these accomplishments, "But I would also like to mention that awards are not always a reflection of who you are as a person."
Osvaldo has earned many awards, and is the subject of many great honors, but he credits it all to his family, from which he will be the first generation to attend college. "My family is fundamental to my life, and I also credit them for instilling in me dedication, perseverance, and community values which motivate me to participate in efforts that are meaningful to me and could be deemed exceptional. Ultimately, it is my passion for helping others and my interest in pursuing a higher education that also contribute to me doing things I care about and are passionate about," wrote Osvaldo. 
He also has his eyes set on a great future. He's unsure on the ultimate outcome, like most students can relate to. He noted, "I am unsure on what exactly I want to do in the future. Regardless of this, I am sure that I want to pursue higher education. Given my passion for helping others and my deep interest in politics, social activism, and history, while in college, I hope to find a major that will allow me to combine these passions."
Osvaldo is very passionate about advocacy and helping to be a voice for the voiceless, "I believe that it is our responsibility as engaged humans to always do our best and contribute to the community without any hopes of getting any award or anything in return. As my mom says, 'do with your full heart and for the good of the world.'" 
Osvaldo Garcia Barron is above all a memorable person, and when asked what advice he would give to younger students, he replied, "…don't be afraid to take risks and seek out opportunities." as well as, "…be proud of yourself for your hard work and how far you have come. [W]e all learn from failure." All students could learn a lesson from Osvaldo Garcia Barron about doing your best for the people around you and striving everyday to create a better world.
Leave a Comment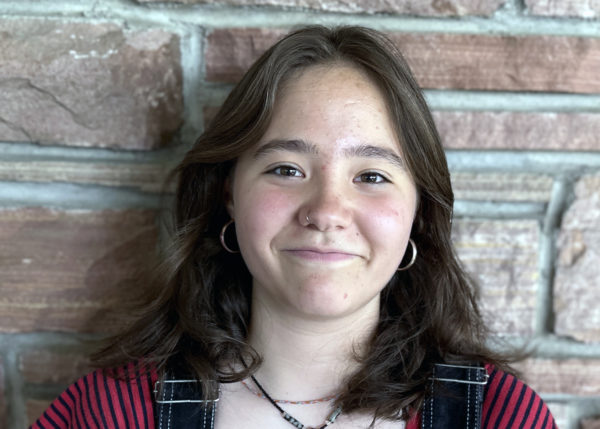 Jules Conners, Editor-in-Chief
This year, Jules Conners is an editor-in-chief of The Owl and a junior at Boulder High School. While not writing scathing and scandalous articles about composting, Jules spends the majority of her time on the basketball court playing alongside her all-star teammates. Jules participates in technical theater and is Head of Front of House for Troupe 60. She spends the rest of her free time creating art galleries for the Boulder Museum of Contemporary Art. Jules has changed so much over her past two years at Boulder High; most notably, she now prefers green grapes over red ones. As her second year at The Owl kicks off, Jules' biggest goal is to positively impact the Boulder High Community through...