Cinema of the Season: September
As time passes and changes, so does our media. It is so easy to get caught in the web of mass-produced shows and filler noise — which distract from the intricacies of the world. With that, here are some films offering nuggets of wisdom reflecting on art and why, above all, it is the greatest teacher.
Princess Mononoke – Hayao Miyazaki
Through a foreboding deep forest and up a fortress-like abode called Iron Town lies the glorious world of Hayao Miyazaki. In this film, samurai, lords and peasants who are customarily seen in other period films wait backstage as the true power is given to none other than nature. Humans and ferocious gods meet on the battlefield as three-tailed wolves and guns come head-to-head in a fight for the entirety of the world. Intimidating subject, no? The film cries for change as fire, destruction, and violence run rampant through the illustrious garden of the Earth — a familiar feeling of today. Miyasaki combines the ever-so-pressing issues of the climate crisis and gun usage with slow, kind and revealing scenes that remind the viewer of the majestic, even godly beauty of life. As Miyasaki wonderfully puts in his book Turning Point: 1997-2008: "[t]he way nature and humans interact incorporates within it the issue of the true essence of the existence of human beings, what we can call karma or fate." Playing with fate comes with consequences often in the form of nature—a theme carefully explored in the lengthy yet somehow concise 2 hour and 29-minute masterpiece. On an overall scale, Princess Mononoke is an expertly crafted, deftly envisioned, gorgeously photographed, swiftly paced & masterfully composed work of art and entertainment that transcends the confines of animation. It's a statement heard with thunderous clarity.
Minari – Lee Issac Chung
On top of the web of connection where we all sit lives family. Family often is one of the most defining things in a human's life. There's an all-consumingness about it that leaves one nothing to do but reflect. Lee Issac Chung offers such a reflection in the 20' film Minari. Sweet fields help the audience recall the indescribable sense of place. Its main argument is that the concept of home can only be clarified through having a clear understanding of the self as a part of that collective identity. The 1 hour and 55-minute run time is spent exploring different conflicts from religious beliefs and generational gaps, all the way to contrasting residential environments. Minari captures the hazy perspective of the parents, the old age of the grandmother and, most importantly, the childlike wonder of the two children. The resilient warmth with which this story is told is a filmmaking feat in and of itself. Hums of cicadas and the pensive score blend together to make you feel the farm's dirt beneath your feet and the Arkansas air in your lungs. My love for this film is planted, and something new is ready to grow.
C'mon C'mon – Mike Mills
The art of human relationships: a story ever-changing and ever-relevant. Mills cracks open minute moments to reveal the living, breathing gem that is love. Overlaid vocals and rich black & white landscapes make for a timeless, almost primal revelation of the deep interrelatedness of life and commitment. Crisp audio and standing shots fill the screen as life becomes effervescent in its complexities. There's play, pain and everything in between interlaced in the 1 hour and 48-minute long story. The film centers around Jonny (Joaquin Pheonix), as he is hurled into caring for his young nephew Jesse (Woody Norman). They embark on a cross-country trip to see life away from Los Angeles. Jesse has the curiosity and openness that most children hold, allowing the nine-year-old to bypass invisible customs of courtesy that Jonny knows. He simply asks why things are a certain way. As Jonny works to treat those questions respectfully, one finds themself encouraging their vulnerability like a proxy for similar purposes. Through a tenuous yet transformative relationship, Jonny and Jesse find themselves discovering the parts of themselves that need care and attention. Working on these opens up the skills to care for others and in this, lies the beauty of C'mon C'mon.
Leave a Comment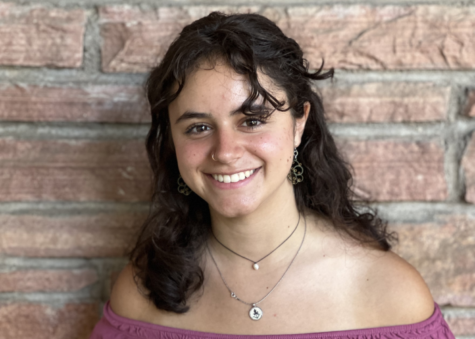 Leah Frankel, Arts & Entertainment Editor
Leah Frankel is the Arts & Entertainment editor for The Owl and a senior at Boulder High School. Outside the bustling atmosphere of the newspaper room, she co-leads Navig8 at the Boulder JCC and volunteers at their Milk & Honey Farm. She's a returning fellow at Kol Koleinu, a national Jewish-feminist group moving towards social work. Leah is a middle child of three girls and has been interested in both social justice issues and writing from a young age. In her free time, she loves to sing Ella Fitzgerald, paint, read at her cabin in Rocky Mountain National Park, hike with friends, and listen to a wide range of music! "I'm solidifying a real community here at The Owl. I can share...