Music for Summer
Sometimes, music comes to encapsulate a mood or season. This could be due to the sound, lyrics, or because of our association of it with a certain memory. And seeing as spring is in full force and summer is upon us, what better time is there to share seasonal music than now? 
Dragon New Warm Mountain I Believe In You by Big Thief
The latest from prolific indie rock outfit Big Thief is only more proof that folk music can be just as exciting as any other genre. The songs on the band's fantastic new album range from adorable to existential, while at the same time feeling remarkably personal and acting as a showcase for lead singer Adrianne Lenker's remarkable songwriting abilities. "What if all the worlds in space/ Would melt into one single place/ And intertwine the human race/ With other kinds," croons Lenker on "The Only Place", one of the album's final tracks. Despite how metaphysical Lenker gets, the music never fails to be sublimely cozy, like talking with a close friend around a fireplace in the dead of night. And as often as Lenker peers out into space and wonders what the meaning of life is, she reminisces on its beauty just as much. "I've been listening to the laughing/ Of the fox down the trail/ I've been clasping to the listening of the moss to the snail/ The shimmer of the beech leaves/ As the wind does a big sneeze," she sings on the heartwarming "Promise Is A Pendulum", a delightful portrait of the small things that make life so great, minuscule as they may be.
The Mollusk by Ween
The Mollusk, and Ween, are known by most for the song "Ocean Man", which plays during the end credits of the Spongebob movie. And while "Ocean Man" is a wonderful song, it is only one of many amazing tracks off of The Mollusk, and Ween's discography as a whole. Almost every track off of this nautical-themed album is bizarre in the best way possible, in that they all sound psychedelic to the maximum. But if there is one thing that The Mollusk does absolutely perfectly, it is atmosphere. "The Blarney Stone" is a crude sea shanty so detailed and well put together that one can imagine themselves in a bar packed with pirates singing the tune, while "Polka Dot Tail" sounds as though it was recorded while high on LSD in a submarine floating in the middle of the ocean, an endless wave of guitars rippling off into the deep sea. But the album's shining jewel has to be "Buckingham Green ", a chilling orchestral track full of reverb and acoustics that slowly builds into one of the coolest guitar solos one will ever hear. As The Mollusk fades out with a slowed and pitched down version of the intro track, it feels as though a ship has sailed, the submarine now docked, the bar that was once filled to the brim with joyous pirates empty.
Bon Iver, Bon Iver
This 2012 self-titled record from Bon Iver, the brainchild of singer-songwriter Justin Vernon, is nothing short of pure bliss. On it, Vernon keeps the nature theme from his debut record For Emma, Forever Ago, but mostly discards the acoustic ballads in favor of a genre-bending blend of rock and folk. And what a blend that is; the songs on Bon Iver seem to stretch out forever, creating dreamlike soundscapes that range from epic to understated to everything in between, and are complemented by Vernon's obtuse lyricism. Opener "Perth" begins as silence, followed shortly by Vernon's squeaky voice over a charging beat before the song explodes into what sounds like an elven battle anthem, a chorus of horns over drums that sound as large as the forest itself, while "Holocene" centers around minimalist instrumentation, an acoustic guitar and quiet snare creating the structure for Vernon's lamentations on his morality. "And at once I knew/ I was not magnificent," he bellows. And just like Lenker on Dragon New Warm Mountain, Vernon manages to dispense his darkest feelings without it ever negatively affecting the mood. The whole album is gorgeous, the perfect music for a camping trip or summer hike through the woods; and even though the music can get a bit out there at times, such as on the ambient "Beth/Rest", Bon Iver is still a listening experience unlike anything that has come before or after it.
Leave a Comment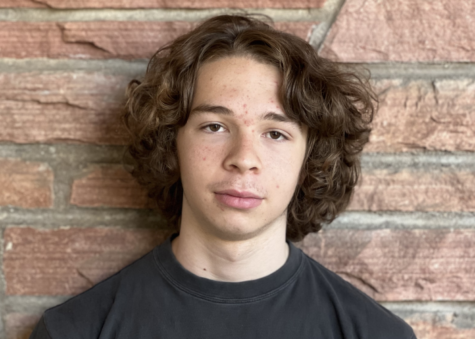 Lucca Swain, Social Media Director
Lucca Swain is a senior writer for The Owl and is currently in his third year of working for the publication. Lucca joined The Owl because he loves writing about and exposing readers to the topics and ideas that fascinate him, and this year he is extra committed to furthering that goal, despite how challenging it can be. In his free time, Lucca enjoys reading, listening to music, and exercising. Lucca also is also a firm believer that green grapes are superior to their purple brethren in every way, especially in flavor and texture.