Concerto Competition a Resounding Success
On Friday, December 10th, three of Boulder High's musicians competed in the annual school Concerto Competition. While usually written for soloists accompanied by an orchestra, the students performed selections from a concerto of their choosing with only a piano accompaniment.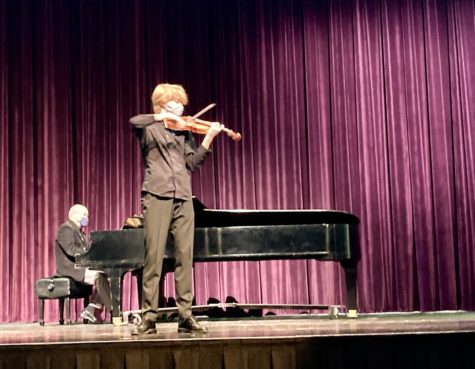 Sam Meyer, '22, performed the first movement of Bruch's Concerto in G Minor on violin. Concertos are often in three movements that typically retain (and repeat) ideas but are separate from each other; Bruch's Concerto differs in that the first movement is a prelude for the second. It's widely considered to be a staple of violin repertoire, featuring a variety of tuplets (rhythms that subdivided unevenly in the time signature), double stops, and octaves. Meyer's performance of the cadenzas (an ornamental melody played by the soloist) was particularly strong, especially in their emotional quality. " I did my best to focus on the expressionistic aspects of the piece without becoming preoccupied with my technique," he reflected.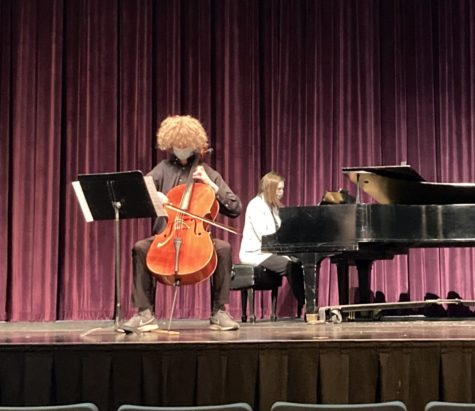 Senior Liam Abbott played the Adagio (first movement) of Elgar's Cello Concerto. Elgar composed the piece after WWI to little acclaim, until renowned cellist Jacqueline du Pré recorded it in 1965. Its tone is more somber than the other pieces performed, and is characterized by a theme reminiscent of Harry Potter, as well as several technical runs towards the end of the movement. Abbott, accompanied by pianist Karin Buer, captured the darker energy of the piece while smoothly navigating the fast-paced scales and string crossings.
Nina Dawallu, '23, won the competition with Weber's Andante and Hungarian Rondo on viola. Weber originally composed the piece for the instrument but adapted it for bassoon, as it's usually heard today. Dawallu noted that she picked the piece because "it has contrasting moods and characters… it's a showpiece; it shows a lot of skill." The Andante is lyrical and reaching, complementing the fast-paced and technical Rondo. Dawallu's intricate phrasing and lilting melodies were accompanied by Tony Tenenbaum, who also played with Meyer. Placing first means that Dawallu will play as a soloist with a full orchestra this February. "I enjoy the performance experience, and performing a lot helps me grow musically," she remarked.
Boulder High's Wind Ensemble and Symphony Orchestra, with Meyer, Abbott, and Dawallu, will perform at the Synergy Concert on February 23rd.
Leave a Comment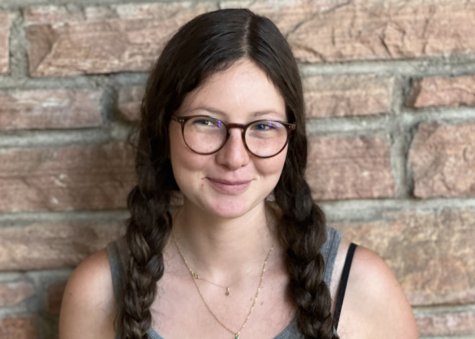 Hannah Cohen, Editor-in-Chief, Copy Editor
Hannah (rhymes with fauna!) Cohen is ecstatic to be working on the Owl for her third and final year. She loves stories in all their forms, but she mostly has opinions on obscure podcasts and which New York Times opinion columnists are defacing the good name of journalistic analysis. When not busy with stumbling through sheet music, editing nonfiction for jGirls+ Magazine, or seeking out the cheapest bluegrass venue, Hannah enjoys wandering around the mountains with her friends and lovely labradoodle. Although she's slightly preferential to the sweeter, more robust taste of red grapes, she knows that the bliss of biting into a crunchy grape transcends color.