"A Girl Has Only One Thing On Her Mind"
A Review of Netflix's Wednesday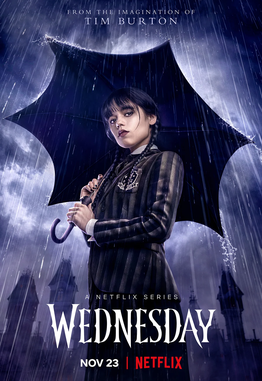 Partially directed by Tim Burton, the comedic thriller Wednesday was released on Netflix on November 23, 2022. The chaotic mixture of comedy, horror and fantasy makes watching this show a monstrously good time, for the most part. 
In Wednesday, the famous daughter of Morticia and Gomez Addams travels to a magical boarding school called Nevermore. Here, she rushes to solve the mystery of odd deaths around the supernatural school. 
Within a week of release, Wednesday seized the title of 'Most-Watched English- Language Netflix Show,' topping hits like Stranger Things. Tim Burton is notorious for making gothic-type, witty, dark media like this. His other hit media include Beetlejuice, Big Fish and Edward Scissorhands. 
Although the popularity of the show is increasing rapidly, many different opinions are circumnavigating the internet. Some critics, mainly in the goth community have seriously big opinions on how "emo culture" is portrayed. 
The Owls' resident goth girl, Jane Dunbar '22, has some strong opinions about the show, "I think she gives all emos a bad name," says Dunbar. "I feel like all the emos are happy, and she's not happy, which is messed up." Wednesday Addams is not just snarky, she's just plain mean. 
Dunbar continues, "I don't like it at all, I think Netflix is a company with a lot of money, and they still got that dog-looking CGI." Wednesday's CGI has been causing some criticism, websites like Game Rant, and Looper suggest that Wednesday's CGI is its downfall. 
Despite the criticism, Wednesday will be renewed for a second season, although the date of release is unknown, fans wait eagerly for the next season.
Leave a Comment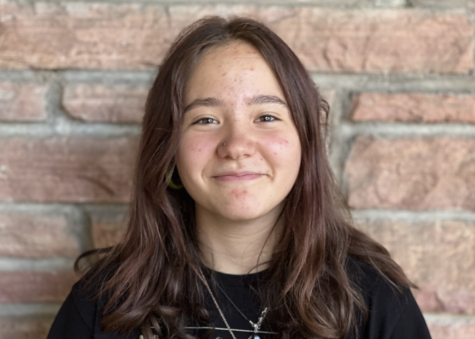 Jules Conners, News Editor
Jules Conners is a sophomore at Boulder High and despite being new to The Owl, is very passionate about journalism. In her free time, she plays basketball for Boulder High alongside her all-star teammates. In addition, she is the front-of-house co-head for the theater department and participates in the art club. Jules refuses to learn how to drive and refuses to eat green grapes. Her dream job is to be a photojournalist for National Geographic because of her passion for photography. A picture speaks 1,000 words! She also loves to express herself through writing and is excited about this opportunity with The Owl!