Music for Darker Days
Pavement, Crooked Rain, Crooked Rain
Pavement is one of the most beloved indie bands of all time, yet among the younger generation, they are practically unknown. The band had an unexpected resurgence in 2020, though, as "Harness Your Hopes," a random B-side off of another one of their albums, blew up on TikTok. Even so, it seems that Pavement's resurgence never went further than one song, which is a darn shame, because Crooked Rain, Crooked Rain is one of the finest and most joyous rock records of its or any era. From the album's opening glitches, Pavement sounds (almost) totally free, whether it be in the noir stylings of "Newark Wilder", or the buoyant "Elevate Me Later". However, that doesn't mean that Crooked Rain carries no emotional baggage; far from it, actually. "Stop Breathin" is the most obvious example, with its downtempo riff and somber lyrics ("Write it on a postcard/Dad they broke me/ Dad they broke me"), or the absolute gem that is "Range Life", where the narrator fantasizes settling down on a farm, freeing himself from the never-ending stress and worries of modern life. On Crooked Rain, the riffs are beautiful, the music is carefree, and the whole experience is nothing short of life-affirming.
Lil Ugly Mane, Volcanic Bird Enemy and the Voiced Concern
Travis Miller, known otherwise as Lil Ugly Mane, is most certainly one of the most fascinating musical figures of his generation. His breakthrough came in 2012 with the fantastic Mista Thug Isolation, an album of grimy beats and hard-hitting bars that paid homage to the heyday of Memphis rap. Mista Thug was a landmark album for internet rap, and Lil Ugly Mane a progenitor of what would become the Soundcloud trap movement that would birth stars such as Travis Scott and XXXTentacion. What Travis Miller did next was drop three largely instrumental albums followed by Oblivion Access and Flick Your Tongue Against Your Teeth Against Your Teeth And Describe The Present, two of the bleakest, most harrowing hip-hop albums in recent memory. After this, Travis Miller practically disappeared for several years, before returning in 2021 with Volcanic Bird Enemy and the Voiced Concern. How can you even begin to describe Volcanic Bird, other than "it sounds like the album cover", which isn't much help considering that the cover and title are just as incomprehensible as the music? What Volcanic Bird definitely is, though, is undeniably beautiful. At its core are the same themes of depression and meaninglessness present on Oblivion Access and Flick Your Tongue, yet unlike those records, Volcanic Bird Enemy is an extremely comforting listen. The instrumentation is as soothing as it is uncanny, while the lyrics range from bizarre ("Meet me in the countryside/Where the mountains look like hostages tonight) to beautiful ("But I can't think of every rose you plant for me/ Where I am/ Beauty makes me freeze and turn away") to brutally blunt ("I have a tendency to promise sh*t/ That I can not accomplish/ Like the energy to take the garbage/ Out of my apartment."). Listening to Volcanic Bird Enemy and the Voiced Concern is equivalent to falling down the endless rabbit hole that is Travis Miller's mind, but what a delightful rabbit hole that is.
Leave a Comment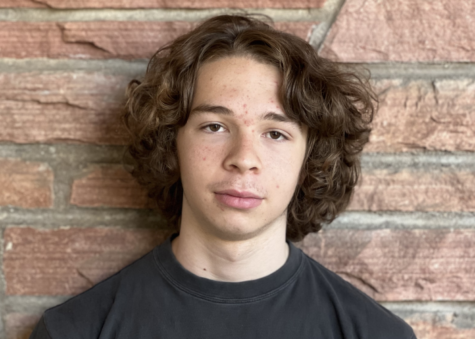 Lucca Swain, Social Media Director
Lucca Swain is a senior writer for The Owl and is currently in his third year of working for the publication. Lucca joined The Owl because he loves writing about and exposing readers to the topics and ideas that fascinate him, and this year he is extra committed to furthering that goal, despite how challenging it can be. In his free time, Lucca enjoys reading, listening to music, and exercising. Lucca also is also a firm believer that green grapes are superior to their purple brethren in every way, especially in flavor and texture.