You Wish You Were Betty White
Betty White remains an inspiration to many of us still, even after she passed in her sleep on December 31, 2021. Only a few weeks from her 100th birthday, she accomplished countless things, starring in numerous shows and movies as well as advocating for issues in society like human rights. Away from the cameras, she also volunteered in World War II as part of American Women's Voluntary Services. Creating a name for herself wasn't difficult, as she began with playing minor roles in plays, hosting radio shows, and reading ads. This limited visibility didn't last long as she began landing more prominent roles.
Shortly after, Betty White created her own radio show called "The Betty White Show" in the 40's, as well as her own productions company, Band Productions, where she produced "Life with Elizabeth" and earned her first Emmy. Thereafter, she played on game shows including "To Tell the Truth," "What's My Line?" and "Password" where she met Allen Ludden, who she remained married to from 1963 to his death in 1981. In that time period, she continued growing her following, earning a prominent role in "The Mary Tyler Moore Show," where a woman named Mary Richards moves to Minnesota and eventually works for the lowest ranked television newsroom in the town. From her performance, she earned three Emmy Award nominations and won in 1975 and 1976. Now gaining popularity rapidly, she also starred in "The Golden Girls" as Rose Nylund from 1985-1992. Her performance in the role resulted in seven Emmy nominations and winning in 1986. After the end of the show, a spin-off was produced, called "The Golden Palace," and White once again played the part as Nylund. She continued to succeed, earning Emmys for appearing on "The John Larroquette Show" and hosting Saturday Night Live, as well as three American Comedy Awards as the funniest female actress in a TV series. In total, White received 22 Emmy nominations, of which winning five Emmys and one Honor. 
Though she could've focused on her fame and fortune, White advocated for women's rights and civil rights throughout her career. When producing her own "The Betty White Show," she went out to hire women as directors. In the time period, this was rare to find, as women were viewed as props for men and didn't have much of an influence in the creation of programs. She then hired Arthur Duncan, African-American tap dancer, as a permanent performer. As a response, the production's affiliates in the South threatened to boycott the show, and White responded with, "Live with it." Even "The Golden Girls" promoted LGBTQ+ rights, unseen elsewhere. 
Betty White, saying she was "Born a cockeyed optimist," certainly ascertained this characteristic, fighting for what she believed throughout her life despite the challenges she faced. Though she was not the primary star of our generation, the things she accomplished and the way she changed the media industry is immense, and we should all learn to honor White's story and aspire to reach your goals like she did.
Leave a Comment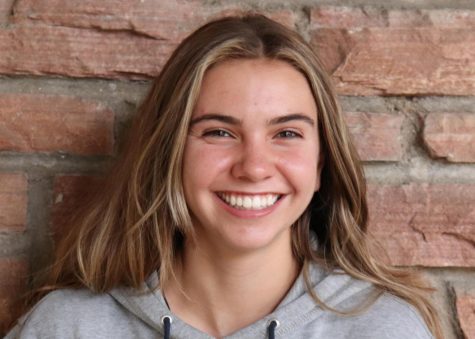 Caitlin Rogers, Staff writer
Caitlin is a senior at Boulder High School and a new member of The Owl. By joining the newspaper, she hopes to use it as an outlet to share interesting stories, dive deeper into topics that interest her, and have a more thorough understanding of journalism. Not only does she like writing, but she plays both club and high school soccer. She started the sport when she was in 4th grade and has continued to love the game more each year. Unless she has soccer practice, she often goes to get boba tea with friends or the swings at North Boulder Park at night with them. Ever since she was young, she's loved to bake cakes and cupcakes. Her favorite part of the process was decorating and making them...