A Vision and Mission of Trust and Respect
Next school year, Dr. Alana Morales will assume the principalship at Boulder High. Dr. Morales brings her passion for education and drive for connection, along with two decades of teaching and three years in the role of assistant principal. Her arrival was announced in February, two months after Dr. Hill announced he was taking a job with district management.
Dr. Morales became involved in education by coaching, starting in her freshman year of high school. She then realized that she "wanted to do more to support kids" and began her career as a student-teacher. At first, she didn't know if this was the path for her—education has never been a high-earning job. Still, Dr. Morales believed that education was her calling, particularly after having a student of hers commit suicide. She made a vow, saying "I was going to make sure my kids were okay. And my students were my kids."
Eventually, Dr. Morales wanted a larger role in education. She hoped to have a greater impact and make the decisions that created a better life for students: whether that was through mental health advocacy, listening to parents, students and teachers, or finding ways for more inclusivity in grading. To her, administration fills that niche. Dr. Morales wants students "to know that they have a trusted adult on campus." She emphasizes that a guiding principle she follows is working for that trust between her and students, and hopes to carry that into her principalship. 
Dr. Morales understands she is the "new person in the community" and underlines that she wants to understand the community first before making plans: "…it's about listening and learning, because I have a lot of learning to do." 
At BHS, she plans to listen to what the student, teacher and parent communities need, holding that "when you come as the new person, you have to honor what's there." She mentions creating a student advisory board that acts as a representation of the student voice to help her understand the challenges and concerns students have that need to be addressed.
A large concern throughout Boulder High is mental health, particularly following the past several years. For Dr. Morales, "mental health is huge." Her oldest child had severe mental health struggles, so she has seen how mental health affects teens from a mother's and an administrator's perspective. 
Mental health is inextricably linked to drug use amongst teens and Dr. Morales believes that "we as the adults in the building have to understand that it's the stress… and that's how it's manifesting." Her approach to dealing with substance abuse in school is to give support by progressive discipline via social and emotional help, as well as enforcing the minimum consequence. She maintains that "…you have to look at what's causing the behavior way back before you start thinking about consequences." 
In the past two years, power structures have begun attempting to address race. A new tangle in this debate is the role of the education system in this national discourse. Boulder High is a predominately white high school. Dr. Morales believes that acknowledging race in classrooms is essential to a complete education and that the administration has to ensure that teachers of all subjects feel comfortable talking about race. 
She underscores that representation, especially in books, is pivotal in this discussion, especially as book banning is resurging throughout the country. "You have to look at how that character is portrayed, [or] how that race or ethnic group is portrayed [in media shown at school]." When a group, such as African-Americans, is shown in media, they are often misrepresented and overtly victimized. "Why can't they [Black people] be the hero? That's the context that I think is missing." Dr. Morales grew up being "that kid" who was the token Black student, so bridging the gap between racial disparities and the way racial differences are taught in school is an interest of hers. 
Intrinsic in our national discourse over how to approach discussions of race in education is the role of School Resource Officers (SROs). In November 2020, BVSD enacted plans to discontinue its SRO program in 2022, citing disproportionately high rates of tickets issued to students of color. Dr. Morales, meanwhile, spoke highly of SROs at her current school. "From a personal perspective, I do think that SROs are very valuable to have on campus because I think that they provide a lot of services outside of just safety." She noted the need for a good relationship between SROs and the community at large and emphasized her willingness to defer to BVSD's policy.
Dr. Morales believes that relationships, whether between SROs and students or administration and parents, are built on trust and respect. At her current position being Assistant Principal, there was recently a four-day mask strike that consisted of hundreds of students protesting outside the school. Dr. Morales said that the school took steps to ensure the students were safe while protesting by setting guidelines, so they could still exercise their rights. It is all about "modeling flexibility" and respecting those around you- an attitude she says she plans to bring with her into her position at Boulder High.
According to Nathan Hobbs, a science teacher who interviewed various candidates for principalship, the principal holds three major roles: managing different interests in the community, solving problems and representing the school in the district and state settings. Dr. Morales wants to add another: creating constructive relationships between administration and students. "Students come to see me in the assistant principals' office… I love supporting students and helping them find their way," she notes.
Leave a Comment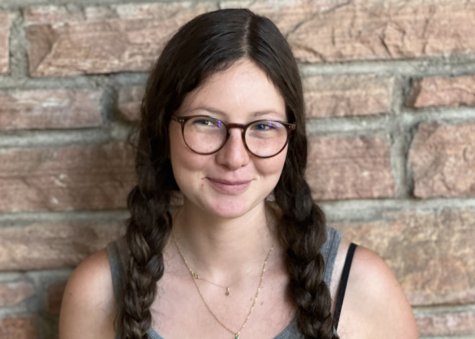 Hannah Cohen, Editor-in-Chief, Copy Editor
Hannah (rhymes with fauna!) Cohen is ecstatic to be working on the Owl for her third and final year. She loves stories in all their forms, but she mostly has opinions on obscure podcasts and which New York Times opinion columnists are defacing the good name of journalistic analysis. When not busy with stumbling through sheet music, editing nonfiction for jGirls+ Magazine, or seeking out the cheapest bluegrass venue, Hannah enjoys wandering around the mountains with her friends and lovely labradoodle. Although she's slightly preferential to the sweeter, more robust taste of red grapes, she knows that the bliss of biting into a crunchy grape transcends color.