A Whole Lot of Grappling
Among the sports at Boulder High, success has always been a given. And that does not just go along the lines of the "big sports," such as basketball, football, and soccer. In the new winter season of sports, the success only continues. The small, 15-man team is starting the season off very well and is looking to continue their success in the coming months.
So how does wrestling work? Well, there are first weight classes that people are divided into. That way, a 130-pound person isn't coming up against a 200 pound, 6'4" giant. Now, our Boulder High team is quite small in numbers this year at the varsity level, filling about 6 or 7 weight classes. So how is there 15 people? Well, there are matches called "exhibition matches" in which JV wrestles before the Varsity teams duke it out.
Before the whole event, however, there is a coin toss to determine who will present their wrestlers first for each match. To build on this, it is emphasized that sportsmanship is key, even though the two are going at it, attempting to pin the other's shoulder blades to the ground.
Another way to win, however, is to push your opponent outside of the ring that is displayed on the mats, similar to sumo wrestling. After each 2 minute match, the victor is awarded 6 points for the team, and that continues for 3 matches per person.
However, wrestling is not just an all-out street fight, as some may think. Touching on the note of sportsmanship, there are specific rules to follow. The basic rules of wrestling involve the four different moves you can use to win a match. These rules are known as "takedown", "escape", "reversal" and nearfall. Wrestlers must follow the guidelines of these to win a match, and the inability to follow these rules would result in a loss for the match.
Boulder High has always been very good at wrestling, and most of this can be attributed to the vigorous training that they do from the autumn season. The training "is the hardest thing I've ever had to do, or probably will do in the future," according to former wrestler Teague Moffit. Lots of weight training and "intense cardio" are the most common practices, as well as putting that in a sweaty gym with a dirty mat. Because of this training, Moffit can attest to the fact that the team is "individually very good," however the small size of the team can affect the overall team performance.
Despite the general male showing in this sport, there is no discrimination, as women and gender nonbinary people can also participate, just by signing up just like any other sport, if they so please, which can be seen by one of Boulder High's opponents, Silver Creek, who has a woman on the team.
However, there is a slight flaw to the sportsmanship that the wrestlers, coaches, and spectators all take pride in following, and that is the rule of wearing a mask at all times. Now, this is not meant to be another Covid article, however, one must question the enforcement of this rule, especially as at the beginning of the Silver Creek meet, the announcer asked kindly for everyone to remain wearing their masks.
This is not just seen in wrestling, as almost all winter sports participants are not wearing their masks correctly. It can be frustrating to be forced to wear a mask over your nose and mouth while grappling, running, crawling, sweating and breathing heavily, but with the Omicron variant having a 25% positivity rate in Colorado as of when this article was written, I'm sure no one would want to catch the virus and possibly cause their team's season to be thrown out the window.
While being one of the most underappreciated sports at Boulder High, the wrestling team is very successful, just like many of our other sports, and just as exciting. With only four matches left to go in the season, go out and support your very own Boulder High wrestling team!
Leave a Comment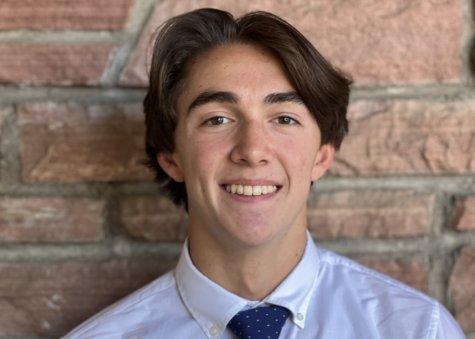 Calvin Boykoff, Sports Editor
Calvin Boykoff is a senior at Boulder High, entering his third year as a member of The Owl. This year, however, Calvin is entering into a leadership position and has taken upthe role of sports editor. Aside from writing and editing The Owl, Calvin enjoys video production and editing, which he sees as a career path he would like to pursue. He sees his future outside of the United States and is looking toward university in the United Kingdom or the Netherlands. In addition to his interest in media and video work, Calvin is a diehard soccer fan, playing for the varsity team this fall and supporting Chelsea Football Club. After every game or practice, Calvin loves to chow down on just about any food...