Why I Prefer In-Person Learning
After living through a year of online school, I can confidently say that it was the worst year of my high school experience. I'd log onto a class on Google Meet, listen to a teacher's lesson, and they'd send us off to work on an assignment in our isolated space. Instead of being able to collaborate in person, we had to text friends for help and try to work it out on our own. I felt that I was learning less, struggling to keep up with my work and secluded from friends.
Each day, I'd wake up, wash my face, brush my teeth, change from my pajamas to my "school sweatpants" and go to class in the same space I sleep in. Without having a separate space for learning, I felt mixed emotions about my room because I was confused about whether it was a place to relax and sleep or a place of tension. I felt confined to one area; most of our cameras on the school calls were off, so I couldn't even see my peers indirectly.
At school I can easily ask teachers for help, but virtual learning made this process difficult. Instead of asking questions during class in person, I'd have to unmute in the Google Meets call, which raised my anxiety since everyone could hear me and it felt as though everyone was watching. Coinciding with this, I could rely on my notes sitting next to me in open-note tests, allowing me to cheat myself into never truly learning material. I wasn't the only one feeling that I was learning less- it was a widespread phenomenon. According to Horace Mann, more than 97% of educators noted that there was some learning loss in their students when compared to other students in past years.
The collective stress from feeling isolated from friends and from being surrounded by homework made me question my mental health. I felt constantly worried with perpetual assignments that I didn't fully comprehend, and couldn't even use soccer as an outlet (as I have since I was in 4th grade) after the 2020 spring season was canceled. CNN reported that 25% of parents observed that for their children that had virtual classes, they noticed a significant worsening of their mental health. 
Being back in person helped resolve these problems, with more access to help, seeing friends, and an easier time juggling work. The future is murky, and though the pandemic continues, I hope that we don't go back online and I can finally experience a second "normal" year of high school since it's my last chance. The way we can make in-person school more likely to stay and to protect others is by wearing masks correctly and getting vaccinated.
Leave a Comment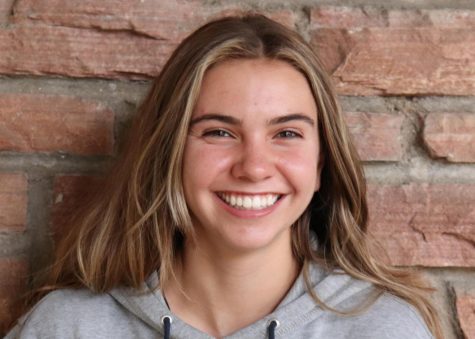 Caitlin Rogers, Staff writer
Caitlin is a senior at Boulder High School and a new member of The Owl. By joining the newspaper, she hopes to use it as an outlet to share interesting stories, dive deeper into topics that interest her, and have a more thorough understanding of journalism. Not only does she like writing, but she plays both club and high school soccer. She started the sport when she was in 4th grade and has continued to love the game more each year. Unless she has soccer practice, she often goes to get boba tea with friends or the swings at North Boulder Park at night with them. Ever since she was young, she's loved to bake cakes and cupcakes. Her favorite part of the process was decorating and making them...