Boulder High Sunrise Movement Members Detained after Peaceful Protest
Due to ongoing legal events, the names of students have been retracted from this article in order to protect their privacy. 
On Friday, Jan. 9, six members from the Boulder High chapter of the Sunrise Movement traveled to Denver with the intention of protesting through the act of singing inside of the Denver Capitol while Jared Polis was giving his State of the State address. However, their plans were quickly shut down as once they started singing state troopers arrived and started to escort them out of the building. Five Boulder High students were ticketed and one arrested on the basis that they were trespassing, disrupting a lawful assembly and engaging in unlawful conduct in a public space.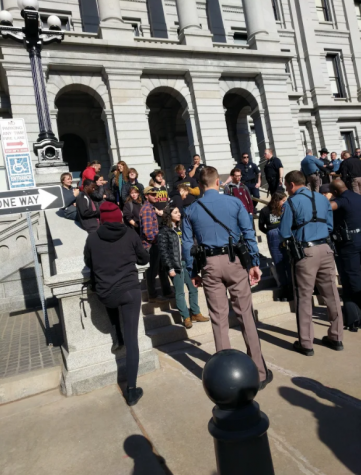 As part of the Sunrise Movement, the Boulder High Students first entered the Capitol and stood outside the Senate Chamber, where Polis was giving his address, and started singing a song they adapted to address their climate change concerns. However, shortly into their song, state troopers escorted them out of the building and started arresting and ticketing them. All Boulder High students who were under the age of 18 were detained, ticketed and assigned court dates while the one student over 18 years old was arrested. One of the protesters from Boulder High that was ticketed commented that the Sunrise Movement "didn't go in with the intention of getting arrested. We went in with the intention that we were going to sing, and when the police and security guards told us to stop, we would stop. We were under the impression that we would be able to leave on our own accord." Despite their intentions, the arrested student was still taken to the Denver Detention Center and held for 26 hours, spending the night in a Denver jail cell. She was released around 2 p.m. on Friday. The student from Boulder High was the only high schooler to be arrested and among the youngest of all the detainees.
The Boulder High students who participated were part of Sunrise Movement, a climate justice club representing the voices of young people on climate issues and global policy. On Thursday, they protested in the capitol in response to Jared Polis's failure to reprimand fracking and encourage renewable energy. When he was elected, he ran on the basis of renewable energy, yet he now says he does not believe fracking should be banned, which has angered many climate activists and Coloradans. When asked about the governor, a student commented, "Jared Polis was elected seemingly on the basis that he was pro-environmental justice, that he would take action that we wanted him to. He is not the forward thinker that we thought he was going to be." When asked about their motive for taking part in the protest, one participant declared, "It's about demanding bolder action from our leaders on climate change. We've been [to the capitol] several times, and we have a list of demands which include declaring a climate emergency and quicker transition off of fossil fuels and stopping fraction specifically near this one school in Greeley [Bella Romero Academy]." According to an article from the Denver Post, Polis met with reporters after the incident but refused to comment on the protests, as he did not witness the actual demonstrations. 
The Sunrise Movement Club at Boulder High has now set up a GoFundMe with the hopes of raising $30,000 to help pay expenses for legal advising and fines. 
Update: 1/15/20 10:30 am, According to an article in The Denver Post, district attorney spokesperson Carolyn Tyler has now revealed that no minors will be charged or ticketed, yet the Denver District Attorney's office is still waiting on the arrest reports before resolving the 18-year -old's case.