Teacher Tats
The art under the sleeves of Boulder High's faculty
Tattoos are a creative way to share identity. Many of the teachers at Boulder High sport some interesting tattoos, and the artwork etched in their skin is a testament to influential parts of their lives. What better time to celebrate the stories that lie behind their ink than Inktober? Many would probably never guess that Ms. Becky, the librarian, has a tattoo. She memorializes her dachshund that passed away with a tattoo on her ankle.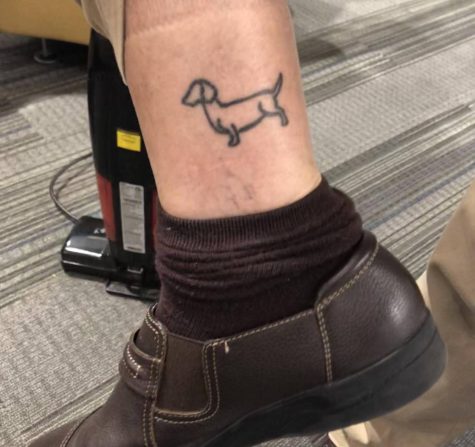 While Dr. Hill doesn't showcase his tattoos because of his position as a public figure, he is proud of them all the same. "Tattoos are a big part of sports culture," he explained. "My first tattoo was in my freshman year of college, and it was the result of a nickname that I had when I was playing football — 'Thrill Hill.' As he matured, Dr. Hill got tattoos that were more meaningful to him. On one arm he has a Bible verse, Philippians 4:13. On the other arm is a quote from Frederick Douglas, one of the people that he admires most: "if there is no struggle, there is no progress."
Dr. Duncan similarly stands by the belief that "if there is no struggle, there is no progress." While she doesn't explicitly have Douglas's quote, she represents this idea with a tattoo of Ganesha, the god of thresholds and obstacles. She confided that, for her, Ganesha is "representative of changes that have happened in [her] life, and how these changes are important."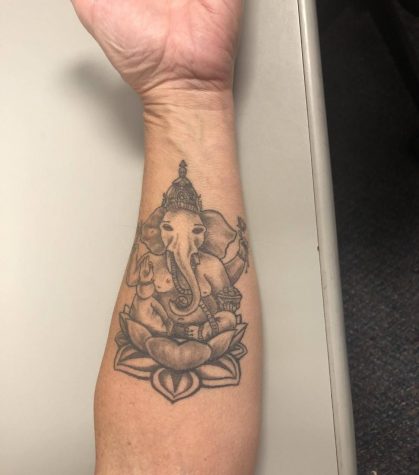 She shared wise advice: "You need to have challenges in order to learn and grow, and so it's kind of an inspiration for me to think that it's
a positive thing, and not a negative thing, to have to work hard and struggle." She thinks the meaning behind her tattoo applies to her students as well, because many struggle and deal with failure in her chemistry classes. Ganesha's noticeable placement on her forearm is right where she and her students can see it — a constant inspiration. "Plus," she added, "when I flex my arm I can make his ears wiggle."
Ganesha was also a source of inspiration for Ms. Taylor, and her tattoo reminds her of a difficult time in her life when she had to surmount and remove obstacles. Her other tattoo is the symbol for her all-time favorite band, Grateful Dead.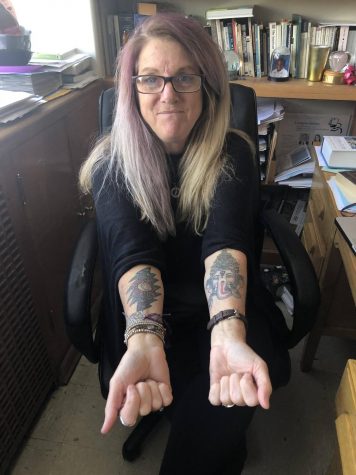 Tlingit Northwest Pacific Art snakes up Mr. Wright's arm in an intricate tattoo. Similar to the story of Prometheus, his tattoo portrays the Tlingit myth of the raven that flew to the sun to bring light, fire, and knowledge from the sun back to Earth.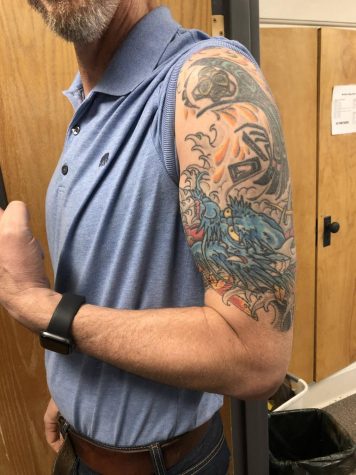 Mr. Offill, a social studies teacher, portrays his passion for the subject he teaches and its impact on his life through an elaborate arm tattoo venerating resistance movements across history. The tattoo includes a bolded "The Anarchists" above the faces of influential figures such as W. E. B. Du Boise, Karl Marx, Malcolm X, Subcomandante de Marcos, Martin Luther King, and Emiliano Zapata. The entire piece represents a woodcut from 1886 about the Haymarket Market affair in Chicago that was the start of the modern labor movement in the US.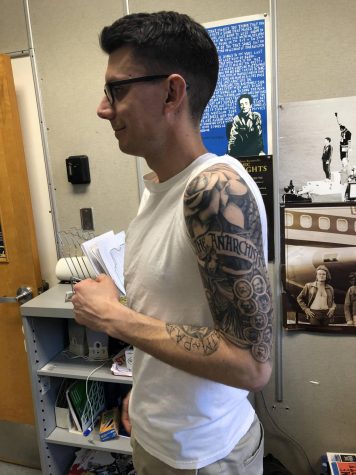 In total, the tattoo took about two years to finish — around six sessions, four hours apiece. Mr. Offill is planning to get a panel down his arm over Thanksgiving break. It's going to "kind of be its own thing," so stay tuned!
When he worked in the more straight-laced and traditional Texas school system, his tattoos elicited critical remarks. But here at Boulder High, we celebrate art and expression. So celebrate your teachers' tats! Many have interesting stories that you'd never know otherwise…