You Marched… Now What?
Six ways to stay involved after the global climate strikes
The Global Climate strikes that took place on Friday, September 20th were an inspiring movement led by youth all over the world that left many people motivated to continue the movement and increase their action to create change and truly bring an end to the fossil fuel era. Early numbers estimate that a total of 4 million people took to the streets in different strikes around the world. While this incredible turnout provides hope for change and potential for a brighter future, simply marching for one day is not enough. If you felt inspired by the global climate strike, here are some easy ways to continue to use your voice to spark change. 
1.  Get involved in the Colorado Climate Strike Week of Action: This week there are events all over Colorado to continue the action and demands initiated by the Denver climate strike. Visit Colorado Climate Week of Actions for more information
2.  Call your representatives: Senators Cory Gardner (R) and Michael Bennet (D) are often too busy to answer their office phones; however, they have staff members who must listen to every message called in and record it. Then, at the end of the month they compile a list of the top issues to bring up to the senators. While this may seem like a slow process, a large number of calls on an issue such as climate change can be brought to the attention of lawmakers themselves, causing them to release a statement or take action. Colorado congress is supposed to represent the voices of the Colorado people. Make sure your voice is being represented.
Contact Cory Gardner and Micheal Bennet by calling the U.S. Capitol Switchboard at (202) 224-3121 and request to speak with Senator Gardner or Senator Bennet's office.
3.  Educate yourself: Education is one of the most powerful tools. Educate yourself on how climate change is affecting our world in various ways. Learn about the risks that climate change poses for our society and how you can prevent these risks. Become an expert and activate your power to create change. Get involved in your community and support organizations that are already making a difference for these causes— or start your own. 
4.  Ride your bike to school: Yes, this seems simple and mundane considering it has been programmed into the heads of Boulder kids since elementary school as a way to save the planet, but it actually can make a difference. By reducing the amount of fuel you are burning from driving, you are reducing the amount of CO2 emissions released into the atmosphere which will help to halt global warming. A study done in Wisconsin found that "if 20% of short car trips were replaced by bicycle trips in Milwaukee and Madison, it would prevent 57,405 tons of carbon dioxide from being emitted." Plus, riding your bike to school is a great way to get some early morning exercise before a long day of learning!
5.  Donate to causes helping the movement: Money talks. While actions within your community are always beneficial and can seem to have more of an immediate impact, where you donate your money matters. Find organizations that are helping to decelerate climate change and support them. Here are some reliable organizations that are helping to support the combat against climate change and supporting the younger people who are doing it:
Greenpeace International: a global, independent campaigning organization that uses peaceful protest and creative communication to expose global environmental problems and promote solutions that are essential to a green and peaceful future.
Earth Guardians: an organization that trains diverse youth to be effective leaders in the environmental, climate and social justice movements across the globe – using art, music, storytelling, on the ground projects, civic engagement, and legal action to advance solutions to the critical issues we face as a global community.
Environmental Defense Fund: an organization whose main goals are "to solve the most critical environmental problems facing the planet. This has drawn us to areas that span the biosphere: climate, oceans, ecosystems, and health. Since these topics are intertwined, our solutions take a multidisciplinary approach. We work in concert with other organizations — as well as with business, government, and communities — and avoid duplicating work already being done effectively by others."
6.  Change your diet: Research from Greenpeace shows that the livestock industry – raising of cattle, chickens, and pigs- creates more greenhouse gases than all of the automobile industry combined. This is due to the amount of energy that is needed to raise, feed and eventually kill these animals as well as transportation of the meat across the globe. Additionally, the building of many livestock farms calls for the deforestation of many acres in places like the Amazon rainforest which reduces the amount of trees that are natural carbon sinks and absorb these CO2 emissions. By, simply choosing to eat less meat you can reduce your own carbon footprint and make a small but impactful difference.
So yes, striking and making sure your voice is heard is a great way to bring awareness to issues our world is facing. But don't stop there. Continue to educate yourself and do your part to bring change to our world. 
Leave a Comment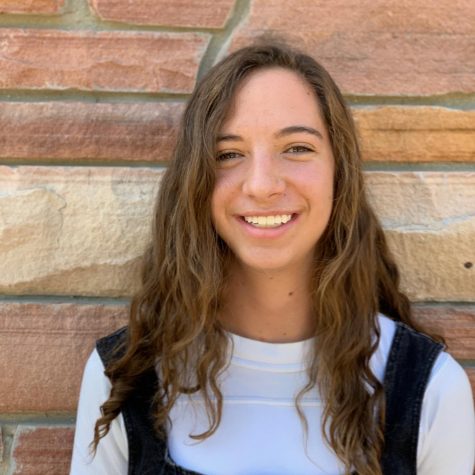 Cate Landry, Writer
Cate is a senior this year at Boulder High School, and in her free time, she enjoys playing volleyball, swimming, and hiking in the beautiful mountains of Colorado. Cate has always loved to write, and she wanted to learn more about journalism by finally joining The Owl! She has never been exposed to journalism before and is excited to make her debut in The Owl this year. Cate is enthusiastic about making The Owl popular once again at Boulder High. She hopes to create a more significant following for the paper, so everyone at Boulder High and the community will read The Owl daily! Her friends and family members are the ones who inspire her every day to be the person she wants to be, and the relationships...