The Demon Barber on Arapahoe Avenue
Troupe 60's Smashing Production of Sweeney Todd
Forty-three years after its initial premiere, Stephen Sondheim's critically acclaimed Sweeney Todd: The Demon Barber of Fleet Street was brought to Boulder in an impressive performance by Troupe 60. The show ran for four bewildering nights through March 30th – April 2nd at the Boulder High Auditorium.
Sweeney Todd, an unjustly banished barber, returns to nineteenth-century London to seek revenge against the lecherous judge who wrongfully exiled him (and assaulted his young wife in this classic tale), forcing him to part with his wife Lucy and his daughter Johanna. Todd's quest for vengeance brings him to Mrs. Lovett, the cunning owner of a struggling pie store above which he launches a new barbershop. Mrs. Lovett's fortune changes when Todd's desire for blood drives her to add a rather distasteful ingredient to her meat pies that have locals lining up. Along the way, we also follow the life of Todd's daughter, Johanna, who was stolen by Judge Turpin, and her love interest, Anthony.
This drama highlights themes of revenge, love and murder. These aspects of the horror story have contributed to the controversy regarding whether Sweeney Todd should be performed at a high school. However, director Shelly Cox-Robie did a phenomenal job preserving the original work's dark humor and enormous grandeur while making a few lyric and key tweaks to make it a high school-friendly production. The selection of such a challenging piece not only highlights the capability of Troupe 60's talented actors to separate fact from fiction, but also the theatre department's will to expose students to gothic literature rather than simply "honeyed" stories with a happy ending.
Sweeney Todd was brought to life with ease and precision by Spencer Neuman. While Neuman is younger, his presence is commanding and you feel his anger and heartbreak through his soothing yet thrilling vocals. The play is dark and menacing; it manages to maintain a sense of innocence by having Anthony, played by Rei Belmont, '22, and Joanna, played by Ella Mortenson, '23, fall in love and desperately try to unite. Mortenson's vocals were stellar and a delight to listen to, and her Johanna is beautiful and convincing. Belmont's Anthony had sublime vocals as well while his character most directly resembled Jamie Campbell Bower's Anthony in the movie Sweeney Todd (2007), especially during "Johanna". 
I was lucky to see another warm and gifted performance by Leo Servetar, '22, as Tobias, who had many memorable moments as sweet Toby. I especially enjoyed "Not While I'm Around." The intensity is similarly subdued by comedic relief provided by Signore Pirelli, played by Gigi Wright, '22, Mr. Todd's shaving competitor (and later victim) whose "magic elixir" and Italian flair got some good laughs. 
Sweeney Todd is well known for its multiple leads, but the biggest surprise I discovered was that Mrs. Lovett was as much the focus of the show as Sweeney. This is largely due to an exceptional performance by Isabel Fronzaglia, who I thought had similar elements of Angela Lansbury and Patti Lupone combined in the initial productions while adding her unique flair to the character. Both her comedic timing and maintenance of a comprehensible Cockney accent for the duration of the show were impeccable. 
Aside from the acting itself, the most striking contributions to the musical were the set, the lighting, and the pit. Simple yet versatile, the set which was brought to life under Artistic Director Chris Sweeney by Troupe 60's SetCon was very impressive. However, the chair in which all of Todd's victims were murdered and thrown away by was by far my favorite set addition as it was exciting to watch. 
The red lighting by Lights director Isabel Bucher Padilla, '22, combined with the stimulating music the pit provided, directed by Beau Bryson, contributed to the gothic horror, especially the organ played by Kate Schwab, '22, and the percussion played by Biana Ianetta, '23, and Mia Williams, '22. The makeup, hair, and costumes for each character also was very time-like and transformed actors into their 17th-century Londoner selves. 
The chorus, directed by Kelly Carmicheal, was rich and powerful as well, especially during my favorite number, "City on Fire." Ms. Carmichael herself said the most challenging piece to learn was City on Fire because "there's so much going on and it's the lunatic scene so it's very crazy but we had to make sure the music wasn't crazy," she said. 
The piece was received quite well by the audience. Many debated over whether the killings in Sweeney Todd's barber shop were the best scenes or the climax where the beggar woman, played by Sasha Laugen, '22, and Allison Lydic, '22, was revealed to be Todd's long-lost wife. Aspen Malmberg, a junior at Boulder High, said her favorite part of the show was "the final scene when Sweeney shoved Mrs. Lovett into the fire after they waltzed." Mrs. Ruger, a Spanish teacher at Boulder High, said the highlight for her was "how interactive the set was and the voices of all the actors." 
As for the actors, Isabel Fronzaglia, who played Mrs. Lovett, said her favorite musical number to perform was "without a doubt "A Little Priest," an absolute marathon of a song," she said, "but the audience's energy was electrifying and it was so fun to perform." A challenge she faced, she said, was "deciding how to play Mrs. Lovett. Finding my balance of how I wanted to portray her was extremely important to me and difficult," and she without a doubt found her balance. All in all, it was a joy to attend the dark and witty tale of Sweeney Todd, and congratulations to Troupe 60 for putting on an incredible show!
Leave a Comment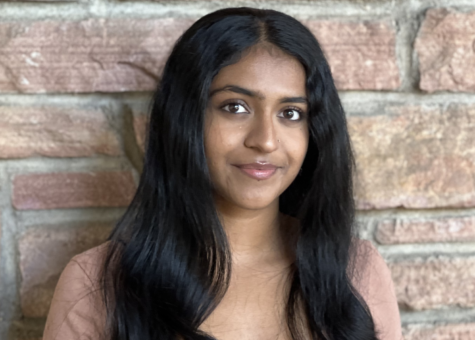 Saisree Kumar, Features & Insights Editor
Saisree is a senior who enjoys interviewing and featuring people at any chance. Since the age of 10, when she wrote an article about Will Smith using a discussion that had never happened, she knew she eventually wanted to interview people. Apart from Newspaper, Saisree enjoys taking contesting courses that she prays she will do well in just for a challenge. She is particularly interested in biotechnology and how it will either benefit or end the human race. She is an artistic person, very much in tune with her culture, and does Indian classical dance, violin, and vocals. To power the force Saisree attempts to be, she relies solely on purple grapes because they are higher in antioxidants and protect...