Sittin' With Bishop – Beloved Coach to AD
Boulder High School has a new athletic director, a man who is already known around the school for his booming voice, huge smile and unwavering dedication to his athletes and the general student body. This is Ryan Bishop. He has been a teacher and coach in "The Land of Purple and Gold" for 14 years. I had a small sit down with him recently to get a deeper dive into his thoughts on the new position, the community at Boulder High, and his goals moving into his new position.
You've been at the school for 14 years now, what has the transition been like for you going from coach to AD?
Transition has been easy, you're still a coach,  just instead of coaching just your focus sport,  you're now coaching all sports, not only the students but also the adults. So you know, my job as a coach was always to develop and shape young men and young women. Well now it goes with adults as well. Now you're shaping the whole umbrella not just you know the handle or the top.
What are your overall goals for that community building and how do you plan to continue to do projects like GiveBack day?
 Yeah, I mean the GiveBack day was huge and I think that, you know, allowing students to come in and do a little bit of work for their school allows them to take a little bit of pride in their school. It's real easy for us to go by the trash can, shoot a basket, miss, and just keep walking. But when you're the person that spent the whole day cleaning that stuff up, now you're gonna stop, you're gonna pick up that piece of paper, you're gonna throw it away properly. So I mean, community is huge for me, and this is the community where, you know, my family's going to go to school and where I've been raised around and, you know, it's something that… It means a lot to me when people buy in and walk out. The idea that I painted that and I did that.
How do you plan to keep your personal connection to the community you hold so dear? 
You know, the job can't change me, can't change who I am. There's certain things that I have to focus more on, but still going out to practices, you know, stepping in and, you know, taking a pitch against a softball pitcher,  punting against the football team or trying to dig a spike with the volleyball team. Still being involved and still smiling and having fun.
What are some long term plans you have for yourself and the school?
Long term, I got 15 years to retire. So, in 15 years I plan on, you know, leaving this office in better hands and I took it, when Mr Hartnett took it,  every AD leaves a little better. And so when I leave here in 15 years, you know, I want to be able to walk down the halls and see those state championship trophies, those all conference chauffeurs, and people walking around with a sense of pride that, you know, not only did they graduate from Boulder High, but they were also participants in student athletics and activities here at Boulder High.
Building on that, you said you want to see the state championship trophies, it's kind of a general consensus around Boulder that if you're a star athlete, they want to go to Boulder South, it's just kind of the default. What are your plans to change that?
I think that, you know, word of mouth of our community and what we're building here you know by hiring the right coaches and hiring the right teachers and getting the right administration, you know we're there. And so now it's just a matter of, you know people want to come here and people will start to come here and the you know they'll stop the open enrollment because we are doing something special here and so like I've told everybody from the day I took over here is, you know, as a football coach like if you want to be a part of something special, come here.
And in order to keep our programs so special, what do you look for when hiring new coaches? I'd love to know about the thought process.
First thing you're going to look at is relationships, you know,  how do these coaches have relationships in their current job and former jobs, with their employers, with their employees, with the students. I mean, relationships are key, I haven't always coached the most talented teams, but I've coached teams that have played hard, because we had such a strong relationship. I think finding the right coaches that want to build positive relationships with young adults is important to me. Yeah, yeah, I mean I feel like that's just something that's kind of overlooked, right where it's more here at the school, they're just kind of trying to project like, Oh, you have to be this big athlete all the time, as opposed to I feel like your mentality was always building up up as a man, as you know as a, as a woman and just kind of pushing that forward.
Leave a Comment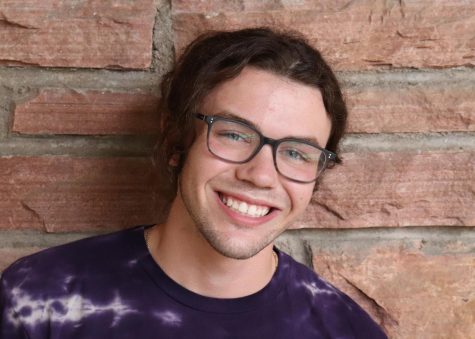 Cody McConnell, Sports Editor
Cody McConnell is a senior here in The Land of Purple and Gold. New to the journalism scene and The Owl staff, he is passionate about writing and is ecstatic to be able to share his views and opinions with the wonderful community here at Boulder High School. Cody has been a football player for most of his life, playing for both Fairview and Boulder High, and he thus is well-traveled within the athletic community around town. He constantly tries to maintain a positive mentality and spread kindness to those around him. From his point of view, the world needs more uplifting people to oppose the sea of darkness and despair. He credits the BHS community for allowing him to improve as a whole, and...