What's Problematic About "Bridgerton"
Watching Bridgerton is fun. As our lovely Isabel Oliver wrote in an earlier article, it's a "romantic, steamy and dramatic show that will keep viewers on the edge of their seats." And it does keep viewers enraptured and entertained—it's been described as a Regency Era Gossip Girl, and a whole magical, over-the-top, fantasy-cinderella-land of a show. It's not all sparkles, though; Bridgerton also was created to intentionally address race and gender—difficult and relevant topics. Unlike typical Regency Era pieces, Bridgerton includes people of color as part of the main storyline and as a part of the background setting. The women seem to have brains of their own and aren't just simpering over rich guys. So, at a first glance, Bridgerton seems pretty perfect. 
It's definitely not. 
When I first watched Bridgerton, I was hooked. I binge-watched it all in less than a week and did like it. As a true period-piece lover, some of the historical inaccuracies like the music and costumes slightly bugged me, but I got that it was all a part of the Bridgerton fantasy deal. However, once time had passed since I initially watched it, I'd begun to feel frustrated and just slightly confused with some aspects of the show. I was stumbling around on YouTube and saw a video by Khadija Mbowe titled "Race-baiting, queer-baiting, colorism, featurism, and performative diversity," and it was talking about Bridgerton. After watching it, besides taking away that Khadija is brilliant and a queen, I realized there's a lot more wrong with Brigderton than I had thought. 
Bridgerton is, in the words of Phoebe Danvers, the actress playing Daphne Bridgeton, a "family show." Obviously, there are some scenes that aren't suitable for young children, but it is a lighter production, and mostly dances away from violence or painful intensity. The ball scenes have instrumental pop music, there are scenes with fireworks and generally a fantastical, at times almost Disney-esque atmosphere. It's ridiculously cheesy. There's definitely an attempt to appeal to a slightly younger audience. But if Bridgerton is truly a "family show," they'd have to be very cautious about what exactly they're depicting. It's a fantasy world, yes, but the subjects that Brigderton bridges also carry weight. The atmosphere surrounding racial inequality and oppression in the United States right now isn't exactly peachy. Contrary to appearances, Bridgerton doesn't deal with the representation of people of color all that well.  There's also a lot of sex in the show and it's not depicted in an ideal way.  
Initially, I thought that Bridgerton was cast colorblind, meaning that the race of the actors would not be taken into account during auditions. However, the casting is actually color-conscious; series creator Chris Van Dusen said in a statement that colorblind casting would mean that "color and race were never considered when color and race are a part of the show,"  and "we wanted this show to reflect the world that we live in today." However, the part of the show where race is even mentioned is exceptionally brief. "We were two separate societies, divided by color, until a king fell in love with one of us," says Lady Danbury to Simon about halfway through the season.
That quote indicates that there is racial tension in the show, yet it's the only mention of it throughout the entire series. The society in Bridgerton was once a segregated one, just like our real country. But in real life, race isn't—and shouldn't—be something that's never talked about or ignored. It's important to have dialogue surrounding race and oppression to understand how our past has shaped the present and to move forward accordingly. It's also something that's okay to talk about! Bridgerton isn't doing anyone any favors by having the ONLY discussion surrounding race hushed behind closed doors, as if fearful to mention it aloud. I can only hope that this sort of dialogue surrounding race doesn't "reflect the world that we live in today." 
Additionally, the actual representation of people of color in the series is skewed. While pitched to be an all-inclusive show, there's really hardly any depiction of Latinx or Asian characters. The trailers indicated that it would be predominantly Black characters depicted as the "diversity," so while that was something viewers were prepared for, it's still a bit of a letdown to have the idea of diversity not be so diverse. The main characters who are Black are lighter-skinned and tend to have more Euro-centric features. So while Bridgerton's diversity is perhaps a step in the right direction, it could and should have been so different. Mbowe talks more about this in her video, and if you're interested, I'd highly recommend watching it as she articulates this far more eloquently than I do. 
If you're giving Bridgerton allowances because it's the "first" recent period piece that portrays people of color and that's cool to begin with, I'd check out the first part of Refinery 29's Mr. Malcolm's List. While this initial clip was released about a year ago, the full movie is set to come out this summer. It's full of great actors, is exceedingly well done from what I can see and includes a culturally diverse cast. It's even a bit similar to Bridgerton, as it deals with a mysterious "list," revenge and an attempt to hook the most inaccessible, wealthy gentleman around. But what's different about Mr. Malcolm's List is that they include people of all ethnicities. Perhaps some of it is colorblind casting, and that has its own issues, but they've also gone about it in a historically conscious fashion. The leading actor Sope Dirusu reminds viewers that "there was Asian aristocracy, there was African aristocracy in England, they just seem to be painted out from the history we are given." And this was true—there was much more minority representation in high society than we are aware of. Rather than making up a complex, little mentioned and possibly problematic storyline like in Bridgerton, Mr. Malcolm's List shows that you can depict a diverse casting in a Regency Era piece with elegance. 
In general, Bridgerton doesn't do a good enough job at clearly depicting the climate of the era. The drama is at the focus and it makes their 1813 world seem an awful lot like our current day, and there are differences that need to be highlighted. While shows like Downton Abbey and other period pieces revolve around drama, they still are done in a way that accurately depicts the nuances of society in their time period. Bridgerton is not intended to be completely historically accurate, but in order to deal with issues that the series includes, there needs to be more background information and general scene-setting of the era. 
Additionally, Bridgerton and the media in general need to be careful in its depiction of intimacy. Oversexualtion and unrealistic sex can be harmful, especially to younger viewers, cultivating understandings of the world that aren't accurate and could create an unhealthy relationship to sex. There were many instances in Bridgerton where the way intimacy was displayed was questionable—from a scene where Daphne potentially raped Simon to just a general lack of a realistic portrayal of sexual scenes. While I appreciate that Bridgerton had an intimacy coordinator, much of her job was just making sure the actors knew what was happening and felt comfortable about it. The actual script of the scenes was determined by Van Dusen. With men dominating the film industry for years and constantly depicting a male-centric idea of sex (and the objectification of women), it'd have been nice if they actually had put a woman in charge of writing those scenes.  
However, all this is not to discount the good, innovative parts of Bridgerton. I liked that they displayed a multi-faceted version of feminism and allowed characters to take control of their lives in their own way. I watched an interview with Phoebe Dynevor, who plays Daphne Bridgerton, and was impressed with her take on the series and her character. Dynevor made me more conscious of stereotypes that Bridgerton had flipped—for example, how the series mostly revolves around Daphne and her coming into her own, rather than depending on a romantic narrative to complete her character as it has been with many period pieces in the past. I've also been impressed with the cast and the intelligence and thoughtfulness that they've displayed surrounding the issues that the show deals with; yet, this has also made me wonder why they haven't questioned or challenged the controversial aspects of Bridgerton. 
In short, as a Vox article pointed out, Brigderton is almost an alternate universe. But that's almost, and there's a lot of baggage in that almost. It's a TV show and isn't the real world—but with any art that we make, it's human art and is in some way an expression of experiences in our modern world. With how popular Bridgerton has become, I hope that the screenwriters and Van Dusen will take into account the criticism that the show has received before airing the second season, and I hope that more people will begin to see its problematic nature.
---
(After the writing of this article it should be noted that the main leading actor, Rege-Jean Page, has announced that he will not be a part of the cast for the second season)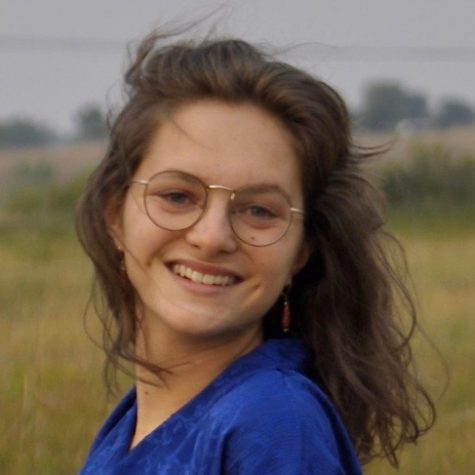 Clara Fraser, Opinions Editor
Clara Fraser is a senior this year and a staff writer for The Owl. Writing is something that Clara has always adored - as well as more artistic pursuits, which she hopes to further incorporate into aspects of her journalism. She looks forward to seeing how The Owl can develop in the coming year - and is excited about the prospect of it being a connecting factor between students during online learning. In her spare time, although usually taken up by wildly procrastinating, Clara enjoys avidly reading The New Yorker, spending time in the outdoor world (best if accompanied by good company or with her dog), and dabbling in various art forms. Throughout quarantine, Clara has developed a love of afternoon...