The Aidan Atkinson Trial: Found Not Guilty
Disclaimer: This article mentions themes of sexual assault within BVSD that may be triggering for some readers.
On April 7, 2021, former Fairview Quarterback Aidan Atkinson was found not guilty of sexual assault and attempted sexual assault from an incident on a party bus in 2018. Atkinson was initially arrested and turned himself in to the police on November 22, 2019. His trial was then delayed due to COVID-19 but began this week after over a year of anticipation. 
After over a day of deliberation, the jury found Atkinson not guilty on two accounts of sexual assault, one count of attempted sexual assault and two counts of unlawful sexual assault. On two other charges of unlawful sexual contact, the jury was unable to reach a unanimous verdict, and Boulder District Judge Patrick Butler declared a mistrial on the counts. According to a Denver Post article published April 7, 2021, Atkinson is "still set for a separate five-day trial" beginning on April 19, 2021, regarding the two other counts of sexual assault that the jurors were split on. 
Ever since Atkinson's arrest in October of 2019, current and former Boulder High students have been waiting for the trial to begin and some are disappointed, frustrated and disgusted that the jury found Atkinson not guilty. Among those is Boulder High 2020 alumna, Annie Riedel.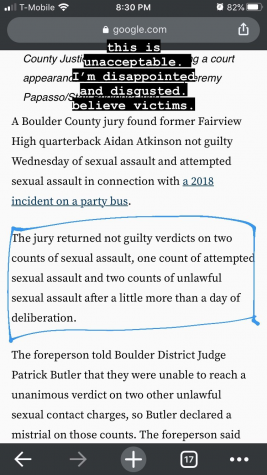 Speaking with us, Riedel explained that her issue isn't only with the result of this case, but with the larger issue of how sexual assault is handled in America. "I'm disappointed in the culture that our country has created, which focuses more on what the victim might have done that would lead to sexual assault than the actions of the person who assaulted her… I'm disappointed in the people who have invalidated the victims in this case and every other victim of sexual assault." 
One significant issue in court cases about sexual assault is that there tends to be a large amount of victim-blaming. All across America, judges, lawyers and police officers use arguments such as "You should have kept your knees together," "if you hadn't gone out, this wouldn't have happened," and "women should avoid dressing like s**ts in order not to be victimized." We see this even more blatantly in a recent Minnesota Supreme Court case. A jury voted to overturn a sexual assault case against Francious Momolu Khalil because the woman he raped "chose" to get intoxicated prior to the assault. 
The justice system has a pattern of letting assailants walk free. Statistics from RAINN (Rape, Abuse and Incest National Network) explain that of every 1,000 sexual assault cases, only 4.6 rapists end up incarcerated. While many defense attorneys and politicians argue that the assailant is falsely accused, only 5 percent of sexual assault cases reported are false.
Boulder District Judge Patrick Butler has a history of letting sexual assailants off easily. "This is the same judge who let a CU student accused of rape walk free," points out Riedel, referencing a case in 2016. In this case, Austen Wilkerson was convicted of raping another student but was only given two years at Boulder County Jail and 20 years probation. In his time incarcerated, Wilkerson was allowed to go to work and school during the daytime and only spent nights at the jail. 
Community members started a petition to remove Judge Butler from this verdict. The petition explains that "Under Colorado's laws, [Wilkerson] should have faced four-12 years in prison with the possibility of life if he wasn't deemed fit for release…This is not an impartial judge."
But still, in Atkinson's case, the judge isn't the only one responsible for this trial's outcome. There's no denying that guilty parties, especially wealthy, popular and White, often suffer little to no consequence when it comes to sexual assault. 
Sexual assault often gets swept under the rug, survivors aren't believed, sexual assaulters aren't persecuted, or survivors are forced to testify again and again to keep their rapists behind bars. The fact that Atkinson's case is being retried for the two accounts of unlawful sexual contact and will likely need to recall the survivors is a direct example of what's wrong with the way that these trials work. 
Atkinson's lawyer, Lara Mars Baker, chalked this case up to "a group of teenagers who got caught up in being caught up in the drama of the high school quarterback being accused of sexual misconduct." Yes, this case took over Boulder High discussions last year, made national news and was quickly compared to the many other sexual assault cases that have impacted our community in the past few years. But what Baker failed to recognize is that sexual assault and sexual misconduct are not new in our school district, especially not at Fairview. 
From an interview with BVSD Survivors back in the fall of 2020, we learned that the group has long been working to change the sexual assault and harassment culture within BVSD schools. Students in this community are afraid for the safety of themselves and their peers. Yes, they may be caught up in the high school quarterback being accused of sexual misconduct, but it isn't for the drama; it's because we see it happening all around us and are adamant that it needs to stop. 
In only the past 24 hours since this verdict was delivered, students have taken action. Many have been posting to social media, starting a petition demanding that Fairview start ensuring that their students feel safe when it comes to sexual assault and planning a walkout. The Boulder High and Fairview communities are pissed, and we are among them. 
National Sexual Assault Support Hotline: 1-800-656-4673
Leave a Comment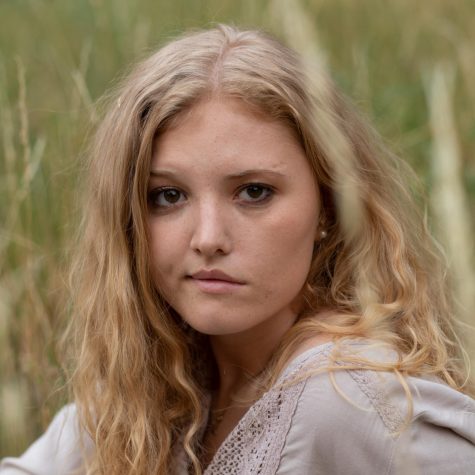 Isabel Oliver, Features Editor
Isabel Oliver is a senior at Boulder High this year. Although new to The Owl, she has always loved writing and literary arts. Isabel grew up with an Editor in Chief for a mother and has always been fascinated by the inner workings of journalism. Isabel joined The Owl to improve her journalistic writing and to report on current events that she's passionate about. Outside of The Owl, you can find Isabel acting with Troupe 60, singing in the choir, reading a good book, watching copious amounts of Netflix, or jamming with her band. After graduating from Boulder, she hopes to go to college and become either a therapist or a social worker - although she's leaning towards liberal arts, so that's...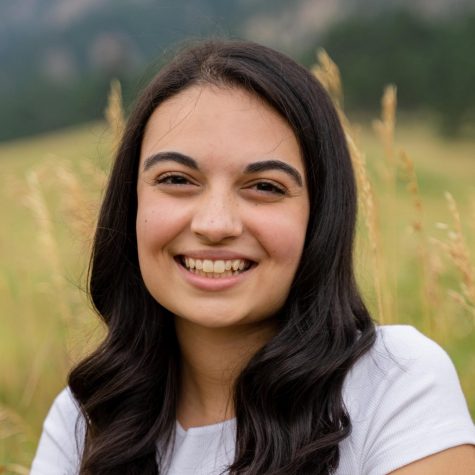 Akasha Brahmbhatt, Editor-in-Chief
Akasha is a well-experienced veteran on the Newspaper staff who has been a member of Newspaper club since freshman year and lead the club as president her sophomore year. When she is not working on publishing a new edition of The Owl, you can find Akasha in the school auditorium, running through dress rehearsals and singing in the ensemble for Boulder High's theater program. She is also one of the Co-Presidents of Women's Empowerment Club at BHS! This year, Akasha is looking forward to being a part of the newspaper staff again and hopes to spread more awareness around the school about the school paper and create a more significant following. She is interested in the field of journalism due...