How Local Artists are Taking 2020 in Stride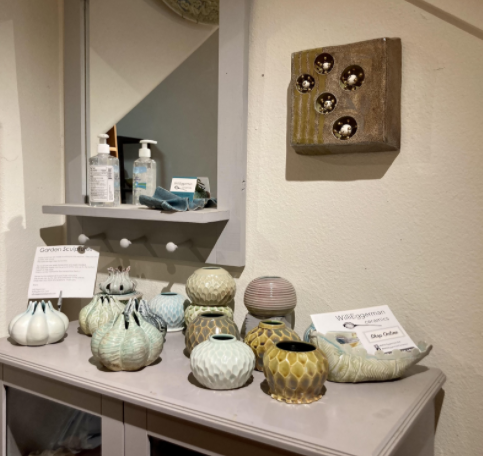 Open Studios, the annual fall event where local artists open their studios to the public, has fallen victim to 2020. The loss of this major money-making and publicity occasion has forced artists to think outside the box on how to share their art. However, out of necessity comes innovation. 
The innovation began in September, Artists had been holding art events both virtually and outdoors since the beginning of the pandemic, but Open Studios presented a new challenge. The biggest factor that draws one to the event is its accessibility, with anyone being able to see the trademark yellow sign and enter the studio. So Girl Painters West, a collective of six artists based around Boulder, hauled paintings, business cards and hand sanitizer to member Jaque Michelle's house on September 13 for an "Open Porches" event. It had the same allure as the yellow signs—colorful paintings spilled into the yard, and plenty of masked admirers wandered on the single track path into the backyard. "It's very different [way to view art], but this event is great because I finally get to go to this art event that I've loved to go to in the past," says Mae DeAnni, who attended the event.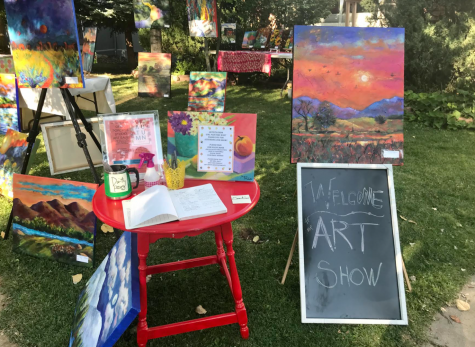 The organization, Open Studios, had a different approach to the year. The extravaganza takes place in October: A tumultuous time in Colorado to have fine art outside. Fearing both bad weather and the virus, the organization opted to provide private studio tours which lasted until October 31. Artists are finding their own ways to do tours too, such as Studio Doorz. "It's sort of like Open Studios all year… [or] like Open Tables for art," describes painter and founder Bill Snider.
These tours and openings are proving vital this year. All of a sudden, art has to go online- a feat especially challenging for 3-D mediums. "Ceramics, being a 3-D art form, I have to take a lot of photographs, and [so] I also have to become a better photographer. There's a seduction that you have to create for online [sales] because we're getting very good at discerning 'well that's not a very good photograph'. You automatically dismiss things that aren't photographed well… you have to create a setup where people can think 'oh, I could see that in my home, I can see using that,'" states potter Willi Eggerman. Business has also decreased with the closure of galleries and lack of interaction between artists and customers. "I really like that connection with people," says Snider, "I think it's really important to kinda get that feedback, especially when somebody new comes by and sees how I do stuff. I think it opens up a door that doesn't exist if you are out of the loop, like you just have your stuff at a gallery… economically speaking, I sell more stuff out of my studio than anywhere else."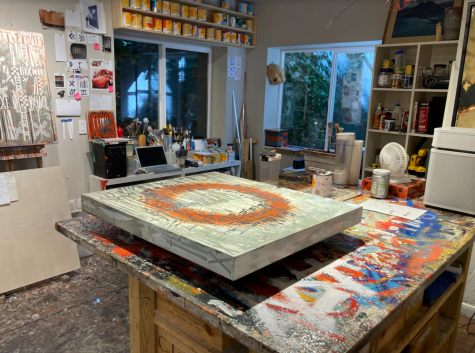 Aside from business, artists also have to cope with the strains of this year. Like everything else, art must find its place in the midst of a pandemic and presidential election. Alice Renouf, an artist with Girl Painters West, remarks "[Painting during the pandemic] has allowed me to be a lot more creative because all of the structures we've always grown up with, and the constructs, have all changed. Reality is different, so painting, you can just go wild with it, because nothing is what it used to be." Some artists, like Eggerman, turn to art as activism and a sign of change, "Politics really upsets me, I get really emotional. So I have tried to make more money, to give money to political causes. I've tried to think about what I can do to make a difference." At the Girl Painters West show, the artists set up a banner for the guests to contribute to that reads"Vote 2020." Artist Liz Quan sold prints of her memorial to the late Justice Ruth Bader Ginsburg and donated over $500 of its profits to the ACLU. Others find solace in its distraction. "I try to use art as an escape from politics," confesses Snider. Still, all artists interviewed agree that politics belongs in art whether they contribute to it or not.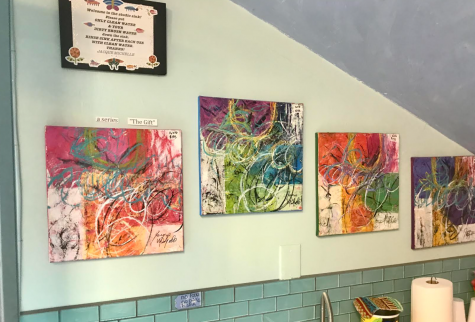 Art provides change and beauty, two qualities that the world is currently in need of. Supporting it, whether by purchasing a concert ticket, reading poetry, or visiting the studios of local artists, is vital to society.
Leave a Comment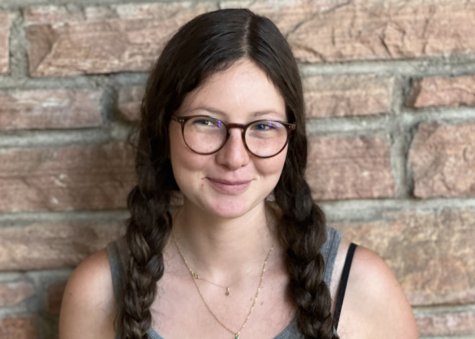 Hannah Cohen, Editor-in-Chief, Copy Editor
Hannah (rhymes with fauna!) Cohen is ecstatic to be working on the Owl for her third and final year. She loves stories in all their forms, but she mostly has opinions on obscure podcasts and which New York Times opinion columnists are defacing the good name of journalistic analysis. When not busy with stumbling through sheet music, editing nonfiction for jGirls+ Magazine, or seeking out the cheapest bluegrass venue, Hannah enjoys wandering around the mountains with her friends and lovely labradoodle. Although she's slightly preferential to the sweeter, more robust taste of red grapes, she knows that the bliss of biting into a crunchy grape transcends color.