BHS Music Classes in the Time of COVID-19
Music has always been a large part of the Boulder High student experience. With four orchestras, three choirs, five band ensembles and a drumline, many students are involved in music in some way. Yet, with virtual school, music classes have needed to get creative about how to keep students practicing and engaged. 
After last semester when we were all thrown into a completely new way of doing school, music classes were left with one major question: how can we have an ensemble when we can't play together in person? 
Junior Rei Belmont expressed worry about starting Jazz 3 next semester due to the fact that "in jazz, it's really important to understand each other and complement each other's playing," something difficult in a virtual setting. Belmont added that "it's pretty disappointing to not be able to play together in person."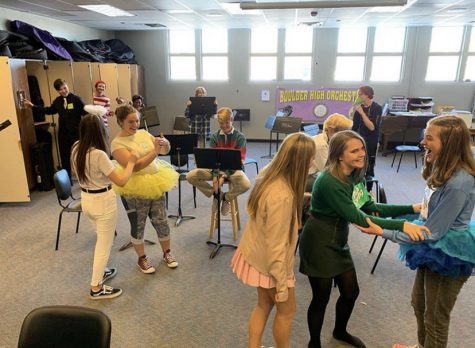 Belmont is not alone in the disappointment that has come along with an all virtual music class experience. One High Altitude choir member, senior Ella Blankinship, confided that having choir online "definitely is not an ideal situation, especially considering we can't really do any in-person choir stuff [because] singing is considered a high-risk activity." 
Blankinship went on to explain a bit about how choir has been working in an online forum. Due to choir being the second semester, Ms. Bateman and students have had to get creative with staying in touch. For this semester, choir has been having weekly meetings after school to "get updates about events for this semester and information on next semester," shared Blankinship. Choir students have also used a recording site called Soudtrap that allows them to "to record [their] voices over it and then [the clips] can all be edited together," which allows students to still sing together even without being in person.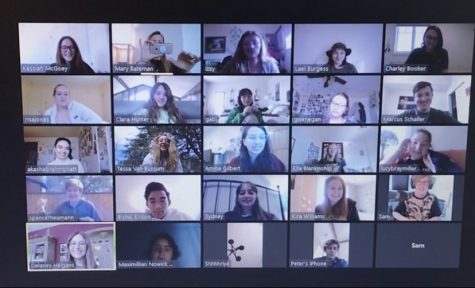 Choir isn't the only class that has resorted to online platforms in order to do music together. Chamber orchestra member and violinist Sasha Laugen, a junior, explained to me that orchestra is using a platform called Smartmusic "that will play your part with you," so that you can play along. They also are able to use this platform to submit individual recordings together for orchestra teacher Mr. Woodworth to edit together. In Laugen's orchestra, they are doing a lot of work in smaller quartets learning pieces and supporting one another.  
One monumental piece of Boulder High's music department is the Drumline. I spoke with Drum Captain, senior Elise Burcham, about how drumline works during a COVID-19 ridden school year. Burcham explained to me that they "have been able to meet in person for the past few weeks and have been practicing outside, six feet apart with masks," but are currently on hold due to the campus closing for two weeks. Unlike many of their musical companions, due to Drumline being a club and not a class they "have been able to do almost everything we normally would be able to do." The downside is that they have no opportunities to perform. Usually, pep rallies provide an opportunity to march into the gym, drums blazing, however, this year they are meeting mostly as to not "forget a lot of the music since it is all taught by ear." Unfortunately, this year Pep Band has been indefinitely postponed due to having no games to play for.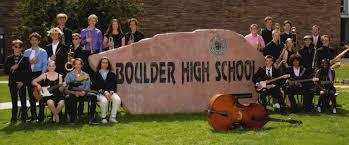 While many musicians crave a sense of normalcy and being able to once again perform with their peers, many of the students I spoke with agreed that going back in-person to music class in a COVID-19 world seems a little preposterous. Blankinship explained to me that for in-person choir to succeed, students would need to "let the room air out for a half-hour after every 20 minutes of singing." And Laugen shares that even if she and the roughly 20 members of her class were able to spread out six feet apart it would be difficult to hear one another. Even so, many still crave collaborating and playing with one another. Belmont put it well explaining that if it were safer to return to school he " would be willing to return to school if that meant [he] could play music with others." 
This time with no structured music has been hard on many music students. Fortunately, a love for music isn't restricted to an 8:30 a.m. to 3:00 p.m. schedule and students are still able to keep music in their lives even without a usual schedule.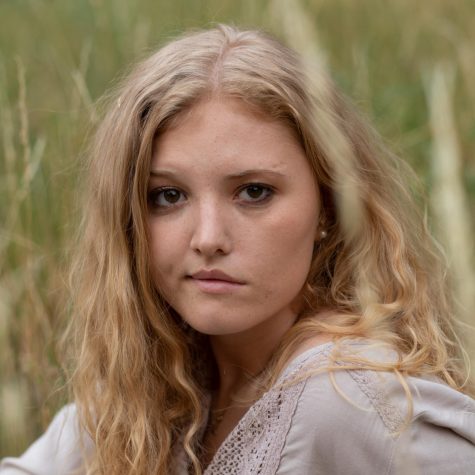 Isabel Oliver, Features Editor
Isabel Oliver is a senior at Boulder High this year. Although new to The Owl, she has always loved writing and literary arts. Isabel grew up with an Editor in Chief for a mother and has always been fascinated by the inner workings of journalism. Isabel joined The Owl to improve her journalistic writing and to report on current events that she's passionate about. Outside of The Owl, you can find Isabel acting with Troupe 60, singing in the choir, reading a good book, watching copious amounts of Netflix, or jamming with her band. After graduating from Boulder, she hopes to go to college and become either a therapist or a social worker - although she's leaning towards liberal arts, so that's...