Election Breakdown
Given that Joe Biden is on a clear path to the presidential nomination, this page's will update less frequently. To read from start to finish, scroll to the bottom of the story and work upwards.
5:30 p.m. 12/14/20
Earlier today, Presidential electors met across the country to cast their votes for the president-elect. Joe Biden has recieved the votes necessary to declare him the formal president-elect. Although the electoral vote is usually treated as a formality, procedural moments like these have become extremely important this election under the pressure of President Trump's attempts to overturn election results.
The next major event in the Electoral College proccess will occur on Jan. 6, during which both chambers of Congress will officially count the electoral votes.
6:00 p.m. 12/12/20
The Supreme Court has rejected the Texas lawsuit aiming to change election results in four states.
President Donald Trump responded to the decision later today with a tweet:
"The Supreme Court had ZERO interest in the merits of the greatest voter fraud ever perpetrated on the United States of America. All they were interested in is "standing", which makes it very difficult for the President to present a case on the merits. 75,000,000 votes!"
His campaign and legal team has still yet to come forward with any significant evidence regarding voter fraud. While Trump and his supporters allege voter fraud and demand election integrity, they have simultaneously deliberately undermining the integrity of the legal system that protects the vote of the people by leveraging political power to gain access to the Supreme Court. Although it is reassuring that this has had negligible effects on our current legal situation, its long term impact should not be underestimated. President Trump and his campaign of disinformation have show that it is up to the decision of a select few to protect the integrity of an election, and have set a dangerous precedent for future administrations.
12:00 a.m. 12/11/20
The Attorney Generals of Pennsylvania, Georgia, Michigan and Wisconsin asked the Supreme Court to reject Texas' lawsuit. Meanwhile, 104 house Republicans filed a brief in support of the lawsuit.
11:30 a.m. 12/10/20
On Tuesday of this week, Texas Attorney General Ken Paxton asked permisson to sue Pennsylvania, Georgia, Michigan and Wisconsin in the Supreme Court, asking for "unlawful election results" to be invalidated. Yesterday, President Trump said he will join Texas in that lawsuit. Then, 17 states filed a brief with the Supreme Court saying they support the lawsuit. Every single one of these states was won by President Trump in the electoral college, and every single one of the states has republican Attorney Generals. The Supreme Court has yet to respond to Paxton's request.
This is possibly President Trump's biggest chance at changing the outcome of the election. However, the Supreme Court has been very firm in rejecting legal attemts at changing election results so far. For example, the Supreme Court recently rejected President Trumps attempt to preventing the certification of results in Pennsylvania with a one sentence response that suggested no dissent by any of the judges.
The Supreme Court's responses have suggested little dissent over the issue. With a complete lack of substantial evidence, it is extremely unlikely that the court will sway from this pattern. However, given the nation-wide support for the case by republican states, it's possible that the case will at least be heard.
After Trump stated his participation in the case, 17 former officials and lawmakers filed a separate brief that supported the results of the contested states and argued against the case, stating, "The Constitution does not make this Court the multidistrict litigation panel for trials of presidential election disputes." This court filing was signed by former officials who had worked in Republican administrations as well as former members of the House and Senate.
4:00 p.m. 12/5/20
Enough states have officially ceritified there election results to give President-Elect Joe Biden the majority needed to win. Every one of the states contested by the Trump campaign has certified their results despite his best efforts to stop them.
5:15 p.m. 11/23/20
GSA administrator Emily Murphy has formally declared Joe Biden the president-elect, an important step in the transition of power between the presidents. Murphy also stated that the Trump campaign was ready to begin the formal transition. President Donald Trump followed up with a tweet:
"Our case STRONGLY continues, we will keep up the good … fight, and I believe we will prevail! Nevertheless, in the best interest of our Country, I am recommending that Emily and her team do what needs to be done with regard to initial protocols, and have told my team to do the same."
Meanwhile, the Trump campaign continues a strained legal battle to prevent the certification of election results in several states. Georgia has certified their results and declared Joe Biden the winner after a hand recount. Earlier today, Michigan rejected Trump's request to delay certification and have officially announced Joe Biden's victory. Nevada, Pennsylvania, and Wisconsin will certify their results next week.
6:00 p.m. 11/15/20
As seen in the "Million Maga March" yesterday afternoon, President Donald Trump's campaign has successfully convinced many of their voters that large scale voter fraud has been committed. Many Republicans, including powerful politicians, have sided with Trump and his baseless claims of fraud. For example, when asked about president-elect Joe Biden, Secretary of State Mike Pompeo said, "There will be a smooth transition to a second Trump administration."
Although it may be concerning that so many people are getting behind these baseless claims, it doesn't make it any more possible for Trump to actually overturn the election results. 
In order to make up for his losses, Trump would have to overturn the results in at least 3 key states, which is essentially impossible. The margins by which Biden is leading in the states that Republicans are complaining about are in the tens of thousands of votes, which is far too large to be made up for by a recount, nevermind illegal votes (if there were any at all).
The release of official election results in the remaining key states are coming up fast. Once these results are announced, there is very little that Donald Trump can do to overturn them. Here are the upcoming dates for the states that are being contested: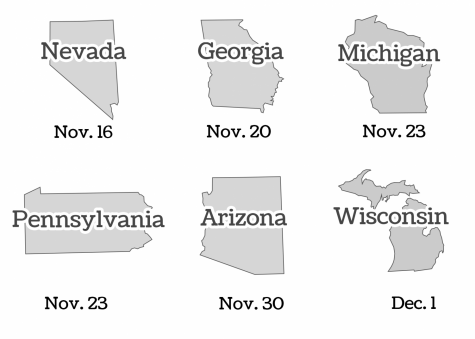 Here is the legal process which Trump's campaign would have to follow to see the general election results overturned:
Challenge the result of the general election in state courts

Provide enough evidence for the state to mandate a recount

If state courts refuse, ask the Supreme Court to overturn that decision

Change enough "illegal votes" during the recount for Trump to win the state
This process would have to be successful in multiple states for the election result to be contested. Given that the chance of this happening in one state is almost nothing, it is virtually impossible for Trump to successfully contest the election results.
Now, many Americans are concerned about what would happen if Trump should refuse to concede. Given that every single presidential administration in American history has had a peaceful transfer of power, there is no system in place for removing a President from office. However, he will undoubtedly be forced to leave office should he refuse to concede. 
2:00 p.m. 11/13/20
Multiple news outlets have called the states of Arizona and Georgia for Joe Biden, and North Carolina and Alaska for Donald Trump. With those states being called, every electoral vote has been accounted for.

10:00 p.m. 11/9/20
Earlier today, Attorney General Barr authorized the Justice Department to investigate "substantial allegations" of voter fraud. The Justice Department official who oversees election crimes resigned following this decision.
The presidential transition formally begins when the administrator of the General Services Administration formally declares Joe Biden the president-elect. This has yet to happen. Biden's transition team said it may take legal action over the delay in formally recognizing his victory.
7:30 p.m. 11/7/20
Joe Biden and Kamala Harris gave a speech earlier this evening. Both speeches focused on unifying language, a refreshing change from the rhetoric that we have seen from President Donald Trump over the last 4 years. It appeared that both Biden and Kamala worked to avoid spreading the influence behind President Trump's baseless claims of voter fraud, as they made absolutely no mention of him or his campaign of misinformation.
10:30 a.m. 11/7/20
The state of Nevada has also been called for Joe Biden. He leads the state by 2 points. This furthers his lead with two hundred seventy-nine electoral votes. Americans should expect a spoken address from him sometime today.
9:50 a.m. 11/7/20

At 9:30 this morning, The Associated Press called Pennsylvania for Joe Biden. Every single major news network has followed suit and declared Biden the 46th President Elect of the United States of america. Just an hour before that call, President Trump tweeted, "I WON THIS ELECTION, BY A LOT!". Given his claims about voter fraud, it's very unlikely that he will concede to the results yet.

3:00 p.m. 11/6/20
In the latest vote counts, Joe Biden maintains his lead in Nevada, Arizona, Pennsylvania, and Georgia. It seems unlikely that these results will change, but officials are waiting to call the states until the majority of the remaining votes have been counted. The count is Georgia likely won't be called until a recount is complete.
Meanwhile, President Trump has maintained a consistent stream of baseless claims of voter fraud. A campaign attorney said earlier today that "this race is not over".
Joe Biden will address the nation tonight during a live broadcast.
10:00 a.m. 11/6/20
As of early this morning, Joe Biden is leading by very small margins in both Georgia and Pennsylvania.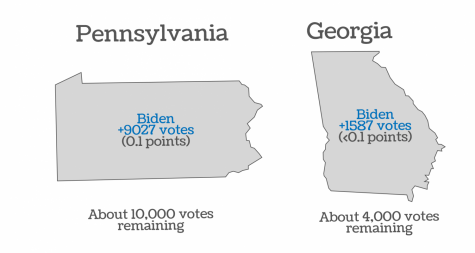 As the majority of the remaining votes were counted in Pennsylvania, Joe Biden took the lead as expected. Although his lead is very small, it's large enough to be a likely win for him. If Pennsylvania is called, the race is officially over, and Biden can claim victory.
Georgia plans to recount the votes, as the margin between the two candidates is extremely small.
The closeness of the race in these two states demonstrates how, despite the electoral vote, the overall presidential race was far too close to be called a blowout by any means. 
8:15 p.m. 11/5/20
President Trump's leads are shrinking rapidly in Pennsylvania and Georgia. He leads by 0.1 points and 0.7 points in each of those states respectively.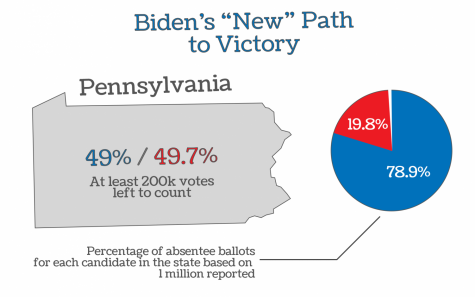 President Donald Trump's lead has decreased by more than half since this morning. He gave an address from the White House in which he claimed "corruption" in Philadelphia and other cities within the state. As stated previously, this claim has absolutely zero evidence behind it.
It is now extremely likely that Joe Biden will overtake Trump in the state, guaranteeing a victory for him. However, it's uncertain whether enough votes will be counted by tonight to determine a winner.
5:00 p.m. 11/5/20
In Pennsylvania, Joe Biden has won several new batches of votes by large margins. Donald Trump's leading margin is now down to 1.1 points from almost 2 points earlier today. There are still an estimated three hundred eighty thousand votes remaining. State officials say it is taking longer to count than was expected. 
In Georgia, Trump's lead is now down to less than ten thousand votes. He continues to be ahead by 0.3 points with a significant amount of votes left to be counted.
1:00 p.m. 11/5/20
The remaining undecided states have remained the same since yesterday afternoon. These states include North Carolina, Georgia, Pennsylvania, Nevada, and Arizona. 
Pennsylvania's secretary of state said there are approximately five hundred thousand votes left to be counted in the state. Georgia's secretary of state said that there are fifty thousand uncounted votes remaining. It is likely that both of these states will have enough votes counted to finish the count by tonight. If either of these states is called for Biden, his victory is almost certain.
In Nevada, Clark County officials said that they will make an update to their count around 10 a.m. tomorrow. Biden is leading Trump by 0.9 points in the state.
10:10 a.m. 11/5/20
As more votes are counted, the margins between the candidates in the remaining states are becoming closer every hour. At this point, the Trump campaign is relying on a flip from Arizona, which is seeming increasingly possible.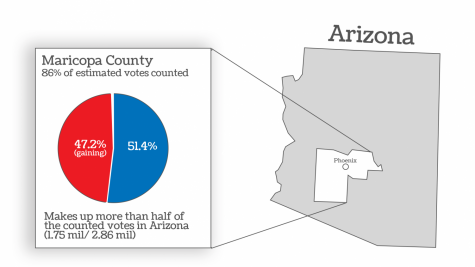 Donald Trump has continued with a barrage of tweets that claim mass scale voter fraud. A record rate of eight out of twenty six of his tweets since November 3rd have been marked as misleading by Twitter.
Meanwhile, in Pennsylvania and Georgia, the margins by which Donald Trump is winning are decreasing rapidly. Trump is now ahead by only 0.3 points in Georgia, with an estimated 2 percent of the votes remaining. State officials say that outstanding absentee ballots will continue to be counted throughout the day. Biden has led in absentee votes by more than 5 points.
In Pennsylvania, with an estimated ninety-two percent of votes being counted, Trump maintains a decreasing lead of 1.8 points. Many of the remaining votes are absentee ballots. Biden leads Trump in absentee votes by more than sixty percent, which is a massive margin.
8:00 p.m. 11/4/20
President Trump's campaign has now sued Pennsylvania, Georgia, and Michigan. It is likely that we will see an ongoing legal battle over the outcome of these states in the following days and weeks.
At this point, Joe Biden's campaign is waiting on Nevada and Arizona to finish counting before declaring victory. State officials in Nevada said they will update results on Thursday at 10 a.m. MST. In Arizona, officials in Maricopa County, which includes Phoenix, said they will update results at 11 p.m. MST and then again on Thursday at 7 p.m. MST.
Meanwhile, Pennsylvania, North Carolina, and Georgia also remain incomplete. Pennsylvania officials expect a count to be finished by Friday. In North Carolina, mail-in ballots postmarked by election day will be accepted until November 12th, however, a Trump victory is likely for the state. Finally, in Georgia, officials have said that ballots will likely continue to be counted until Thursday morning.
5:15 p.m. 11/4/20
At this point, it seems like a Joe Biden victory is very likely. President Donald Trump's campaign continues to claim that the vote counts have been inaccurate in several key states. They have now asked for a stop to the count in Pennsylvania and Michigan and a recount in Wisconsin. 
Despite all of this, a Trump victory is still possible. Here is the most realistic path to victory for each candidate: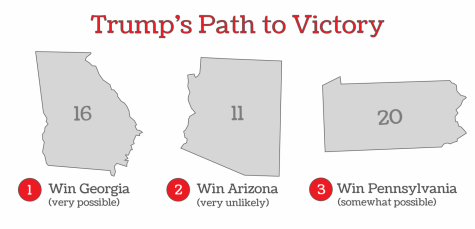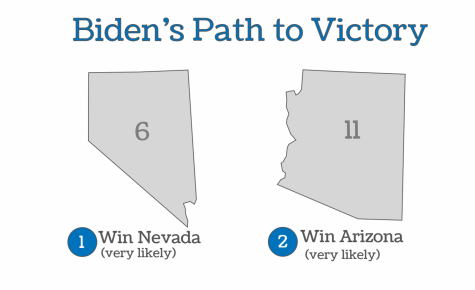 4:00 p.m. 11/4/20
In a brief remark to supporters in Wilmington, Delaware, Vice President Joe Biden confidently projected a win for his campaign.
"I'm not here to declare that we've won, but I am here to report that when the count is finished, we believe we will be the winners."
Meanwhile, President Donald Trump's campaign seems intent on the notion that mass scale voter fraud has been committed. In a tweet from one hour ago, he said,
"We have claimed, for Electoral Vote purposes, the Commonwealth of Pennsylvania (which won't allow legal observers) the State of Georgia, and the State of North Carolina, each one of which has a BIG Trump lead. Additionally, we hereby claim the State of Michigan if, in fact, … there was a large number of secretly dumped ballots as has been widely reported!"
This tweet and several others were marked as misleading by Twitter. His claim about secretly dumped ballots has been debunked.
2:45 p.m. 11/4/20

Joe Biden has officially won the vote in Wisconsin and Michigan, despite Donald Trump's efforts to stop the count in both states. He won by less than 1 point in both states. The electoral vote shows a lead for Biden with two hundred fifty-three to two hundred thirteen votes. Considering that Biden is likely to win Nevada and Arizona, it's looking like a victory for Biden. However, we will still have to wait for an official declaration of victory until more votes are counted.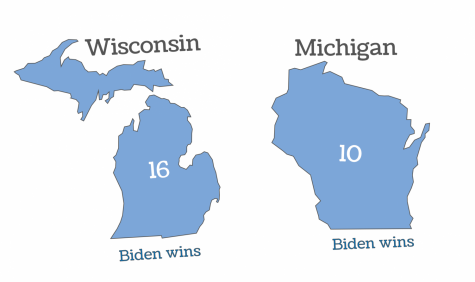 1:45 p.m. 11/4/20
As you likely know, the first night of the presidential election has been a rocky one. The race is extremely close and there's a good chance we won't know the final results for a few days, if not longer. Given all of that, here is a breakdown of what we know from last night.
According to the New York Times, Vice President Joe Biden is currently leading President Donald Trump at two hundred twenty-seven to two hundred thirteen electoral votes. However, this doesn't mean anything for the final results of the election. Several key states are going to decide the winner, but before we cover those states, let's take a look at what's already happened.

Trump has been making serious gains in places that weren't expected. One of the biggest upsets of the night happened in Miami-Dade County, the most populous county in Florida, where Biden was expected to win big. Although Biden did end up winning, it was only by a small margin. It was differences like that one that gave Trump the win in Florida. 
Along with Florida, Trump was aiming to win over Georgia and North Carolina. If Trump hadn't won any of those three states, it was very likely that Biden could've called an early victory. The New York Times election needles are tracking these states and their likely winner. Unfortunately for the Biden campaign, FL and NC quickly came out in favor of Trump.
The increasingly close race proved an inaccuracy in polling in several key states, which predicted much larger leads for Biden than have shown so far.  
The states that are going to decide the final winner are clear. Pennsylvania, Michigan, Wisconsin, Arizona, Georgia, Alaska and North Carolina make up the key remaining votes for each candiate. Let's take a look at each of these states and their possible outcomes.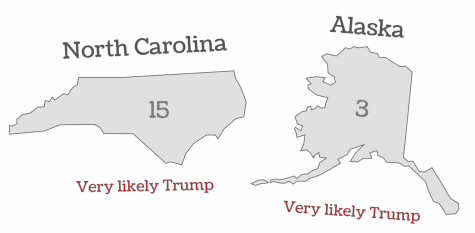 Firstly, although North Carolina and Alaska haven't been officially called yet, it is likely that they will both go to Trump. Alaska is showing big gains for him, with thirty-six of the estimated votes counted. North Carolina shows Trump with a comfortable 1 point lead and ninety-five percent of votes counted.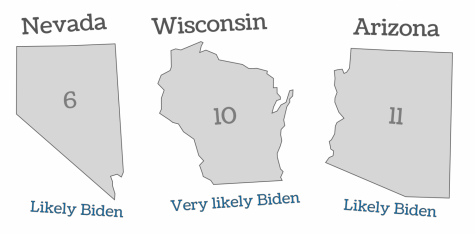 Nevada and Arizona are both likely victories for Biden. In Nevada, with an estimated eighty-six percent of the votes counted, many of the missing votes come from Washoe and Clark County, both counties with large leads for Biden. In Arizona, a similar situation is present with Maricopa and Pima County. 
Wisconsin has been officially called in favor of Biden, a flip from the result in 2016. However, the Trump campaign has called for a recount, which is feasible given that Biden's lead is by less than 1 percent. It could be up to two weeks before a recount can begin.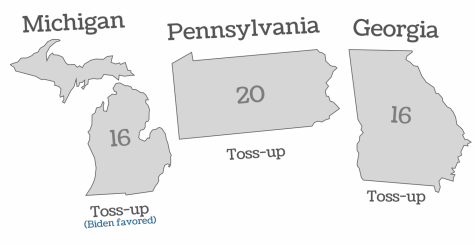 The states that will be the final deciders for the winner are Michigan, Pennsylvania, and Georgia. Each of these states is a close race. In Michigan, Biden holds the lead by 0.8 points, with an estimated ninety-four percent of the vote being counted. President Trump's campaign has called for the counting to stop until it has been given "meaningful access" to observe the process.
In Pennsylvania, Trump is leading by a significant margin of 7 points, with an estimated eighty percent of the vote being counted. However, most uncounted ballots come from absentee and vote-by-mail ballots in Philadelphia and Pittsburgh, both cities with a huge lead for Biden. This makes Pennsylvania's result largely unpredictable.
Finally, in Georgia, Trump has a small lead of 2 points, with an estimated ninety-three percent of the vote being counted. In a similar situation to Pennsylvania, the cities of Columbus, Atlanta, Augusta and Macon all have less than an estimated ninety percent of their votes counted. All of these cities have significant leads of more than ten points for Biden. This means that although Georgia was seemingly favored for Trump as of last night, it is possible that Biden could take back the lead.
Even from what we know so far, this election has proven President Trump's ability to blow predictions out of the water. Despite Biden holding a comfortable lead of ten points in the polls entering the election, Trump has maintained a close following. 
Ultimately, the election could go either way. No matter what the result is, it will surely be a very close race. Unfortunately, it might be days before we can declare a winner.
Leave a Comment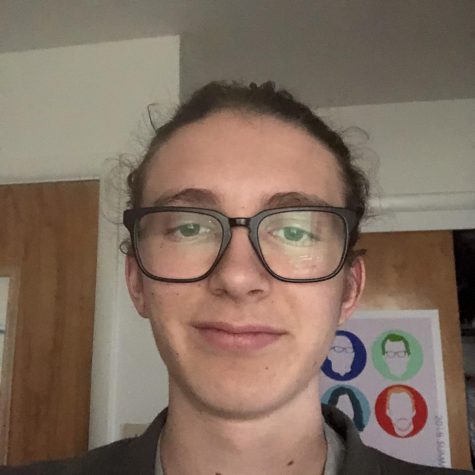 Keegan Jack, Webmaster
Keegan Jack is a senior at Boulder High School with, among other things, a passion for the combination of media and information. It was this very passion that inspired him to pursue working for The Owl. He loves exploring the wonderful nature of Colorado and trying to capture its beauty through the art of photography. He also enjoys various other hobbies, such as illustration, playing cello, and boxing. Keegan prides himself on being an effective communicator, but this sometimes means he ends up trying to convince people about things that they don't want to change their mind about, such as his belief in the ambiguity between the types of grapes. Although the COVID-19 virus has certainly been...