The Inktober Controversy
Since its creation in 2009, the annual "Inktober Challenge" has gathered many participants of varying skill levels. By providing a new prompt every day in October, the challenge encourages artists to draw every day of the month. The prompts are one word, allowing the artist to freely express creativity, with some examples from the 2020 list including: "radio," "disgusting," "sleep" and "float." The challenge was wildly popular, with thousands of participants yearly and over 19 million posts under the Inktober hashtag on Instagram.
The downfall of this seasonal challenge began in December 2019, when its creator, Jake Parker, copyrighted the name Inktober. Some considered this to be controlling and out of line, while others saw it only to be Jake Parker protecting his intellectual property. Parker claimed to be "trying to maintain the integrity of the challenge." Despite the conflict, Inktober didn't suffer a significant loss of participants — until August 2020. 
On June 16, Parker announced the release of a new book, set to be published in October 2020, called Inktober All Year Long. The book boasts to be "an indispensable guide to inking," but its glory was interrupted when well-known artist Alphonso Dunn released a critical YouTube video. The video, titled "Jake Parker Plagiarized My Book," outlines the numerous similarities between his book Pen and Ink Drawing: A Simple Guide published in 2015, and Parker's new publication. Parker quickly fired back, posting a response on Twitter where he claimed to never have plagiarized anyone's work and criticized Dunn for posting publicly rather than going directly to Parker. 
Although the alleged plagiarism has not been proven, Dunn has considerable evidence on his side, and Parker has given few comments, stating that "[he had] been advised against going into any further detail at this time" by his lawyers. Given these accusations against Jake Parker, many artists have chosen to boycott Inktober this year. 
But what is one to do if they'd still like to reap the benefits of participating in a daily art challenge? Well, many creators have taken it upon themselves to make their own prompts in the format of Inktober. Here are a few from some of my favorite artists:
---
@gremren, also known as Renata Paton, is a popular artist on Instagram, specializing in art using Posca pens. This October, she has teamed up with @aubryjoi, @faunaparra, @laecheng, @thingsby_diana, and @vaulchenart to make their own 31-day art challenge. The challenge features prompts like "glacier," "mushroom," "deception," and "underworld" to make for a fun and inspiring experience. The list also features a special type of prompt of their own creation: VS prompts, where artists can choose between two prompt options, such as fire vs water. The creators of Creatober will then choose 1 representative from each side and let participants choose a winner of the VS prompt challenge who will then win a special prize. 
@plastic.pen, also known as Stefan Große Halbuer, an artist specializing mostly in digital art, has created Plastober 2020. The prompt list includes a warm-up for the first four days of October, and a theme for each following week, including "nature strikes back," "high tech, low life," "faces" and "daily adventures." The prompts are fairly simple and allow a lot of artistic freedom for participants, with examples being "desert," "weekend," and "shell." In his Instagram post, Halbuer emphasizes the importance of fun for the challenge, saying "The most important rule is: there is no rule, just have fun! Grab a pen, doesn't matter if digital or traditional, and start drawing!"
Sha'an d'Anthes, known as @furrylittlepeach on social media, has created her own challenge for October 2020: Peachtober. With cute prompts like "home," "lilypad," "rain" and "moon," the list is inspiring and allows for a lot of creative freedom for participants. She included no rules with her challenge, welcoming artists of all mediums to join and have some fun with the month-long endeavor. 
Have a busy schedule, or struggle to commit to a 31-day art challenge? Don't fret! @chaigrey.art, @ellenwilbergart, @imafloof, @maiberryart, @sonuipeng, @ghtbns, @etherael_, @loonalou, @little.lis.art, @lunavalentineart, @taralingard, and @elysiaart have created a challenge for you! Called Slowtober, the challenge is free of strict rules, only requiring you to create one full artwork during October, and asking participants to document the journey from the idea to the final piece. The challenge allows participants to "slow down and push their creativity," allowing for reflection on their creative process and their values in their art. The slogan, "become your own favorite artist," emphasizes this goal. The challenge allows for significant growth and improvement during October without the pressure of creating something daily.
---
Despite the downfall of Inktober due to the scandals involving its creator, there are plenty of alternatives for artists of all skill levels who wish to benefit from the practice a daily art challenge can provide, so consider participating in a smaller artist's challenge rather than supporting a creator accused of plagiarism.
View Comments (5)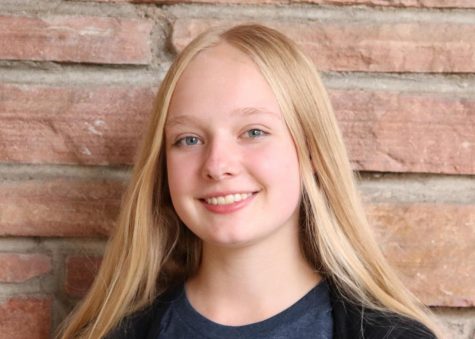 Clara Thomas, Arts & Entertainment Editor
Clara Thomas is a senior at Boulder High, and she's excited to be a part of the Owl again. She hopes to bring a love of writing, as well as a passion for the arts, to the newspaper. Said passion is apparent in her activities outside of school, which include ballet, violin, and art. In the little free time she has, she enjoys reading, getting tea with friends, researching any topic that interests her, and listening to music or audiobooks while playing unhealthy amounts of solitaire. While she believes no fruit could compare to raspberries, in a life-or-death situation she would choose green grapes over purple.