President Trump has COVID-19
President Trump tweeted early on Friday, Oct. 2, 2020, that he tested positive for COVID-19. The announcement, which was released around 1:00 a.m., has come with lots of speculation and mystery, so here is what we know so far about Trump's diagnosis.
---
Timeline:
On Saturday, Sept. 26, President Trump held a ceremony in the White House Rose Garden to officially announce the nomination of Amy Coney Barret to the Supreme Court. Over 100 people attended, many exchanging handshakes and hugs. Very few guests wore masks. So far, at least eight people from the ceremony have tested positive, as have several other White House officials.
 On Tuesday, Sept. 29, President Trump visited Cleveland for the presidential debate. Members of the Trump family and other associates did not wear masks, despite being asked to do so. 
On Wednesday, Sept. 30, Hope Hicks, a close aide to the President, was feeling unwell during a flight back to Washington. She apparently attempted to self-isolate on the flight back, and was promptly tested for COVID-19. The next day, Hicks reportedly tested positive for the virus. At this point, Trump announced that he and Melania Trump would "begin [their] quarantine process." 
Early Friday morning, Trump announced on Twitter that he and the First Lady had tested positive, stating:
---
"Tonight, @FLOTUS and I tested positive for COVID-19. We will begin our quarantine and recovery process immediately. We will get through this TOGETHER!"
---
On Saturday, Oct. 3, Dr. Brian Garibaldi announced that Trump had begun an experimental antibody treatment "about 48 hours ago." That would mean that the treatment was administered before he tested positive on Friday morning. On Friday afternoon, The White House announced that he was also being treated with Regeneron, an experimental COVID-19 drug. 
Later on Friday, Trump announced in a tweet that he would be relocating to Walter Reed National Military Medical center.
On Saturday morning, White House doctors held a press conference in which they updated the public on Trump's health. White House Chief of Staff Mark Meadows announced that President Trump went through a "very concerning" period on Friday, and that the next 48 hours would be "very critical" to his recovery. Meadows' concerning statements contradict the previous information that Trump had only experienced mild symptoms. On Friday, press secretary Kayleigh McEnany had claimed that "President Trump remains in good spirits, has mild symptoms and has been working throughout the day." 
Although they failed to answer any questions regarding whether Trump has used supplemental oxygen, an anonymous source that is aware of his condition told AP News that he had been given supplemental oxygen prior to his transport to Walter Reed Medical Center.
---
The outbreak has reached many parts of the White House and President Trump's associates. Here is a current list of everyone that has tested positive:

President Donald Trump
First Lady Melania Trump
Hope Hicks, senior advisor to the president
Bill Stepien, Trump's campaign manager
Ronna McDaniel, RNC Chairwoman
Senator Mike Lee
Senator Thom Tillis
Senator Ron Johnson
Chris Christie, former Governor of New Jersey
Three White House reporters and one White House staffer
Kellyanne Conway, former White House senior advisor
The Rev. John Jenkins, president of Notre Dame University
**Jenkins was present at the nomination announcement for Amy Coney Barret
---
Democrats reacted with general sympathy towards Trump's diagnosis. Joe Biden's campaign announced that they would pull all negative ads about President Trump. Former President Barack Obama tweeted his condolences, stating, "Michelle and I hope that the President, First Lady, and all those affected by the coronavirus around the country are getting the care they need and are on the path to a speedy recovery … Obviously, we're in the midst of a big political battle right now, and while there's a lot at stake, let's remember that we're all Americans. We're all human beings. And we want everyone to be healthy, no matter our party."
Now, Trump has apparently been fever-free for over 24 hours. These next few days will certainly be vitally important to understand the extent of Trump's sickness. It is certainly possible that Trump has already experienced the worst of his symptoms, but if there is anything we've learned over the last eight months, it is that COVID-19 is an extremely complex disease that is hard to track or predict. 
Despite President Trump's generally positive attitude about the pandemic that we are facing, it seems that the severity of its reach has finally caught up to him, even with the extensive daily testing of him and his associates. There is an element of irony to the situation, especially considering some of his past statements about the virus. 
His diagnosis also comes with significance to his campaigning efforts, with the presidential election night just a month away. Even if Trump recovers quickly, he will be unable to continue his in-person rallies until he is no longer sick. His sickness could also throw off the schedule of the next two presidential debates, which were scheduled for Oct. 15 and Oct. 27. 
Keep an eye out for more information regarding Trump's diagnosis over the next few days.
Leave a Comment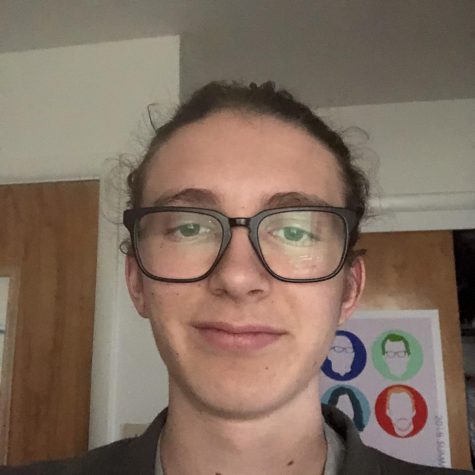 Keegan Jack, Webmaster
Keegan Jack is a senior at Boulder High School with, among other things, a passion for the combination of media and information. It was this very passion that inspired him to pursue working for The Owl. He loves exploring the wonderful nature of Colorado and trying to capture its beauty through the art of photography. He also enjoys various other hobbies, such as illustration, playing cello, and boxing. Keegan prides himself on being an effective communicator, but this sometimes means he ends up trying to convince people about things that they don't want to change their mind about, such as his belief in the ambiguity between the types of grapes. Although the COVID-19 virus has certainly been...