New Decade, New Look
After a successful first ten years, Boulder High's Mountain Bike Team shakes things up
Last October, 81 members of Boulder High's Mountain Bike Team doused head coach Ben Boyer with a cooler full of water after crowding the podium to collect their eighth state championship title in ten years. Now, almost a year later, the team gatherers in cohort groups across Boulder High's campus for practice, masks on, and Boyer is nowhere to be seen.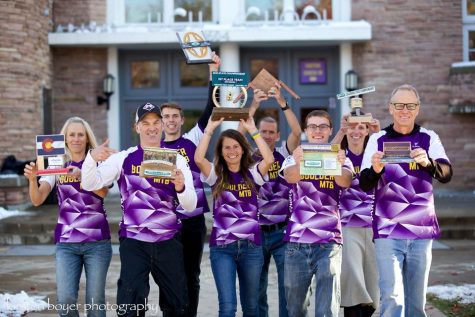 One might imagine that on a team of 120, one person's absence doesn't make a big impact. But it does. "I definitely miss seeing him around during practice," senior Ian Crittenden said. Boyer led the team through its first decade, growing from 32 members to the largest high school mountain bike team in the state. While a small army of assistant coaches and parent volunteers was and still is, crucial to the success of the team, Boyer was always the one in charge. He sent the emails, coordinated logistics, kept track of race results, fought for recognition from the school and knew everyone's name. His hard work and contagious enthusiasm—Boyer's emails were five-minute reads full of photos, exclamation marks and all-caps declarations; he once sent out a free verse poem inspired by a particularly spectacular practice in the rain—led the team to grow in numbers and victories throughout his tenure. However, as the team grew, Boyer's "labor of love" became a full-time job on top of teaching and he stepped down at the end of the 2019 season. 
The team's second decade begins with Boulder High teacher Andy Jensen at the helm as Team Director, supported by four head coaches, 11 captains and 30 assistant coaches. When I asked Jensen how the transition has been, he laughed and told me that he is "a frog that got thrown into boiling water." Boyer had ten years to build the team and learn every one of its idiosyncrasies, but Jensen has had to learn everything in the span of six months while developing COVID-19 protocols for practices. "It's a very complicated team," he said. "There are a lot of details." On his end of the Zoom call he held up a thick pad of yellow sticky notes and told me that he's gone through five packs of them since his appointment as Director in an effort to keep everything straight. "I used to have a simple life," he said, but now he's working 70 hours a week to keep up with the demands of the team and his classes. Despite the "amazing challenges" that have been faced—including the first month of practices being canceled while BVSD reviewed their management of mountain bike programs—Jensen is confident that the team is in a place that will be sustainable going forward. "I feel incredibly optimistic about [the next ten years,]" he said.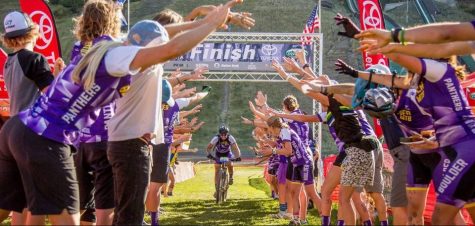 But what about the riders, the 120 student-athletes who have been in limbo while the team sorts itself out? What do they think about this unprecedented start to the team's second decade? They're mostly happy to be back. For those who have been on the team since freshman year, some of the changes are evident: the cohorting, the masks, the pre-practice health checks. But for the new riders, this is all they've ever known. "It's still fun," said Crittenden, "but the main difference is [not having] races." 
The Colorado High School Cycling League announced on July 15, 2020, that there would be no in-person racing this season. For many athletes, the five races are the cornerstones of their season—a goal to work towards and a chance to spend time with other riders from across the state. Races are also, according to junior Connor Berns, where Boyer would be missed the most. "With our new management, it would be different, not good or bad, just different," he said. Boulder High is known for its dominance in races, routinely placing multiple riders on podiums in every category and leading the state in producing top female athletes. In 2019, Boulder High had nine varsity girls (twenty percent of that field). The team is also dedicated to inclusion, supporting riders with special needs and celebrating the depth of the team instead of just its top riders. But how do you defend your state title without races?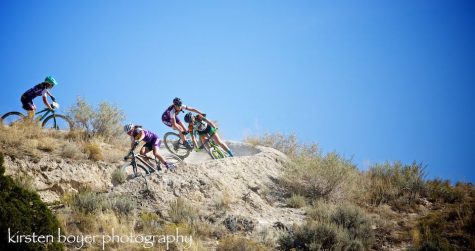 The answer is Singletrack Solidarity: challenges that are promoted by the League and completed by athletes at practice. They include tallying mileage ridden or elevation gained over the course of a week, timing a lapped mile and completing a time trial. The League's Executive Director, Kate Rau, reported that 1,640 riders from across the state are registered for the challenges, a decrease of 25 from last year. "I think the League had to make this decision [to cancel races,]" said Jensen. "We just can't show up in Steamboat with 800 bike racers and expect that to be okay." 
The need to cancel racing is understood by riders, but that doesn't make the alternative any more appealing. "[Singletrack Solidarity] is kinda weird," said junior Beckett McVoy. That seems to be the consensus across the team. "I think that mountain biking is probably one of the sports where you could've figured out racing," said Berns. "The challenges are just way different than races; you don't get the full race weekend experience." Senior Luke Leavitt added: "They could have tried postponing and thinking about a spring season…I think they preemptively canceled everything." The group of riders I interviewed was gathered in the senior lot, waiting for practice to start. They all nodded in agreement when someone expressed disappointment in the way the season has turned out, but junior Chuck Jones cut in at the end, saying, "I think it's gonna be a new and exciting season, even though it's different." His teammates laughed and congratulated him on his positivity. Then they clipped into their pedals and rolled out of the parking lot, disappearing into the distance. Lots of things have been canceled this year, but bike rides are here to stay.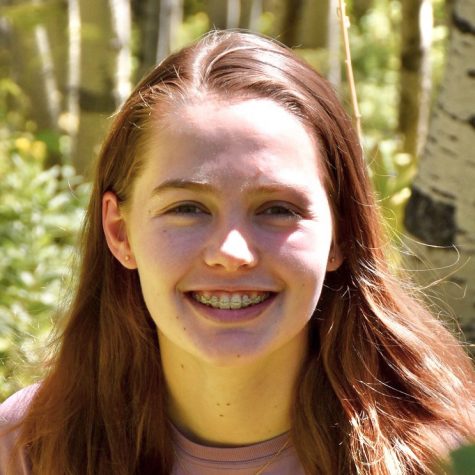 Elliote Muir, Editor-in-Chief
Elliote Muir is a senior and is very excited to join The Owl for her last year at Boulder High. Having loved creative writing since she was little, and as an avid skimmer of The New York Times, Elliote is thrilled to get the chance to learn more about journalism this year! When Elliote isn't in school, you can find her captaining Boulder High's mountain bike team, skiing, waiting for the next season of The Great British Bake Off to premiere, playing with her dog, and adventuring in the wilderness with friends and family. As a self-proclaimed foodie, Elliote loves cooking and baking (but mostly baking) and trying new foods. Her favorite food—okay, her favorite meal—is her dad's homemade...