BVSD's Heroes Provide Food to Students in Need
While almost everybody has been impacted by the COVID-19 pandemic, some feel its effects more than others. One of the many impacts of this global crisis is food insecurity. As reported in a study conducted by Feeding America, "Food-insecure individuals—including over 11 million children in 2018 —will face particular challenges, and the number of people who experience food insecurity is likely already increasing." About 13 percent of children in Boulder suffer from food insecurity, but thanks to programs like the Bag Program started by BVSD, 57 percent of those kids are eligible to get meals through school.
I had the opportunity to sit down with the founder of the Bag Program and Director of BVSD Food Services, Ann Cooper, to discuss this initiative. Named "One of the Top 50 Food Activists" by the Academy of Culinary Nutrition in 2018, Chef Cooper knows a thing or two about the long-term effects of food insecurity. Her latest attempt at advocacy about food insecurity involves a revamp of BVSD's Bag Program, which was started in 2014 by Cooper and her team as a way to provide students with meals on weekends and holidays. Since COVID-19, they've been providing food to every student who is in need.
During this time, many districts have not been able to provide as many services to their students—either by choice or because of their circumstances. When asked why BVSD was taking this initiative, Cooper said, "We just believe that every single child deserves healthy food every single day and no child should be hungry and I'm sure a lot of other school districts feel the same way but we're very passionate about this and we work hard to ensure that none of our children are hungry." According to Cooper, one in five children in the Boulder Valley School District suffers from food insecurity, so, "being able to provide food for them is more than important; it oughta be a birthright."
Despite the obvious fact that food is a fundamental part of survival, it is also an essential part of developmental growth, especially during your childhood."Hungry children can't think, malnourished children can't learn and if we really want to take care of the child the whole day, we really have to feed them healthy food and we really have to make sure they're not hungry," said Cooper. In addition to essentials being distributed by the district, each bag is also nutritious and provides nourishment from every food group. "In the bags that we send home to families are fresh foods and fresh vegetables. There's legumes, beans, whole wheat bread [and] tortillas. This week we made chicken burritos and breakfast burritos, and so we're making healthy food and getting it to families."
The program has been revamped to spread its impact and help people during this uncertain time, and anyone who needs help is welcome. To access this program, you can go to any of the seven designated BVSD schools to pick up your bag. But if you do not have access to a vehicle, cannot take the bus or are afraid to take the bus because of COVID-19, the Bag Program delivers to over 600 families at home, right to their doorstep. "It's not bad or wrong to need help," Cooper said, "It doesn't mean you can't take care of your family. Everyone needs help right now." The program does a lot of good, but every good initiative has its problems, and unfortunately so does the Bag Program.
Every bag provided costs Cooper and her team roughly $10-$14 for seven breakfasts and seven lunches. For the 600+ people this program serves, it doesn't come cheap."We've been able to fundraise for a lot of money, last year we fundraised for $250,000 and we hope to fundraise for that much as well this year. There is a lot of hunger in our community, a lot of working poor, and we all need to reach out and help and support other people during a severe time of need." Donating money, time or food—however little—are the donations that keep amazing organizations like this running so they can impact more people. And if you do want to volunteer? "All of the volunteering for both students and parents is going through Impact on Education, so you can go to their website and sign up for volunteering right there. We will be distributing food as long as we have a significant number of students learning from home and doing distance learning." 
The program has helped so many people over the past six years and has continued to help people now when they need it the most. This is all in hopes of one day living in a world where every child has access to nutritious food every day. Cooper hopes to inspire other school districts and really make people think about food insecurity. "I think when people live in the Boulder area, they sort of think everyone's rich, and it's not true," Cooper stated. "There's a lot of hunger, and I hope this project helps people to understand that." In her final statement, she had some powerful words to spread, "It should be a birthright in our country to ensure that every child, every day, has healthy food and no child is ever hungry. We're the richest country in the world, we should not allow children to go hungry. We are going to figure out how to feed everyone that's hungry and everyone that needs the food, but the more donations we get, the easier it's going to be for us to reach the most people." For more information on how you can donate money, food, and/or your time, visit Impact on Education.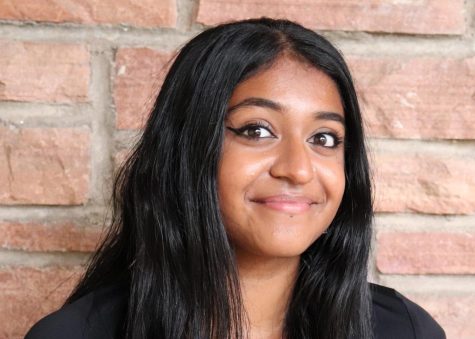 Saisree Kumar, Features Editor
Saisree is a new addition to the newspaper staff who has been interested in the Owl since Freshman year and decided to join her Sophomore year. When she is not working on improving her writing skills, you can find her in the school auditorium, assembling outfits for different theater events and on-stage performing with the ensemble for Boulder High's theater program. This year Saisree is looking forward to more writing opportunities and more chances to put herself out there. Saisree has been eager to try her hand at journalism after being raised in a family of journalists but has many interests. She admires journalism because it represents democracy and is an effective way to express your thoughts....