School Sports Are Back!
After much anticipation over the summer regarding school sports, they have been allowed to continue, but on a limited scale. Many Boulder High student-athletes consider their participation in sports equally as valuable as their academics. After the cancellation of spring sports in March, many athletes (most notably seniors) struggled with the idea that their 2020-2021 school year would take place without athletics. The 2020-2021 athletic schedule was announced by CHSAA on Aug. 4, with cross country, softball, boys tennis and boys golf beginning at the start of August and ending mid-October. However, the seasons of these sports look significantly different from previous years, providing many athletes and coaches with unforeseen difficulties. 
Russel Selnau, the head coach of the boys golf team, has struggled with the logistics of using a public golf course for school practices. Both the Fairview and Boulder golf teams practice at Flatirons Golf Course but have to share the space with other members from the community. According to Coach Selnau, it's important now more than ever to have enough distance between parties and to keep the balance of public and school use of the course. To combat this, the team has been limiting practice times and going to Haystack Golf Course as well. You would think that with half the season gone and fewer practices the team would experience a disruption in their development as players, but according to Dalton Lazaroby, a senior on the team, "despite Coronavirus we have been able to have a relatively normal season."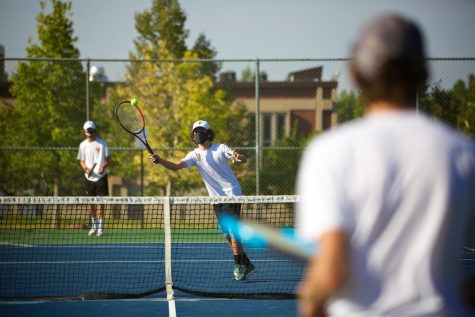 The boys tennis team—like all other sports taking place during this pandemic—has had to make major adjustments. Their season has been reduced by almost half, and before every practice, the team goes through temperature checks and COVID symptom surveys. While the players in singles matches are not required to wear masks while they play, players in doubles do have to. Head Coach Nick Salazar says that while all these precautions sometimes prove "uncomfortable" to the players, they thankfully haven't hindered their performance.
Cross Country (both the girls and boys team) has also been faced with some difficulties. They go through all the standard COVID procedures daily. Their mask policy, however, differs a little from the other sports. The athletes must keep a mask on them at all times, but during the races, they are only required to wear the mask for the first 100 meters or so (until the runners are more dispersed) and are encouraged to pull up their mask when they are passing other racers. While wearing the masks when running has helped keep athletes and coaches safe, Coach Theresa Elbogen noted how covering your face can discourage communication and has been an obstacle to building team cohesion. Another difficulty that has interfered with the team's culture is having to separate the runners into smaller groups. According to Coach Elbogen, practice will be split between two different locations multiple times a week, making it hard for the athletes to get to know their fellow teammates, especially new runners or freshmen. 
Despite the problems that have arisen from in-person sports this season, practices have been beneficial for both coaches and players and have helped with a "return to normalcy," says Coach Salazar. Coach Selnau and assistant golf coach Raymond Huntington have been grateful for the social interaction the team brings them and are impressed with the adaptability of both the athletes and their parents in the changing environment. Coach Salazar also noted how there have been more spectators at the matches than in previous years. He thinks this is due to the lack of community interaction in this time, and how everyone is eager for any chance to get out and give back to their community and school. Coach Elbogen has also been impressed with the cross country team's commitment and dedication to the sport, despite a shortened season. While sad that the breakout groups are smaller than in previous years, she finds that she can give more attention and personalized coaching to the athletes.
The return of school sports for the fall semester was widely debated, as the health of athletes and coaches was a top priority. However, we can see that these teams are taking extra measures to ensure the safety of all participants. Despite the challenges the teams are faced with, the continuation of sports has proved to be worthwhile.
Leave a Comment
Amelia Chapman, Staff writer
Amelia Chapman is a senior this year at Boulder High and a new member of The Owl. She loves creative writing but hasn't had much exposure to journalism, which is why she is so excited about joining the paper. By being apart of The Owl, Amelia also hopes to further develop her own writing skills and immerse herself more into the Boulder High community. Whenever she has time, Amelia can be found trail running up steep mountains, watching Spanish telenovelas (Las Chicas del Cable is her favorite), or hiking/napping with her dogs (all of which are rescues and two of which somewhat resemble rodents). Amelia also enjoys spending time with her friends and eating good food and frequently combines the...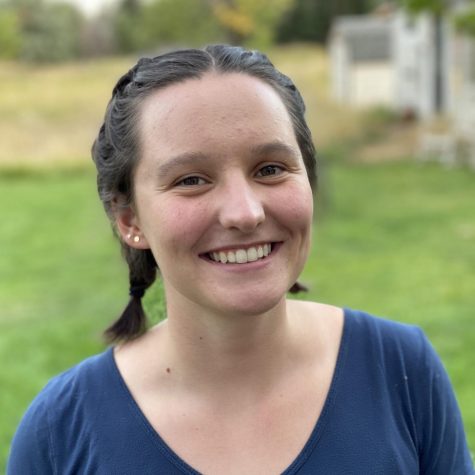 Ella Webber, Staff writer
Ella Webber is a senior at Boulder High and a new member of The Owl. She's excited to be a part of the paper and hopes to have the opportunity to share the stories of students who aren't always heard. She hopes to learn as much as possible about the world of journalism and to improve and expand her writing style. Ella is a rower and has been on the crew team for five years and when she's not out on the water she spends her time exploring the outdoors and all the natural wonders Colorado has to offer. She enjoys fishing and rock climbing with her friends and can be heard blasting ABBA at all hours of the day. One of Ella's heroes is the "The Queen of Disco" Donna Summer who overcame...