Student Business Spotlight: THEFT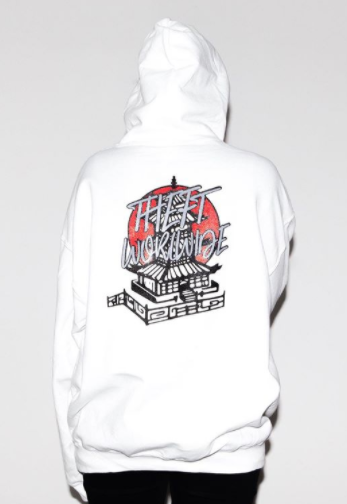 This student-run clothing company has been making waves through Boulder for about a year now. These hand-drawn designs and the big black box letter "THEFT" appearing on each item has become a prevalent image in the hallways of BHS. Under the handle "@theftworldwide," the company currently has 463 Instagram followers and shows no signs of slowing down. Featuring local artists, THEFT is creating one of a kind designs by and for youth. These skater-esque, streetwear-inspired designs, paired with the provocative name "THEFT," provide youth with relevant designs and a "bad boy" energy that is easy for high school students to identify with. Though THEFT is one hundred percent student-run, they manage to stay incredibly professional. Their set up consists of a variety of professional screen print equipment and even their photos on Instagram look like something out of a GQ magazine.
Boulder High junior Trent Bush founded the company in his sophomore year of high school at the end of March 2019. When interviewed, he said, "I created the company because I like to screen print and create my own unique shirts with my own art on them. I was also influenced and am following in the footsteps of my dad." He said, "We decided to call the company 'THEFT' because back in middle school that was the name of our skate 'gang,' We came up with a lot of other names, but they were unavailable.
"
We take the best elements of each [design] and mash them together to create the art.""
While THEFT is still a fairly new company and brand, it has gained popularity quickly, and due to the unique "homegrown" designs, it continues to stay relevant. Bush said that he doesn't necessarily take inspiration from a certain designer but rather things he sees in his day to day life. "If I see something I like, not necessarily clothing, I will take a picture of it or write it down. I try to draw inspiration from the things I see and not steal others' ideas." THEFT strives to create unique and fresh designs that represent themselves and their patrons. Bush said his process goes something like this: "When we create a new piece we try to have a general theme or idea at the start, then we create a whole bunch of designs around that central theme. We take the best elements of each one and mash them together to create the art." He says that "Jason Bergerion and myself do all the art ourselves but occasionally collaborate with other artists." THEFT seems to be here to stay, and with all the hype around it, student curiosity has peaked about what comes next for THEFT? Bush had this to say: "Expect to see a lot more uniqueness and variety in our clothing. We hope to, through our art, push the norms of society and what's thought to be right." He says he plans to continue THEFT after high school and is hopeful he may be able to make it a recognizable brand.
Students appreciate the work and want to support their community. BHS junior Benecio Fox said he appreciates the originality of the designs.  Fox said in our interview, "I think THEFT is successful because they care about the art they make and continue to make each item unique and relevant," Nathan Steinman, also a BHS junior, says he respects their business model and appreciates their reliability. Steinman states "THEFT's items are reasonably priced and are delivered promptly after order. I respect the way they do business and stay honest."
The THEFT team's ability to create such a successful brand so early in their lives is a testimony to the hardworking and creative attitude that passion gives. This expression of art—by students and for students—is exactly what we need in this age of censorship. The clothes we wear send a message about what we support and how we feel. By repping THEFT you show your support to local artists, your community, and think independently. I personally hope to see more edgy, noir-esque streetwear designs from THEFT in the future.