Cooking with Lex: My Experience Baking a Sonic the Hedgehog Cake
My Experience With Making a Sonic The Hedgehog Cake
A couple months ago, my friend Ella Johnson and I decided to take on a difficult task. We were going to make a massive Sonic the Hedgehog cake to commemorate the release of the live-action movie in February. Each day, the ideas for the cake grew more and more ambitious, until we reached peak cake creativity. It was to be a masterpiece. We would only have to wait to see if our vision would actually become a reality. 
We began by brainstorming the cake as a whole. It was to have a full loop, just like the classic green hills zone of all sonic video games and would have all of the same vibrant colors and checkerboard patterns as well. As weeks passed by, our ideas became more detailed. The cake would have a pond made of blue cake gel and sugar cookie fish. There would be multiple different fondant Sonics in different positions around the cake. We would make fondant rings and paint them gold with edible paint. The ideas just kept getting better, but time would tell if our cake would just look like a bad episode of Cake Wars. 
December 17: The five-pound tub of fondant that we ordered has arrived.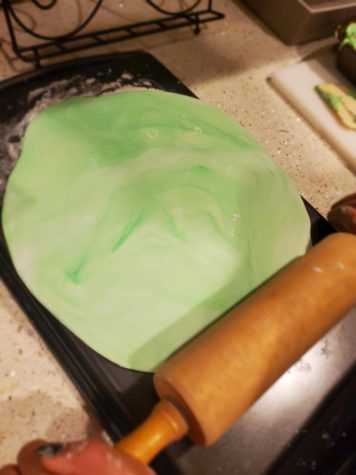 Winter break: We met up to make the cake, but decided to make a three-layer caramel cake instead because we did not have all of the resources for the Sonic cake. The next day, we didn't really want to bake anymore or go to the store to get the proper materials, so the Sonic cake was postponed once again.
February 14-15: The sonic cake finally came to fruition.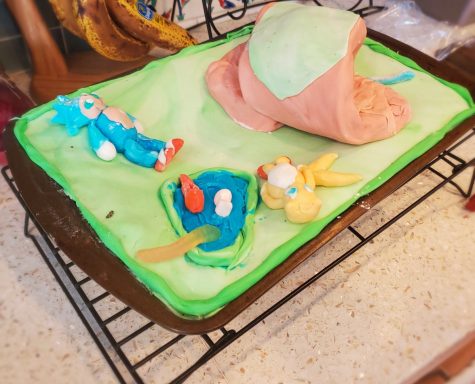 We began our baking process by making a simple chocolate cake. The plan had been to make a sort of "blue velvet" cake by dying a chocolate cake batter blue. However, our attempts were thwarted when after putting an ample amount of blue color into the batter, it turned a lovely shade of swamp green. We called it good and continued our journey. After realizing that more batter was required, we made some more but this time dyed it red, just because we could. After marbling together the colors in the pan, we set it in the oven to bake. 
While there was a bit of a scary point where it looked like the batter was going to overflow, the cake turned out completely fine aside from a massive divot in the middle. By sampling a couple of crumbs, we determined that the cake had our stamp of approval. While the cake cooled, we rushed out of the house to make it to the 7-o'clock showing of the Sonic the Hedgehog movie.
After thoroughly enjoying ourselves at the movie, which happened to be surprisingly spectacular, we continued working on the cake. A crumb coat of green frosting was added to the top of the cake. We rolled out a large sheet of green fondant to place on the top of the cake. The divot caused the cake to have what we called "hills" and added a nice amount of depth to the cake. A small pond made of blue icing was added, with two fondant fish and a nice dark green border. It was immediately brought to our attention that this cake was already headed in the wrong direction.
Now it was time to construct the star of the show, Sonic himself. While the original plan had been to create multiple Sonics in various positions around the cake, it became evident fairly quickly that it would be better to stick with just one. I set out various chunks of fondant of differing sizes for Sonic's body. I dyed each blue and set to work on modeling a perfect Sonic. After around twenty minutes of hard work, Sonic was finally done. He was gloriously terrifying and it was perfect. It was decided that we would make Tails as well, a friend of Sonic's, to keep him company on the cake. Ella created a Tails that turned out equally as awful, if not more so. It was at this point that we decided to halt our progress for the night and continue in the morning. 
The following morning, we set to work on the loop we had planned. We started by making simple Rice Krispies and rolling a portion of them out into a flat strip. After letting this sit for a few minutes, we tried our best to make some brown fondant. The color came out as a kind of fleshy color, but we called it good enough and kept going. As we wrapped the fleshy fondant around the Rice Krispies, we again realized that it looked absolutely horrible. To add some extra flair, a bit of green fondant was added to the top as grass.
It then came to our attention that the loop was not capable of standing on its own, so we remedied the problem by placing an icing bag tip inside the loop. Now it was time for finishing touches. A snake was added to enhance the scenery, and we cleaned up the access crumbs that had escaped. As we stepped back to observe our work, we realized just what we had done. We had created an atrocity. Yet in a way, it was beautiful. It was nice to see our ideas finally come to fruition since we had started planning this in September. 
It was now time to eat our masterpiece. We cut the cake carefully and divided up some of the Rice Krispies. It was genuinely delicious. The cake itself was moist, and the fondant layer added a nice sweetness. Our quest was finally complete, and it felt so good to have given the world something as amazing as this.