Everything Ryan O'Block Does in a Day
Have you ever wondered how Mr. O'Block manages to achieve all that he does in a day? One may see him enthusiastically teaching, manning the scorer's table at boys and girls basketball games, jumping out of an airplane or running the show at Boulder High's annual St. Baldrick's Day event and wonder how he could possibly have time to do all the things that he does. In fact, he does more than just what is seen at school, and still is able to fit it all into 24 hours. Here is everything Mr. O'Block does in a day.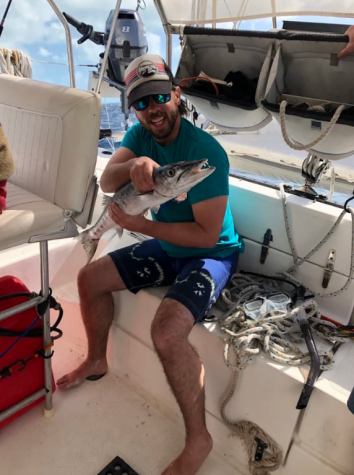 Mr O'Block typically wakes up between 4:30 and 5:00 am and subsequently takes roughly thirty minutes to get the motivation to roll out of bed. Once he manages to get up, Mr. O'Block picks out his teacher uniform for the day, which consists of black pants and a colorful shirt. After getting ready for the day, he stops by Einstein's bagels for a morning bagel before heading to work. Mr. O'Block is usually one of the first teachers in the building, and particularly enjoys showing up to Boulder High with all the halls empty and silent. To fill his time before the first school bell, Mr. O'Block stops by the custodial staff's office to say hello and grab some coffee before heading up to his office and blasting some early morning music while doing some grading or preparing for his classes. 
Once the school day begins, Mr. O'Block's day is filled with physics classes and his well-known research seminar class. He enjoys grabbing lunch from the cafeteria or the "grab and go" station at the front of the school during one of his off periods between helping out students as they drop by. A challenge that Mr. O'Block often encounters is that he becomes so busy during his 4th and 5th periods off that he does not have time to get lunch at all. Thankfully, he has a stash of granola bars to ensure he doesn't starve. Mr. O'Block finally takes a breath during his 7th period off, and gets a chance to take a brief break before teaching one more class at the end of the day.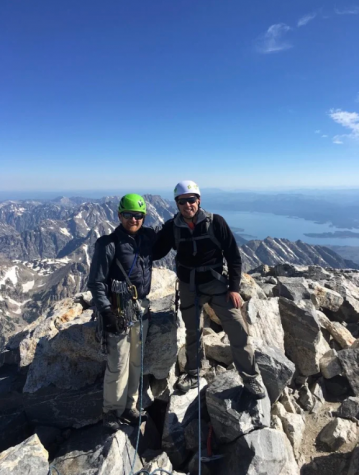 Mr. O'Block's day at Boulder High has only just begun at 3:45. He loves being involved in sports at BHS by selling tickets, being a game scorer or fulfilling other roles. In the fall, he helps out with football, in the winter boys and girls basketball, and in the spring Mr. O'Block likes to be involved with girls soccer. At girls soccer games, he has a lot of fun being the DJ before the game and at half time. Outside of sports, Mr. O'Block is part of several committees that work to improve the overall BHS community. In the spring, Mr. O'Block has taken a lead role in coordinating Boulder High's annual St. Baldrick's Day event through Panther Pride. 
During the school year, Mr. O'Block has very little time for any personal sports besides the
intramural basketball league at Boulder High, in which he encounters the struggle of trying not to dunk too hard. When he does have the time, Mr. O'Block likes to go climbing with fellow science teacher Mr. Mydans at both an indoor gym and at Estes Park. Another passion of his is skydiving, and he tries to get some jumps in when he can. Mr. O'Block also enjoys getting out on his bike with some other BHS teachers. Additionally, Mr. O'Block heads to Winter Park every once in a while for some skiing. 
Since Mr. O'Block spends so much time at Boulder High, a lot of his social life involves other teachers at the school. He enjoys hanging out with teachers in the science department, as well as with Mr. Salazar, Mr. Kingsley, Ms. Ruger and others. Because he is involved in so many different things at school, he often gets the chance to interact with teachers from all departments at BHS.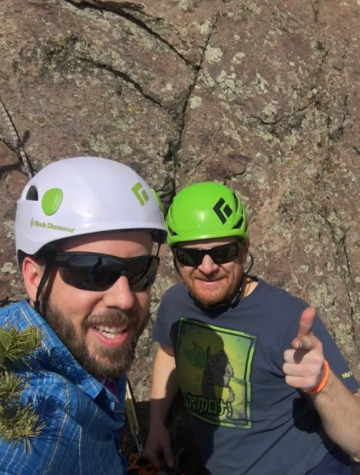 When Mr. O'Block's day finally winds down for the evening, he likes having dinner with his sister frequently as she lives in the area or grabbing some food on his way home. Mr. O'Block also enjoys grilling when he has the chance. Mr. O'Block has the saying "old man O'Block in bed by eight o'clock," meaning that he likes to be in his room getting ready for bed fairly early in the evening. Before bed, Mr. O'Block likes either watching shows on Netflix and Amazon Prime or logging into his STEAM account and playing some games. 
As is evident, Mr. O'Block leads a very busy life full of fun activities. Somehow, he manages to still come to school every day and inspire his students to strive for excellence with his unwavering positivity and an enthusiastic approach to teaching. Though very few could do all that Mr. O'Block does in a day, many look up to his lifestyle as an example of greatness.