Panthers Persevere
The Boulder High boys basketball team lived up to their slogan of ADU (aggressive, discipline, unselfish) and proved to be a difficult team to shake in a nail-biting game against Cherry Creek on Dec. 12. Cherry Creek looked to be a tough opponent, ranking 5th in the preseason CHSAA poll, while Boulder was left unranked. While the Bruins boasted a strong defense that dominated the court throughout the game, Boulder was able to play scrappy and aggressively to force their opponent into nerve-racking overtime and come out victorious. 
The Panthers started the game off strong and were able to match the strength of the versatile Cherry Creek team. Multiple fouls on Cherry Creek led to many opportunities for free throws for the Panthers, helping them progress to a three-point lead at the end of the first quarter. The Bruins came back with a vengeance at the beginning of the second quarter, scoring multiple three-point shots off the bat, but the Panthers responded by scoring 10 points, and a disciplined defense prohibited Cherry Creek from scoring during Boulder's run. In that time, the Panthers increased their score from 17 to 27 points, gaining a lead of 5 points on the Bruins.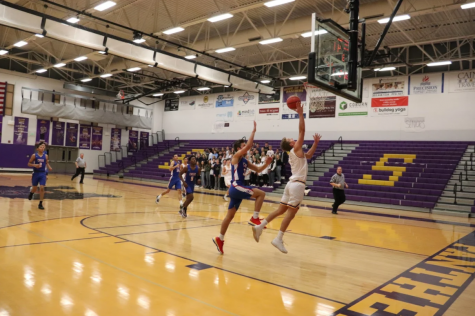 While the Panthers remained consistent throughout the third quarter, Cherry Creek made a valiant comeback with a strong offense and several turnovers, taking the lead over Boulder in the final minutes of the third quarter. Both the Boulder fans and the team seemed to be slightly rattled by a blow to their lead, yet hope returned in the final quarter. A steal by senior Giles Schmid, alongside several more successful shots, forced Cherry Creek to call a timeout as the Panthers advanced to a 55-46 point lead with four minutes left. Cherry Creek came out of the time-out strong and aggressive, making up the point deficit and forcing the game into overtime, while Boulder missed several free throws that could have seen them see off a win in regular time. However, this was no scare for the Boulder Panthers, who held Cherry Creek off by scoring six points at the start of overtime. While the Bruins started to make a comeback with three two-pointers and a three-point shot, a crucial travel call stopped their momentum in the last few seconds, and the Panthers came out victorious in a 65-63 win. With such an impressive start to the season, things are looking up for this year's boys' basketball team, provided they remain aggressive, disciplined and unselfish.