A Showcase of Boulder High School for Potential Panthers
The transition from middle school to high school is often daunting for incoming freshman, and the choice of what high school to enroll in is a significant aspect of this. Boulder High School works to ease these apprehensions through the annual Boulder High School Showcase. Students learn what makes Boulder High unique by first attending an informative and entertaining session in the auditorium, and then by taking an insider's tour of the school.
The tours are led by current students who are members of Panther Pride, a club that works to support and enhance the Boulder High community. The tours bring the school to life for prospective students and provide an opportunity for them to ask questions of current students. Eighth graders learn about the enrollment process: the classes offered, including AP courses, AVID and other academic support programs, and our wide array of electives. Panther Pride tour guides also provide information and perspectives on sports and clubs, and the unique traditions at the school. The tour enables 8th graders to experience the atmosphere of the school first-hand through the lens of current BHS students.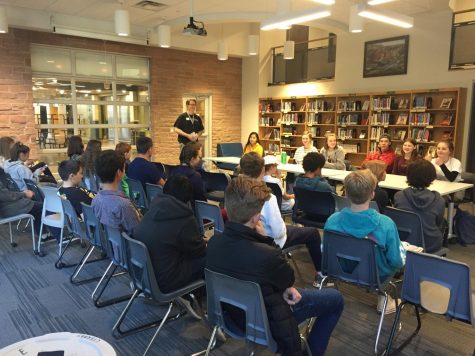 A number of prospective students remarked that they enjoyed the tour, especially the friendliness and humor of the Panther Pride leaders and the BHS teachers.  After the tour, Seb James (Centennial Middle School, Grade 8) shared his observations of Showcase: "I really liked the opportunities we have for classes with CU and being downtown." He is interested in the AP track, as well as other advanced classes at Boulder High. Lexi Sevian, an 8th grader at Casey Middle School, thought the tour showcased "all the best parts of Boulder High." Administrators, teachers, and Panther Pride leaders alike worked to make each 8th grader's experience as positive and compelling as possible. We hope each student left showcase knowing that Boulder High truly is "a place for everyone." While all of the Boulder Valley high schools are impressive, the BHS Showcase provides prospective students with a glimpse of our unrivaled school and community, inspiring many to realize there is a purple and gold panther in their future.