It's That Damn Phone!
The greatest technological innovation of the century may be doing more harm than good.
Do you feel more stressed out than you ever have? It may comfort you to know you're definitely not alone, if mutual suffering is your thing or something. According to The National Library of Medicine, the number of individuals aged 18-25 with anxiety increased from 7.97% in 2008 to 14.66% in 2018. Rates of depression in women have risen from 9.7% in 2015 to 11.8% at the beginning of 2020. Surprising nobody, these upward trends only continued to rise through the pandemic, leaving many young adults as high-functioning neurotics. The Harvard Graduate School of Education claims that "[m]any experts have described a rise in sleeplessness, loneliness, worry, and dependence among teenagers — a rise that coincides with the release of the first iPhone 10 years ago." In addition, teens spend the least amount of face-to-face time together – (excluding lockdown, because, duh) – and feel lonelier than ever. According to The Atlantic, "The number of teens who get together with their friends nearly every day dropped by more than 40 percent from 2000 to 2015."  
I'm as addicted to my phone as anyone else. I sleep with it, I scroll on it while eating meals, I rack up startling screen time stats, and I break into a cold sweat at the thought of being without it in a boring situation. However, even with all this constant entertainment and online connection to my friends, I feel much more lonely than I did in middle school. From sixth to eighth grade, my parents made the immensely abusive decision to give me a flip phone instead of a smartphone. During that period of time, while I certainly had fewer friends than I do now, I felt more connected to more of them than I do today, with so much real social interaction being replaced with communication through social media. I interviewed many of my peers, and a lot of them agreed with me. Seb James '23  expresses a desire to form relationships with would-be college roommates naturally, instead of having who he is as a person summed up by his Instagram account. "I don't want to have to make first impressions through social media." 
While the mental turmoil an entire generation is experiencing as a part of day-to-day life is concerning or whatever, what might actually get older people concerned is what will actually affect them: our future value to society. While we're wasting our "precious years of youth" scrolling through TikTok watching 1/25th of a South Park episode while Subway Surfer gameplay takes up the bottom half of the screen, (just in case you get bored watching the entertainment) we're wasting more than just time with loved ones. Kids today are getting their driver's licenses later, getting their first jobs later, and managing their own money less. We're not only holding less responsibility, but utilizing less of all the free time we have compared to previous generations in our studies.
I spoke to a few Boulder High and Centaurus teachers about how kids' learning has changed throughout the years, and how the pandemic exacerbated existing issues. All four teachers reported not only noticing a change in kids' ability to focus, but also having to simplify their curriculum for students to keep up. The most glaring example of the effect phones have on children's development can be seen in that whole pandemic nonsense a few years back. According to PBS, the test scores of children in all levels of education fell significantly post-pandemic. Unfortunately, statistics show that younger children were affected more by the pandemic than older kids, and are having more trouble 'bouncing back' academically. 
As William Offill, a teacher at Boulder High states, "Even with AP juniors, I spend a lot more time now on skills like how to read a textbook, how to take notes, how to structure the notes to make them useful later, how to write logical sentences that then make up a paragraph… The in-vogue phrase from the pandemic is "gaps in knowledge," but there's a lot of truth to that." Another Boulder High teacher, Miss Gossard noted how much "reading stamina" has declined in the past few years, because the number of students who read in their free time has plummeted. Gen Z is so consumed by their phones that spending time on them has taken priority over doing homework and developing valuable skills, if you don't count having a six-pack on your thumb from excessive scrolling as a skill.
What really concerns me is that my generation is doing fewer drugs, drinking less, and being much safer in general – like absolute losers. (That was a joke.) According to the National Institute on Drug Abuse, 46.5% of 12th grade students reported drinking in 2021, compared to 55.3% in 2020. Only 28.5% of 10th graders reported drinking in 2021 compared to 40.7% in 2020. The reason that kids did get up to more 'risky behavior' in past decades was that they wasted less time on mindless scrolling. The trends show that kids today are more interested in staying home with their phones than going out to partake in quality juvenile delinquency. What's more, the grips of concerned parents grow ever tighter on their kids, robbing them of the independence that's crucial to becoming a functioning adult. Ever since Life360 was created in 2008, it's amassed 47 million monthly active users. In my opinion, that's too many parents knowing exactly what their kids are up to every waking hour of every single day.
It's not just kids that are hooked on their phones; according to Psychology Today, more than half of children report that their parents spend too much time on their phones. Similar to the way teens have become dependent on phones for entertainment, parents have become extremely dependent on phones to keep up with their children. Ms. Gossard noted increased anxiety students displayed upon having their phones taken. She said that one of the main concerns is parents' reaction to not being able to reach the student. This might be an overreaction; it may be too much to ask parents to be good role models for their kids. 
A lot of us really don't realize how much time we spend on our phones. I don't even realize how much I'm ignoring my pesky family who unreasonably demands my full attention when they tell me to put my phone down. Even three hours a day can increase your chances of experiencing suicidal thoughts by 35%. 
While you're reading this, I want you to think about each instance throughout the day when you use your phone. Are there any scenarios where you're missing out on precious moments with friends and family? We think we're more connected than we've ever been but kids reporting rotting in bed for a sizable chunk of their summer vacation says otherwise. Don't get me wrong, the invention of smartphones was one of the greatest innovations of the modern world, and we're so lucky to live in an age where we have a nearly infinite library of information at our fingertips. However, I think that we should be appreciating life for what it is outside of the internet, too. Whether you're with friends or at the dinner table, consider putting your phone away, and see how it affects you. See how it affects your mental health, how much more you can achieve, and how much more of your life you can actually live.
Leave a Comment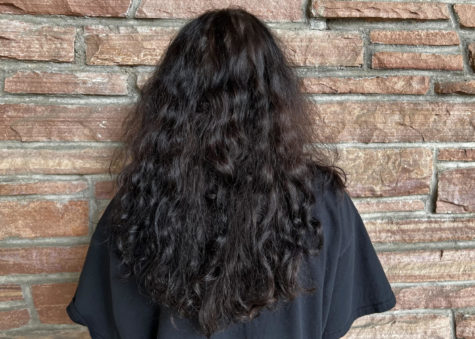 Jane Dunbar, Webmaster
A writer and illustrator for The Owl, Jane has many strong opinions that are most acceptably expressed in cartoon form. A senior at Boulder High School, Jane spends the majority of her time at school reading books that were not assigned and ignoring the ones that are. Her interests pursued in school are art, computer science, and eating lunch. Outside of school, Jane scoops ice cream at Sweet Cow North Boulder, is a single mother of two guinea pigs, a part-time cryptid, and a member of Christian Moms Against Rap Music. Jane absolutely cannot get behind purple grapes due to the fact that her ex-youngest son, Milo (2020-2021) perished to one. She is a green grape lover and as with many other topics,...