Boulder High's Orchestra Concert: Musical Melodies for the Masses
On Nov 16, the Boulder High Orchestra, directed by Ryan Woodworth, presented a marvelous winter program of music comprised of classical and modern favorites. Orchestra 3 opened the recital with an eclectic collection including Longfield's Rondo In Blue whose mysterious tone was reminiscent of a James Bond soundtrack. They followed this piece with Beckham's Elegy; which, like its name, seemed ceremonial and contemplative. The Orchestra did a beautiful job with the legato lines, phrasing, and crescendos. Their performance ended with Goransson's Mandalorian Theme which elicited loud cheers from many Star Wars fans. While it is certainly reminiscent of John William's famed Star Wars soundtrack, it is far grittier, edgier and a little more tech-oriented.
The Violin Choir, which consisted of a small group of Chamber Orchestra violinists, played Tchaikovsky's Love Theme from Romeo and Juliet.  Some may know this as the song track used by Disney when Minnie sees Mickey in the 3 Musketeers movie, but it is truly a masterpiece full of emotion that was beautifully executed by these fine musicians. Senior violinist Zhi Cohen especially enjoys the "opportunities the violin choir offers for musicians to collaborate independent of the conductor."
Orchestra 1 then took the stage and played three pieces, the first being Haydn's melodic Trio, arranged by Woolstenhulme. This piece was followed by Meyer's Mantras, which provided a wonderfully contrasting sound filled with fortissimo and staccato stanzas.  The theme starts in the basses and then is gradually amplified by the whole orchestra, creating a completely serene and magical atmosphere. The slow middle part creates some tension that disappears when the initial theme comes back. The final piece played by Orchestra 1 was Purcell's Air in D Minor which was a very measured piece, highlighting the skill of each of the string sections.
Midnight Messenger by Woolstenhulme was the piece that opened Orchestra 2's performance. This piece was vivid and well-balanced. Their second piece was Hofeldt's Lullaby, with captivating violin parts that were brilliantly performed. True to its name, it was extremely soothing. Orchestra 2 completed their performance with Libertango by Astor Piazzola. This song revolutionized traditional tango music by incorporating elements of jazz and baroque.  The cellos and violas set a very steady beat while the violins swelled with the passion of the tango. It was clear that the musicians really enjoy playing this piece, and the audience responded with loud applause.
The cello choir was 9-students strong. This ensemble did a masterful job with Susan Day's Journey, a beautiful adagio piece and expressive performance, showing outstanding technique and virtuosity. Senior Lucy Williams shares that "the opportunity to play with [her] friends and learn from them in the process was an exciting and compelling way to learn and share the joy of music." She also highlighted that "watching a student-led piece come together demonstrated how much they have grown as musicians during their high school careers."
The Chamber Orchestra then took the stage to play two pieces, one of which was Bach's Little Fugue in G Minor. The orchestra voiced each sound and made it individually beautiful and melodious, but these melodies also worked together to create complex harmonies of unparalleled depth and subtlety. The second piece was Meyer's Of Glorious Plumage which features lyrical themes in the string parts, unpredictably shifting in various keys and meters. It is very melodic and grand, with complex orchestration, featuring a lot of challenging sections.
The grand finale, Tchaikovsky's 1812 Overture, was a superb closing number performed by Orchestra 3 and the Chamber Orchestra.  It was the perfect culmination, complete with cannons, fireworks and a bell tower. While it was originally written to commemorate a new cathedral, today it serves as a musical symbol of America's independence. It was full of passion and color, admirably conducted by Mr. Woodworth. If you didn't go to the Nov 16 performance, I strongly recommend you go to a future concert. Bravo!
Leave a Comment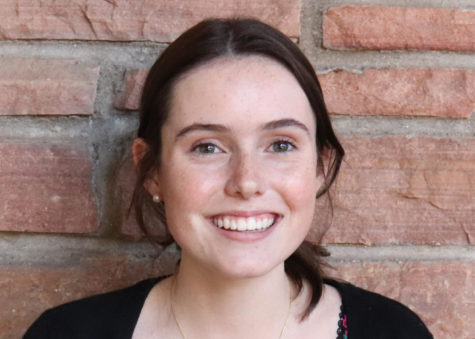 Kate Schwab, Staff writer
Kate is an avid learner who has always loved articulating her opinions. She is excited to learn and write in a community with all of the talented and amazing writers of the owl. Her interests include writing about business, economics and finance. Kate enjoys making connections between subjects in school, and The Owl affords her the freedom to make these connections and write about them. Outside of school, she loves to practice and teach yoga, spend time with friends and family, read, and hang out with her dog, Snickers. Fun Fact: Kate has been a die-hard fan of Barack Obama since age four, and has a shrine in her room to commemorate him. Kate is a green grape supremacist and has little to no...