Scary Stories, Movies, And Music To Keep You Up This Halloween
1408, Stephen King
Stephen King is widely credited as the king of horror and for good reason. All of his stories are masterful in their command of fear. But the short story 1408 is, in my opinion, some of his best work. The story follows a schlock horror writer who secretly doesn't believe in ghosts, but hears of a hotel room that many have claimed to be truly haunted. Despite the warnings from the hotel to not enter the room, he becomes curious and stays in the supposedly haunted room for 70 minutes. What happens in those 70 minutes must be experienced, and will leave you shaken for at least a few days. 1408 is one of the greatest horror stories from one of the greatest horror writers, with a brilliant and unique take on the haunted hotel room. 
The Lighthouse (2019)
The Lighthouse is a 2019 horror movie that observes Willem Dafoe and Robert Pattinson as two lighthouse keepers stranded with nothing but each other, some seagulls and a potentially eldritch lighthouse to keep them company. As the weather around the island worsens, and as their chances of leaving the island become more and more slim, the mental state of the two men goes on a downward spiral, and it becomes both disturbing and delightful to watch the lighthouse keepers slip deeper and deeper into pure lunacy, which both actors portray superbly. The Lighthouse features bits of cosmic horror meshed with entirely human insanity wrapped up in a survival setting, and it comes out beautifully. The entire movie is a surreal adrenaline rush running on alcohol and acid, making sure that you never truly know what's real or what's just a hallucination. It's a great movie if you're looking for something more chaotic and avant-garde this Halloween, or if you're just craving a unique blend of thriller, horror and everything else.
There Existed An Addiction To Blood (2019) and Visions Of Bodies Being Burned (2020), clipping.
Hip-hop trio clipping is not afraid to make their music truly terrifying, much like the horror movies that they take influence from, and the 2019 and 2020 albums There Existed An Addiction To Blood and Visions Of Bodies Being Burned showcase their expertise in making rap music absolutely hair-raising. The production on these projects can go from eerie to downright disturbing; in one moment frontman and Hamilton actor Daveed Diggs will be rapping about the listener being murdered in ways straight out of a slasher movie, while in the next the listener is being assaulted by an ear piercing wave of industrial noise made up of a chorus of machines and blood-curdling screams. Diggs delivers his twisted tales of terror and violence on Addiction To Blood and Bodies Being Burned with the gruesome thoroughness and attention to detail that makes horror truly scary, and narrates these frightening albums with a timbre that makes them perfect for a session of dread-inducing midnight listening. 
Are you watching, reading, or listening to anything this Halloween? Regardless of whether you are or not, have a happy Halloween!
Leave a Comment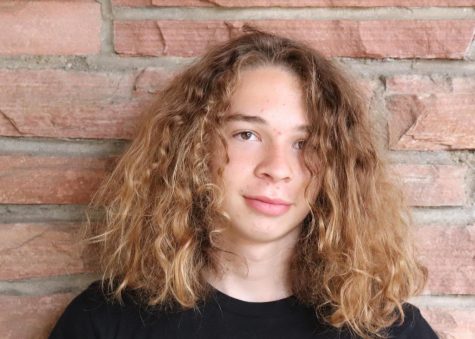 Lucca Swain, Staff writer
Lucca Swain is a writer at The Owl in his junior year and is in his second year of working for The Owl. He joined The Owl with the intention of writing interesting stories that would expose readers to new content and ideas, and he is excited to continue that effort while simultaneously searching for more to write about. He writes about anything that he finds interesting, but his favorite topics are music and film. Lucca believes that there is a magnitude of fantastic and peculiar art that most people haven't been exposed to, and believes that journalism is the perfect platform to expose people to the wonderful and the avant-garde.

In his free time, Lucca enjoys exercising, playing video...