Like Lambs to the Slaughter
Going back to in-person learning feels like we're being thrown to the wolves
In-person learning for high school students has begun. The last time Boulder High resumed in-person learning, we lasted only 6 days before we were forced to shut down due to an excessive amount of COVID-19 cases. In total, Boulder High completed 8 days of in-person learning. Not only was it embarrassing that we were unable to stay open when other schools were, but students were also forced to choose between a normal high school experience or maintaining their health. 
Now being sent back once again, with only a few short emails detailing that schools "remain among the safest places to be" and little else, it seems strange that BVSD is pushing for students to return in-person. One of the most emphasized points by the emails sent out from Dr. Hill to students and their families is that more methods of contact tracing are available. Contact tracing is great, but does that mean that BVSD is more worried about tracing a spread than stopping it before it happens by following COVID-19 guidelines? 
In the United States, COVID-19 has killed over 360,000 people, and that number is steadily increasing. Even in our small, pro-mask and relatively liberal city, COVID-19 is still a huge threat, and not just for the older population. Individuals between the ages of 18 and 24 make up 26.9% of cases in Boulder County, an age group that High School students are a part of and constantly interacting with. 
While most kids our age only suffer mild symptoms or are asymptomatic, the longstanding effects of COVID-19 are still unknown. Over the past few months, it has been discovered that COVID-19 is causing some more serious cognitive, cardiovascular and respiratory issues. In one study from the Mayo Clinic, it was found that even young people can suffer from lung lesions and strokes after being infected by COVID-19.  
In theory, this approach to in-person learning could work if everyone follows CDC guidelines, does their best to avoid contracting COVID-19 outside of school and only interacts with people in their cohorts and classes. But what about the Boulder High community members that are not handling the pandemic safely? While many students are COVID-19 conscious and are taking every precaution they can, through word of mouth, Daily Camera articles, Instagram posts and Snapchat stories, it's obvious that many are not. 
Whether or not students are being safe outside of school, it really depends on how the school handles reintroduction in order to keep students safe and healthy. It seems strange that despite a failed first attempt, we are resuming in-person school seemingly without any major beneficial changes to policy. Boulder High plans to do some things like rearranging seating charts to protect instructors so that only small clusters of students have to be quarantined rather than the whole class and will still be requiring the COVID-19 screener to enter the building. But, some of the policy changes seem to be reducing safety measures – like reducing the required distancing to just three feet, returning to an open campus and having a higher capacity of students in the building each day. 
Even at the elementary level, where students aren't old enough to party, travel by themselves, or easily contract the virus, we are already seeing that a similar pattern to last fall is resuming. A student tests positive or has symptoms, their classmates and instructors are all required to quarantine for two weeks and students are thrust back into online learning. 
With country-wide vaccination just on the horizon, I'm left to wonder why there is such a large push back to go back to school now. Although teachers are a prioritized vaccine group in Colorado, they still must wait until first responders, frontline workers and people over 70 receive their vaccines. For some, that could still be a month or two away. At our last reopening, it was too many teachers being quarantined that shut us down. Hopefully, as vaccines are distributed among teachers and administration, we can remain open as students are diagnosed with COVID-19 and individually quarantine. 
Outside of contracting the virus, going back to school doesn't feel like the best academic solution. Even if the precautions put in place by BVSD are enough to protect students from the virus, a hybrid learning plan in no way meets the needs of the student body or the staff. In hybrid learning, a large portion of the class will still be online and need to get instruction from the teacher through google meets. Simultaneously, teachers will be instructing students in person. 
Last semester the two in-person weeks alone showed us that it's unproductive for students and frustrating for teachers to be thrust into a new program with little time for preparation. Hopefully, as we progress further into this in-person semester, there will be enough time to iron out these issues and create a situation that works for everyone, whether or not they're returning in person.  
I understand the cry for a normal school year, especially from my fellow seniors that are unlikely to have any sense of a normal end to their four-year high school career. And for everyone returning to school, I have every hope that it goes smoothly and I'll be joining you in a few months. With not-so-safe circumstances and very little communication about new policies that are planned to keep us safe, being sent back to school really does feel like we are lambs being led to the slaughterhouse that is COVID-19.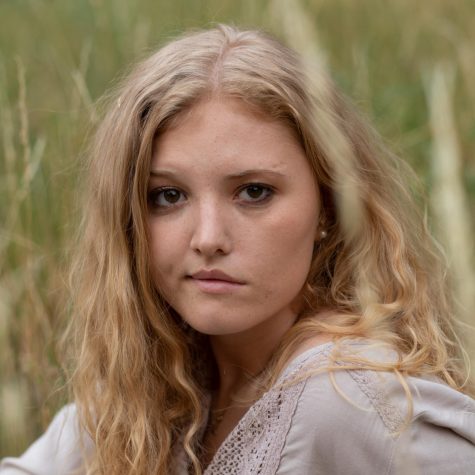 Isabel Oliver, Features Editor
Isabel Oliver is a senior at Boulder High this year. Although new to The Owl, she has always loved writing and literary arts. Isabel grew up with an Editor in Chief for a mother and has always been fascinated by the inner workings of journalism. Isabel joined The Owl to improve her journalistic writing and to report on current events that she's passionate about. Outside of The Owl, you can find Isabel acting with Troupe 60, singing in the choir, reading a good book, watching copious amounts of Netflix, or jamming with her band. After graduating from Boulder, she hopes to go to college and become either a therapist or a social worker - although she's leaning towards liberal arts, so that's...