The Best Netflix Comedy Specials
Nothing is quite the same as watching a hilarious, uninterrupted comedy show from the front row of Radio City. Thankfully, Netflix has brought that opportunity to your couch with their Netflix Original stand-up specials. The first comedy special on Netflix was released in 2012 and since then, the streaming service has accumulated a vast variety of shows by different comedians. Though it might feel overwhelming scrolling through Netflix's seemingly endless list of specials, an hour of standup comedy has never failed to make a day better. So whether you're trying Netflix's stand-up specials for the first time, or you're just looking for something to watch this weekend, let me suggest a few places to start. 
If you don't have Netflix, all of these comedians and their specials are also available on Spotify and most other music streaming services. 
1. John Mulaney
John Mulaney's three Netflix specials, "The Comeback Kid," "Kid Gorgeous" and "New in Town," are easily the best specials on Netflix. Every word that comes out of Mulaney's mouth is completely hysterical. "New in Town" reflects on Mulaney's experiences walking down the streets of New York City. The special is the comedian's first Netflix filmed show and is a great place to start if you're new to Mulaney's stand-up. His second special, "The Comeback Kid," discusses everything from marriage to adulthood's irritating aspects. In "Kid Gorgeous," released in 2018, Mulaney analyzes his childhood and teases politicians without getting too political. In all of his specials, Mulaney masters anecdotal comedy and makes every joke relate to an experience you feel like you've lived. John Mulaney is arguably the funniest man alive. After finishing one of his specials, I assure you, you will walk away with an exhilarated high and a sore gut from the laughter Mulaney's incomparable humor produces. 
2. Aziz Ansari – Buried Alive
"Buried Alive" is another great Netflix special. It takes a few minutes to adjust to Ansari outside his role of Tom Haverford in "Parks and Recreation," but it's soon apparent that Ansari is most comfortable on stage. Though he is a talented writer, Ansari's greatest strength is his voice dynamics on stage. He quickly shifts from a somber, serious tone to ecstatically beatboxing or singing into the microphone more than once in the show, keeping the audience fully engaged the entire time. It's a killer special that will completely change your appreciation for Ansari. 
3. Nate Baragatze – The Tennessee Kid
Though he is one of the less mainstream comedians, Baragatze proves his comedic genius in this hysterical hour-long special. "The Tennessee Kid" is probably the most PG comedy special on Netflix, but Bargatze doesn't let that stop it from being hilarious. While he builds his bits up similarly to most comedians, Bargatz delivers every punchline with a completely deadpan expression, as if he does not mean to be funny at all, adding another level of hilarity to his show. From stories about dead horses to crocodiles, "The Tennessee Kid" is a special you can play over and over again and will have you cracking up in public when you remember one of the jokes a few days later. 
4. Rooney Chieng – Asian Comedian Destroys America
 He may be recognized for his starring role in "Rich Crazy Asians" or his day job as a correspondent on The Daily Show, but Chieng doesn't let us forget comedic talent in this Netflix special. Chieng takes the audience on hilarious rants about American culture, sharing his grievances with everything from napkins to subways. While impressions are his strongest suit, Chieng's storytelling abilities are genius, and the audience is kept engaged throughout the show.
5. Russell Peters – Notorious
There is not a dull moment in the entire hour Russell Peters on stage. The comedian teases just about every stereotype and ethnic group, dancing on the border between rude and comedic, but knows (most of the time) when to pull back. In "Notorious," Peters takes less of a storytelling approach and stays comfortable in his quick punch line jokes. His facial expressions and sound effects are half the comedy. Though, if you aren't much of a fan of insult humor, it may be best to stay clear of this special. 
Whether it's John Mulaney's ludicrous personality, Nate Baragatze's deadpan expressions, or Russell Peters' infectious humor, I promise you will find something to enjoy within Netflix's stand up collection.
View Comments (1)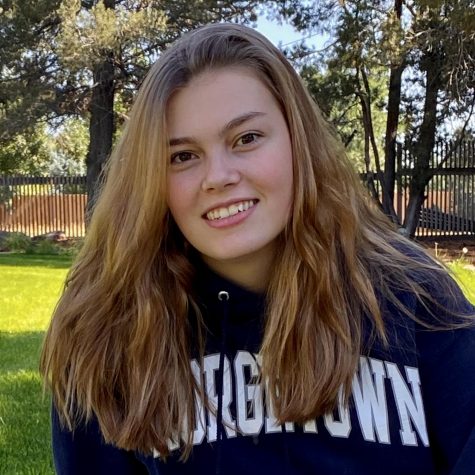 Gracie Lee, Staff writer
Gracie is a junior at Boulder High School. She has always enjoyed writing and is excited to write for The Owl this year. By taking part in Newspaper, Gracie hopes to gain a better understanding of journalism as well as strengthen her writing skills. When she's not at school, Gracie is often rowing, spending time with her dog Lucy, or cooking. She also is part of the swim team and FBLA at Boulder High. She loves reading the news and has a passion for politics, hoping to study political science after high school. While she cares about many things, Gracie is most enthusiastic about her love for green grapes.