Winter Squash Recipes and Reviews
The holiday season and the end of the semester can be very stressful. Especially this year with COVID-19, everyone's feeling a little uneasy. Trying to fight the stress of this season and the sadness that comes with the lack of sunshine during winter can be difficult, so here are my comforting seasonal winter squash recipes to help you get through it. 
The first recipe is stuffed delicata squash. I really enjoyed this recipe; the ones I made lasted several days and were great leftovers. These are delicious, and the recipe is really easy to personalize based on your own preferences. You can add or take away basically any of the ingredients and not disrupt the final product. This recipe can easily be vegan or you can add parmesan cheese and bake for an extra 5 minutes. This recipe is pretty quick, although there's a lot of prep work involved. 
This recipe is scalloped potatoes with butternut squash. An interesting variation of scalloped potatoes, this recipe fantastic; it's equally cheesy and delicious, but with an added element of flavor. The dish takes a lot of preparation as well, but the final product is well worth it. It's is one of my favorite comfort foods, and I love to eat this after a long day at school and highly recommend it.
The last–as well as my personal favorite– recipe is butternut squash macaroni and cheese. This is a fairly simple recipe. For this dish, I prepared my squash the night before so it would take less time. I also made my own breadcrumbs by breaking up a slice of homemade sourdough bread on a cutting board and leaving it out to dry overnight. This is one of my favorite fall items from trader joes, but when they stopped providing them for the winter, I decided to make my own recipe. I used an entire butternut squash, but if you're looking for something a little more cheesy and with less squash, you're welcome to use less. This dish turned out so well; it was a fantastic texture, and I loved the taste of butternut squash. 
Winter squash grows very well in a Colorado climate. Trying to eat sustainably and support local farms is always important, so I suggest trying to get squash locally if possible. My favorite thing about squash is their versatility; you can put them in almost anything; they also make fantastic substitutions. Any of these recipes can be made vegan by simply removing the cheese and using a milk alternative. Though my whole family now eats cheese, my dad used to be vegan, and squash was one of his favorite alternatives. So, if you want a vegan mac-and-cheese or scalloped potatoes, these recipes work very well.
Leave a Comment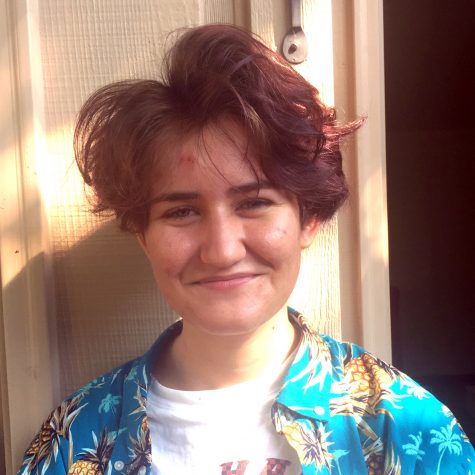 Selah Dow, Staff writer
Selah is a BHS senior who enjoys writing and wants to continue improving her skills by joining the OWL. She hopes to bring to light to important issues in and beyond the Boulder High community and share some of her many opinions. When she's not doing work for her classes, Selah enjoys nature. She grows many plants, including purple grapes in her backyard, which she far prefers to the green ones. She spends a lot of time hiking, camping, and enjoying the Colorado mountains. Selah likes to read. She often reads fiction; however, philosophy and nonfiction are also her favorites. She is also a singer and piano player and has written several songs of her own and many in collaboration with her brother....