The Catchiest Pro-Trump Anthems
Now that the four long years of a Trump presidency are finally almost over, I have a confession to make. I love right-wing Pro-Trump anthems. While I am in no way a Trump supporter, now that President Donald Trump has been voted out of office, I feel confident enough to admit my guilty pleasure and encourage you to check out some of these monumental works of songwriting art. But where to start, you ask? Here are the top three Trump songs ranked. 
#3: The Official Donald Trump Jam (Cowardice Are You Serious?) – USA Freedom Kids
This song, first sung at a 2016 Trump rally by the USA Freedom Kids, has recently regained popularity among teenagers on TikTok. The song is insanely catchy and is accompanied by some very fun dance moves. The best part of all of it is that the Trump campaign didn't pay the group the 25,000 dollars and merch stand they were promised and the group decided to sue. However, they dropped the lawsuit later that year and took a hiatus from performing after the "political toll."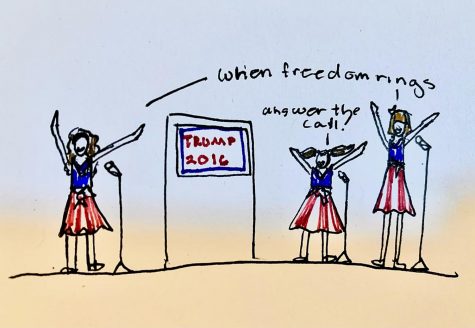 Some of my favorite lyrics include: 
"When freedom rings—
Answer the call!
On your feet!
Stand up tall!
Freedom's on our shoulders.
USA!"
#2: The Trump Song (Oh My God I Will Vote) – Los 3 de la Habana 
This infectious Trump song has both a Spanish and English version. Whether or not you agree with the message, there's no denying that this song makes you want to dance. Los 3 de la Habana, a Cuban band, consists of director Germán Pinelli, Ana Paez and Tirso Luis Paez. The two men sing through the chorus as Ana breaks through to deliver verses with her powerful vocals. While I disagree with the message of this song, artistically, it is incredible and if you listen to the Spanish version, it's an opportunity to practice another language.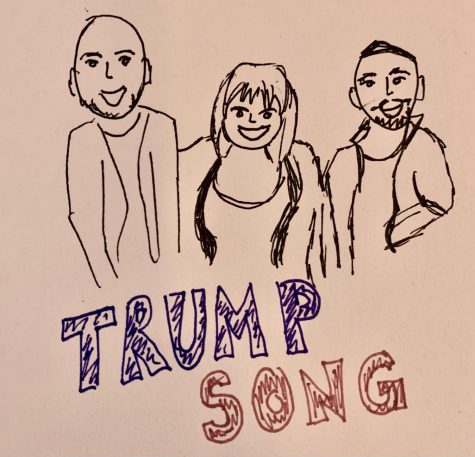 The Most Notable Lyrics: 
"Oh my God I will vote 
I will vote for Donald Trump" 
#1: Real Women Vote Trump – The Deplorable Choir
Any teen on TikTok is sure to recognize this country tune that depicts what "real women" believe. The song boasts of inclusivity and love before quickly shifting into Trump propaganda—an individual that doesn't seem to preach or believe inclusivity or the things they are singing about. While the song has become popular among Trump voters, it's even more popular with left-leaning teens who even make parodies of the song, including fun lines like "Real Women, COOK THEIR HUSBANDS. We don't need no HUSBANDS." Some groups have even made Joe Biden parodies of the song, referring to Trump as a "Cheeto" due to his orange spray tan.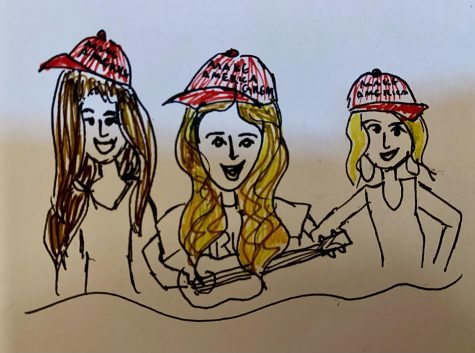 The Best Lyrics include: 
"Don't care if you're White
We don't care if you're Black 
We don't care if you're gay 
We're all under attack. 
We don't care if you're rich
We don't care if you're poor
We all know
What we're fighting for 
Real Women,
VOTE FOR TRUMP!" 
Honorable Mention: I F*****g Hate Donald Trump – Dean Simmons
While this is in no way a Pro-Trump song (it's actually quite the opposite). I figured it was worth mentioning just to add a little spice. Not unlike the last one, this is also a catchy country song; however, unlike "real women," it rejects Trump and his bad morals. This song is perfect for a nice fall day, thanking the American population for voting out Donald Trump.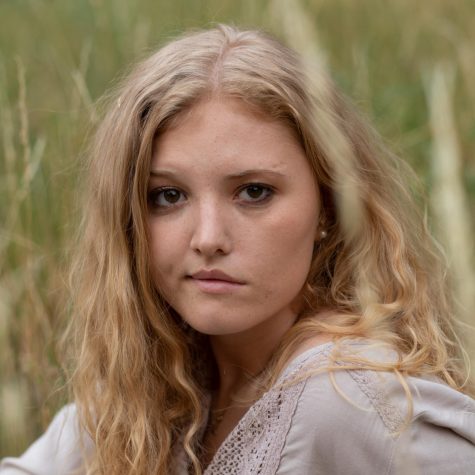 Isabel Oliver, Features Editor
Isabel Oliver is a senior at Boulder High this year. Although new to The Owl, she has always loved writing and literary arts. Isabel grew up with an Editor in Chief for a mother and has always been fascinated by the inner workings of journalism. Isabel joined The Owl to improve her journalistic writing and to report on current events that she's passionate about. Outside of The Owl, you can find Isabel acting with Troupe 60, singing in the choir, reading a good book, watching copious amounts of Netflix, or jamming with her band. After graduating from Boulder, she hopes to go to college and become either a therapist or a social worker - although she's leaning towards liberal arts, so that's...