Best French Toast in Town? So Glad You Asked
Five months into quarantine, I was thoroughly bored with my family's cooking and needed to broaden my food horizons. Before the pandemic, eating out was second nature and grabbing to-go from my favorite spots was hardly newsworthy. Now that leaving my house is an event in and of itself, I decided to re-enter the restaurant scene more judiciously. 
Breakfast is my favorite meal of the day (after the most important one, dessert). French toast is indisputably the queen of breakfast foods, so I made it my mission to find the best French toast Boulder has to offer. I set out on this quest with Ella Johnson ('20), Max Kreidl ('20) and Ella Wiser (who doesn't go to Boulder High but wishes she did). We ordered French toast from six iconic Boulder eateries and rated their appearance and taste on a scale from one to five. We averaged the two scores to find the overall score, which determined the final ranking. It was serious business, but someone has to discover the truth.

The Buff
3.75/5
First, we dove into The Buff's French Toast Sticks, which are fried strips of French toast served with powdered sugar, maple syrup and some sort of vanilla cream. We liked how the frying brought out the toast's cinnamon flavor, but the vanilla cream was deemed superfluous on top of the syrup. We gave this dish an above-average 3.375/5. 
Snooze
4.813/5
Next was Snooze's OMG French Toast, which is as good as the name implies. Words can't do justice to this holy grail of French toast, which consists of brioche stuffed with mascarpone, topped with vanilla crème, caramel, strawberries and toasted coconut. It's my go-to order at Snooze, so I expected it to be a front-runner in this competition and I wasn't disappointed. We gave it 4.813/5, withholding the fraction of a point needed for a perfect score because there is always room for improvement and we were hesitant to award a perfect five so early on in our French toast ranking careers. 
Village Coffee Shop
2.813/5
Snooze is a tough act to follow, but we hoped the student-favorite Village Coffee Shop would be up to the task. Their French toast stays true to the name, avoiding the plethora of toppings and complex flavors attempted by other restaurants. This classic take is often the best, but we found that their French toast tasted like pancakes. Given that pancakes are my second-favorite breakfast food, I found it to be quite good. However, we were looking for French toast and had to dock points because of that. Kreidl didn't see the issue with combining breakfast foods, so he scored The Village higher than the rest of us, bringing their overall to 2.813/5. 
Tangerine
3.438/5
Tangerine's Pear French Toast was the next on our list. We enjoyed the pear sauce and toasted pecans, but they were simply toppings—the toast itself was unremarkable. We gave Tangerine a very respectable 3.438/5.
Le Peep
2.625/5
Le Peep was our fifth French toast of the day with their Stuffed French Toast. We found it to be like eating a sandwich—the slices of bread were far too thick and it wasn't clear that they'd been dipped in the all-important French toast custard. A mammoth amount of mascarpone filling to compensate for the size of this dish could've saved it, but it was scarce. The disappointing ratios of bread to custard to filling forced us to give Le Peep 2.625/5.
Lucile's Creole Cafe
3/5
Finally, we reached our last French toast: the Pain Perdu from Lucile's Creole Cafe. This dish comes with eggs, fruit and sausage as well as French toast, so we felt like we were getting more bang for our buck and appreciated that it was a complete meal. However, the French toast itself was nothing special and the bread—baguette, if we are not mistaken—was too crusty. We scored Lucile's 3/5.

---
We thoroughly enjoyed our taste test and would highly recommend the experience to every food enthusiast out there. While Snooze took the gold medal at the end of the day, we want to commend all the restaurants on their fine variations of a true breakfast classic. Our judging panel is temporarily disbanded with Kreidl and Johnson away at college, but we hope all the restaurants are able to keep cooking so that we can keep eating and ranking when they get back.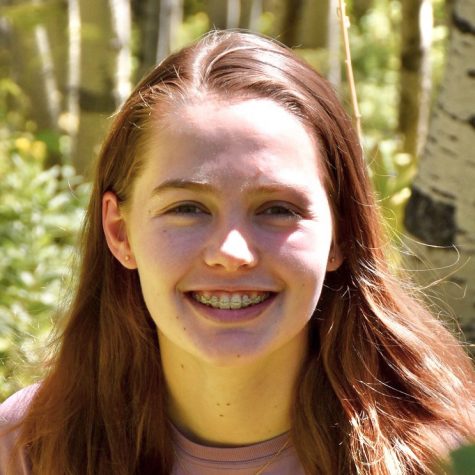 Elliote Muir, Editor-in-Chief
Elliote Muir is a senior and is very excited to join The Owl for her last year at Boulder High. Having loved creative writing since she was little, and as an avid skimmer of The New York Times, Elliote is thrilled to get the chance to learn more about journalism this year! When Elliote isn't in school, you can find her captaining Boulder High's mountain bike team, skiing, waiting for the next season of The Great British Bake Off to premiere, playing with her dog, and adventuring in the wilderness with friends and family. As a self-proclaimed foodie, Elliote loves cooking and baking (but mostly baking) and trying new foods. Her favorite food—okay, her favorite meal—is her dad's homemade...