"Ted Lasso" is a Cure for the 2020 Blues
My brother and I always argue about what to watch. We fight about Netflix versus DisneyPlus, shows versus movies, soccer versus skiing versus cycling. But when it comes to Ted Lasso, the only thing we disagree on is our favorite characters. 
After finding success as a Division II college football coach in Kansas, Ted Lasso (Jason Sudeikis) is offered a job as the manager of English Premier League team AFC Richmond. Ted is the epitome of the American stereotype; he's loud, friendly to a fault, overly optimistic, loves barbeque sauce and bad jokes. He seems like a breath of fresh air for a downtrodden team that's now in the hands of Rebecca, the old owner's ex-wife, as the result of a bitter divorce settlement. The catch is that Ted knows nothing about soccer—he's a football guy who can't get his head around offsides rules and two halves instead of four quarters. Armed with a positive attitude and a copy of Soccer for Dummies, Ted takes on AFC Richmond's soccer future and the many personalities and competing agendas that come with the club. 
The first episode of Ted Lasso probably won't get you hooked. It's overly reliant on stereotypes—Ted the American; Rebecca the vengeful ex-wife; Jamie the soccer star who lacks substance; his girlfriend Keeley, who has the whole team a little in love with her; Coach Beard, the Watson to Ted's Sherlock; Roy the captain, whose best days are behind him. The humor is as undeveloped as the characters, which seem one-dimensional. You have to persevere.
By mid-season, you will be Ted-obsessed. The primary characters are given room to grow, secondary characters evolve to give the story true depth, storylines develop, jokes become funnier and you're finally able to understand most of what is said in mumbling British accents. Best of all, Ted transcends his stereotype; he becomes human. He struggles, fails and succeeds, mostly with good humor and always while staying true to himself. His identity throughout the show remains as a foreigner, The American. And it's been a long time since an American was portrayed so well. 
Ted Lasso shows us our potential, our best selves. Americans have been facing an identity crisis for the last few years—divided at home and ridiculed abroad—but Ted shows us that our stereotypes don't have to be negative and our nationality doesn't have to carry a stigma. He is not a perfect American, but he is a good American. He is a good person. Ted is genuine when others are cagey, friendly when they are reserved. He goes out of his way to befriend those who have been cast aside and is invested in his relationships. He is goofy and dedicated to his job. He brings out the best in people and, in turn, is the best possible ambassador of our society.
While Ted Lasso centers around a men's soccer team, the show actively includes the (admittedly few) women who make the club what it is. Rebecca begins as a posh stiff-upper-lip type whose desire to punish her ex-husband for the humiliation he caused her during the divorce knows no bounds. She's icy, distant from the team, alone in her office where she schemes and is rude to her assistant, Higgins. Over the course of the season, Rebecca comes out of her shell and shines. The growth she makes as a character is impressive but not unprecedented. She is hard to like at first but easy to root for in the end. Her budding friendship with Keeley takes center stage on multiple occasions, giving both women a taste of the camaraderie that the team finds on the field. 
In the first episode, Keeley is seen just as the attractive girlfriend of the star player, but she soon outgrows the classic "girlfriend" role to inhabit a space in the club that no one else could manage. She has street smarts and charisma, business savvy and keen emotional intelligence. She keeps one foot in the locker room and the other in the offices of management—and does it well. Ted Lasso's reign at AFC Richmond, you quickly realize, would be incomplete without the simultaneous rise of Keeley Jones.
In the world of Ted Lasso, good triumphs over evil. Every time. Comedies often overuse Murphy's Law as a way to generate jokes, but it becomes discouraging when a character can't seem to catch a break. Sometimes Ted loses and sometimes he draws, but he often wins. In a world where much seems to be out of our control and devoid of sensible justice, it's refreshing to see characters get what they deserve, for events to follow a normal course of action. Ted Lasso isn't a perfect world—it's just the world on a really good day. And we all need one of those. 
So when the pandemic blues hit you hard, turn on AppleTV and check out Ted Lasso. All 10 episodes of season one are out and two more seasons have been confirmed, though they have yet to start production. The dialogue is snappy, the characters are endearing and the language is self-described as "fruity." This show offers five hours of joyful escapism and laughs in the midst of our monotonous pandemic reality. You'll be glad you gave it a chance.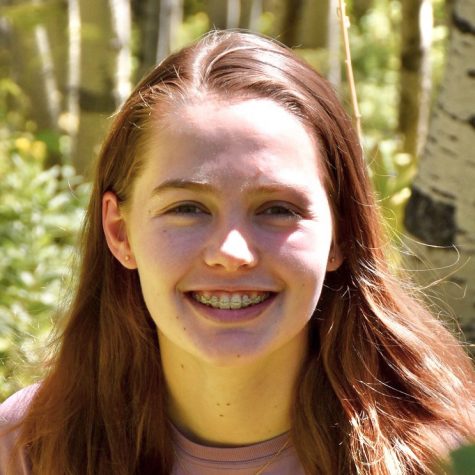 Elliote Muir, Editor-in-Chief
Elliote Muir is a senior and is very excited to join The Owl for her last year at Boulder High. Having loved creative writing since she was little, and as an avid skimmer of The New York Times, Elliote is thrilled to get the chance to learn more about journalism this year! When Elliote isn't in school, you can find her captaining Boulder High's mountain bike team, skiing, waiting for the next season of The Great British Bake Off to premiere, playing with her dog, and adventuring in the wilderness with friends and family. As a self-proclaimed foodie, Elliote loves cooking and baking (but mostly baking) and trying new foods. Her favorite food—okay, her favorite meal—is her dad's homemade...