Recipes to Try Besides Pumpkin Pie
If you're anything like me, your favorite part of the fall season is the food. Whether it be because of family traditions or just a love for sweets, pumpkin pie is one of the key ingredients to a successful fall. However, pie isn't the only pumpkin-themed delicacy that one can make. But what else is there? Where should you start to look for a new fall tradition? As an avid pumpkin lover, I figured I'd do the research so you didn't have to. Here are some top-rated recipes and reviews written by anonymous bakers to check out if you're wanting to try a new pumpkin sweet treat. 
This recipe on the food network has a rating of 4.5 stars and unlike many other online recipes, it gets straight to the point rather than telling us a lengthy story. The reviews share the ease and deliciousness of their results, even suggesting substitutions for allergies. 
"I do not bake very often so I followed the recipe with no substitutions. It's perfect, it's moist, not too sweet and the flavor is so good. It is going fast in my house. This is a great recipe; it's clear and easy to follow." 
This soup recipe from The Salty Marshmallow uses store-bought pumpkin purée rather than homemade purée, unlike many other soup recipes. The author suggests serving the soup with a buttery baguette for dipping and regularly responds to reviews that are asking for a little more information! 
"Delicious! This is by far the easiest and the best pumpkin soup I have ever made." 
While pancakes are one of the more common baking suggestions on this list, they are a good use of leftover pumpkin pie filling. The recipe is simple and promising, with many images of successful bakes. If you chose to make these, note that the reviews suggest adding extra milk as the batter is a bit thick. 
"What a perfect way to use up the leftover pumpkin from the partial can we used to make our Thanksgiving pumpkin pie!"
This pumpkin bar recipe is short and concise. The cream cheese frosting is a tangy and sweet addition to this otherwise pumpkin-filled list.
"This recipe is fantastic!! The cake part was very moist and thick. The frosting was delicious and not too sweet!" 
Lastly, this pumpkin cheesecake–while being a little bit more difficult to make–promises a tasty alternative to a traditional pie. This recipe has a video as well as tips to make a seamless cheesecake.  
"
My family absolutely loved it! The recipe was easy for me to follow and it turned out great. It might be a permanent part of our Thanksgiving dinners from now on." 
While all of these recipes are fun and new, there's no denying pumpkin pie is the OG. For whatever recipe you decide to try this fall, the best way to enjoy them is with family. If you try any of these recipes, comment below and tell me your thoughts!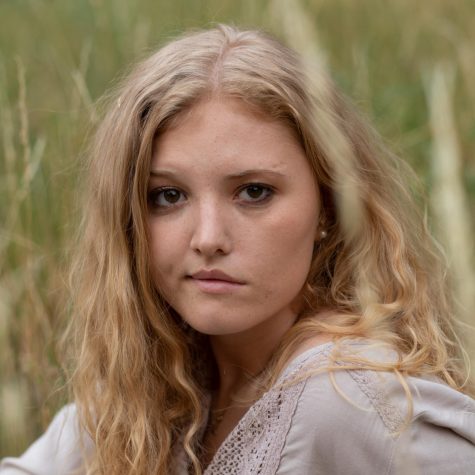 Isabel Oliver, Features Editor
Isabel Oliver is a senior at Boulder High this year. Although new to The Owl, she has always loved writing and literary arts. Isabel grew up with an Editor in Chief for a mother and has always been fascinated by the inner workings of journalism. Isabel joined The Owl to improve her journalistic writing and to report on current events that she's passionate about. Outside of The Owl, you can find Isabel acting with Troupe 60, singing in the choir, reading a good book, watching copious amounts of Netflix, or jamming with her band. After graduating from Boulder, she hopes to go to college and become either a therapist or a social worker - although she's leaning towards liberal arts, so that's...