"Schitt's Creek" Review
Pop Network's popular series, Schitt's Creek, tells the story of Johnny and Moira Rose, played ingeniously by Eugene Levy and Catherine O'Hara and their efforts to reclaim their wealth losing everything. The Rose family, who had made millions off a video store empire, suddenly found themselves broke and their only surviving asset: Schitt's Creek, a town Johnny had bought as a joke for his son. Having nowhere left to turn, the Roses are forced to move into a run-down motel in the center of Schitt's Creek, sharing two rooms with their two adult children Alexis and David. The town becomes their only refuge as both their financial and social status crumble apart. Though the Rose family is originally disgusted with Schitt's Creek– a rural town with nothing more than a small cafe and motel– they slowly began to discover riches in the friendships, careers and family they had lived without for so long.
The show is Daniel Levy's masterpiece, who, by taking on the roles of director, writer, producer, while starring as David, may be single-handedly responsible for the show's success. At the 2020 Emmy Awards Show, Schitt's Creek took home an impressive nine Emmys, breaking a record for the most awards received in a single night. Originally produced to be aired on an unknown channel with a low budget, the show was not destined for international fame. However, after being picked up by Netflix in 2017, Schitt's Creek began to see a roaring increase in popularity. With good old fashioned word of mouth, Schitt's Creek has been shared and spread across the world, becoming one of the most popular sitcoms today.
I'll be honest; it took me more than three months to make it through the first three episodes of Schitt's Creek. Upon first starting the show, I found the characters nauseating, the plotline generic and the comedic attempts weak. But with pressure from friends who consider themselves die-hard fans and a general sense of curiosity, I slowly managed to make my way through the first season of the sitcom. I had little to no expectations for Schitt's Creek when I pressed play on the first episode, but as I continued to watch, the plotline and characters began to grow on me. The most brilliant aspect of Schitt's Creek was the writer's ability to add texture and complexity to the characters subtly. Early in the series, the Roses appear to be nothing more than a narcissistic and disgustingly spoiled family; however, they are steadily developed into caring and lovable characters. Alexis, who had spent much of her life chasing adventure, finds herself facing her insecurities, going back to school to earn her high school diploma, and maturing into committed relationships. David begins to learn the value of working hard after working a full-time job and eventually building his own business. Johnny and Moira, who had always been disconnected from their family, grew closer to their kids and found genuine affection for each other. With their strengthening characters, we began to see the Rose family's lives improve. The family finds themselves grounded in strong relationships, hard work and the many concealed riches found in the small town. 
Through its humble beginning and it's raging moment of fame, Schitt's Creek never lost hold of its direction. Unlike many of the high budget Netflix fads that have the sole purpose of making a couple of billion dollars, leaving the audience with nothing more than wasted time and a hazy memory of what the show could have been about, Schitt's Creek attempts to amplify settle values of acceptance, family and perseverance throughout the series. Though it is not the most sophisticated television show, Schitt's Creek is an absurd, satirical show with enticing characters, light humor and a good heart.
Leave a Comment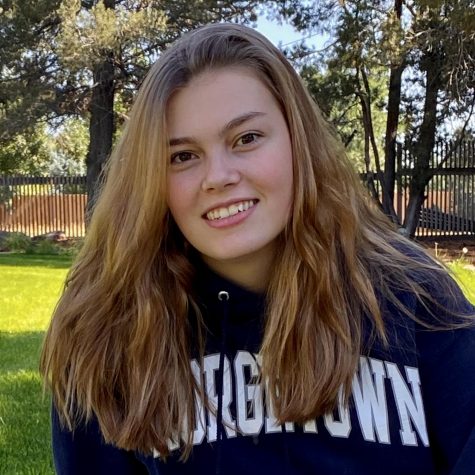 Gracie Lee, Staff writer
Gracie is a junior at Boulder High School. She has always enjoyed writing and is excited to write for The Owl this year. By taking part in Newspaper, Gracie hopes to gain a better understanding of journalism as well as strengthen her writing skills. When she's not at school, Gracie is often rowing, spending time with her dog Lucy, or cooking. She also is part of the swim team and FBLA at Boulder High. She loves reading the news and has a passion for politics, hoping to study political science after high school. While she cares about many things, Gracie is most enthusiastic about her love for green grapes.