Cal-Wood and Lefthand Canyon Fires Break Out in Boulder County
On Saturday, Oct. 17 a wildfire broke out in northwest Boulder County. The Cal-Wood Fire, named for its proximity to the Cal-Wood Education Center, has grown to nearly 9,000 acres and is 15 percent contained as of Monday morning. Despite being near the blaze, Cal-Wood Education Center's buildings remain intact and are currently housing firefighters. 
The cause of the fire, which has eclipsed the 2010 Fourmile Fire to become the largest in Boulder County history, is unknown. The Boulder County Sheriff's office is investigating in cooperation with the National Forest Service. The cause is not believed to be weather-related.
The Cal-Wood fire has prompted evacuations across the county, which spread northwest from US-36 and Neva Road. Jamestown and Lyons remain under evacuation warnings. According to Boulder County officials, 2,984 people are under mandatory evacuation orders. Road closures are in place along US-36, Lee Hill, Olde Stage, Lefthand Canyon, James Canyon and South St. Vrain. Heil Valley Ranch and Hall Ranch, both popular recreation areas, are closed along with other preserves and trails across Boulder County open space. 
20 homes have been lost so far, according to Boulder County Sheriff's Division Chief Mike Wagner, while a further 7 structures have been damaged or destroyed. 250 firefighters are on-scene, along with 80 law enforcement officers maintaining closures and 65 people working in Boulder's emergency operations center. Aerial crews have also been deployed to assist with fire-fighting efforts but were delayed by poor wind conditions. 
24 hours after the outbreak of the Cal-Wood Fire, a grassfire was reported east of Ward on Sunday, Oct. 18. Originally five acres, the Lefthand Canyon Fire has grown to over 300 acres at four percent containment as of Monday morning. The fire resulted in mandatory evacuations in Ward, Gold Hill and Sunshine Canyon. Nederland is being used as an evacuation point for this fire and road closures have taken effect along Sunshine Canyon, Lefthand Canyon and the Peak to Peak Highway. It is not yet known whether any structures have been damaged. 
"Everyone who lives in the mountains is conscious that fires pop up and move very quickly, so we're always on the lookout," said Dina Elder, who lives west of Gold Hill. She and her husband were evacuated yesterday due to the Lefthand Canyon Fire and are staying in Boulder. "I feel very lucky to have the firefighters we have, as well as the [emergency operations center] from Boulder County and the sheriff," she added. "[The sheriff] went to every household during evacuation to make sure everyone got out, so it feels like everyone was doing the right things." 
Elder was also evacuated during the 2010 Fourmile Fire and found similarities between the two events. "Both fires seemed to spread very quickly," she noted. "The wind was suddenly very gusty and all of a sudden the sky was full of smoke." Mountain residents who expect evacuations are often prepared to leave their homes quickly with the belongings that mean the most to them. Elder made evacuation packing lists for each section of her home after the Fourmile Fire, but when packing this time she found that the belongings most important to her 10 years ago no longer held the same value. She plans on revisiting her packing lists when allowed to return home. 
Due to Monday's weather conditions and the fire's trajectory, Rocky Mountain Team Black spokesman Brant Porter says the blaze could move east towards US-36 but is not expected to impact the more densely populated areas in that direction, given that land near US-36 is more grass and less timber, making the fire easier to fight, as well as the increased availability of firefighting resources near major roadways. 
While the two fires are relatively close geographically, different weather conditions at each location have forced responders to adopt different methods of fire containment and suppression. While smaller, the Lefthand Canyon Fire has received more attention from slurry bombers as the wind conditions there were more favorable for aerial crews. 
Boulder Reservoir was closed on Sunday evening so that it could be used as an operations and lodging center for crews fighting both fires. At this time, a firefighter with a minor ankle injury is the only known fire-related injury. Boulder Valley School District (BVSD) closed its Gold Hill and Jamestown elementary schools on Monday in a statement regarding the fires. The schools were already scheduled to be doing asynchronous learning on Monday. 
While the public is curious about the fires and eager to offer assistance, it is imperative that they respect closures and evacuation areas so that the fires can be mitigated as efficiently and safely as possible. For more information about evacuation areas, structure damage and resources for people impacted by the fires can be found at boulderoem.com.
Leave a Comment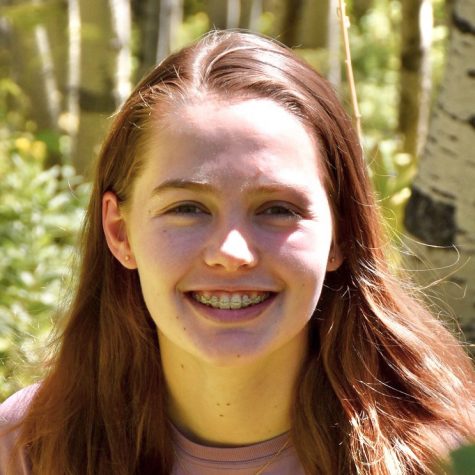 Elliote Muir, Editor-in-Chief
Elliote Muir is a senior and is very excited to join The Owl for her last year at Boulder High. Having loved creative writing since she was little, and as an avid skimmer of The New York Times, Elliote is thrilled to get the chance to learn more about journalism this year! When Elliote isn't in school, you can find her captaining Boulder High's mountain bike team, skiing, waiting for the next season of The Great British Bake Off to premiere, playing with her dog, and adventuring in the wilderness with friends and family. As a self-proclaimed foodie, Elliote loves cooking and baking (but mostly baking) and trying new foods. Her favorite food—okay, her favorite meal—is her dad's homemade...