Boys Golf Season Comes to a Close
After a shortened season, the appointment of a new head coach and a dramatic ending to their final tournament, the Boulder High boys golf season has come to a close. The team competed in their last tournament of the season, the Regional Tournament, on Monday, Sept. 21 at Racoon Creek Golf Course in Littleton. The top 22 players would advance to the State Tournament; the cut-score to make it as one of those players was an 80. Senior Jack Dooley and sophomore Luke Blankinship both shot an 80 and found themselves in a five-way tie for the last spot. As it began to get dark, the five of them had to tee-off in a sudden-death hole for the final spot in the State Tournament. Despite a strong effort by Dooley and Blankinship, Fairview junior Trey Harman sunk a long birdie putt to secure the final spot. Dooley detailed the moment, saying, "I'm happy for him, he's my friend so I can't be that upset, he had a great putt." Both Dooley and Blankinship finished in the top 96 players in the state and earned spots as alternates for the State Tournament. On Thursday, Oct. 1, a player scheduled to participate in the State Tournament dropped out, and Blankinship was brought up to take his spot at State next Monday, Oct. 5.  
Overall, Boulder High boys golf competed in nine tournaments over the course of the season, finishing tenth in the Front Range League. After losing their top four golfers from last year's team, they had to find a way to fill those crucial spots. The five varsity golfers, Jack Dooley (12), Jaden Park (12), Sam Zis (12), Luke Blankenship (10) and Doug Holleman (9), had their best collective performance on their home turf, Flatirons Golf Course, on Aug. 26 where they finished fourth overall. At that same tournament, Blankenship notched the best individual score of the year for the Panthers, shooting just two over par with a score of 74. 
While social distancing and mask-wearing were, for the most part, easy to implement into the golf practices and competitions, COVID-19 guidelines did not come without challenges. In order to limit contact, there were foam cylinders put in the bottom of the holes, and the players were not allowed to pull the flag, both of which presented difficulties for players while putting. Dooley recalls the ambiguity of these new rules saying, "sometimes the ball doesn't go all the way in and comes back out but you can't tell, so I think that was probably the hardest part about [the new regulations.]"
Head coach Russel Selnau detailed how finding courses that would allow tournaments was another obstacle. "There were some golf courses that just didn't want to host tournaments this year so it was difficult finding places to play," he said. He did note, however, that two local courses, Flatirons and Haystack, were especially helpful in providing venues for the Panthers golf team. "They really went above and beyond to help us out so we're very grateful that they were so accommodating."
Despite the difficulties due to COVID-19 this golf season, Coach Selnau was proud of his players' response to the unprecedented circumstances. "We just went with the flow really well this year," he said. "To adjust to the challenges of not only a new set of coaches this year but then working with COVID and all the health restrictions…they did a great job of sticking to the guidelines so that our sport could go on this season." Additionally, with a freshman and a sophomore on varsity this season, Coach Selnau is optimistic about the future of the golf program saying that, "the foundation is very well set going forward." 
The boy's golf team faced many challenges this year—losing four varsity players from the previous year, adding a new set of coaches and the difficulties of playing during a pandemic—yet your Panthers displayed a strong collective effort and made the most of their season, and with two underclassmen returning as varsity players next season, the future of the program is bright.
Leave a Comment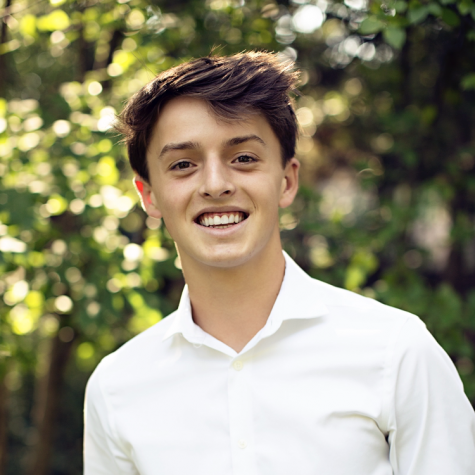 Conner Reagan, Sports Editor
Conner Reagan is a senior at Boulder High School and a new staff member of The Owl. He is interested in a number of journalistic topics ranging from local and national sports to contemporary social and political issues. This year, Conner is eager to learn more about his peers and the Boulder High community while also working to improve his writing. Outside of school, Conner is a member of the Boulder High basketball team and one of four returning varsity players. When he is not on the court, you can find him hitting the slopes on a powder day or enjoying quality time with his friends. Conner has a golden retriever named Nala and is the youngest of four kids, all of whom attended Boulder High...