Phở Phight: Black Pepper Phở vs. Boulder Phở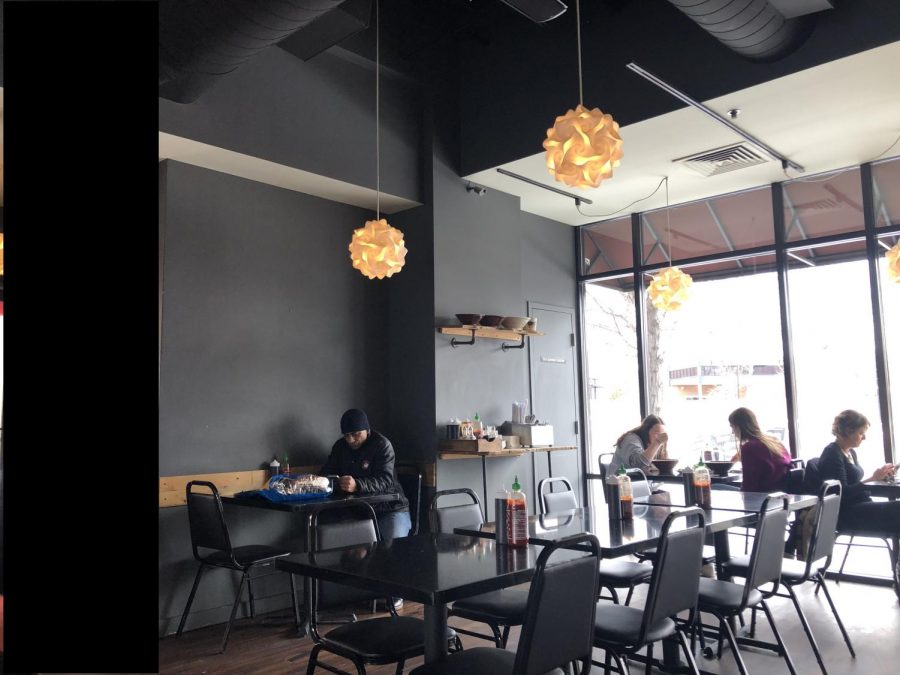 For me, Vietnamese phở is the ultimate comfort food. Pronounced "fuh," this soup usually consists of bone-beef broth, rice noodles and thinly sliced beef with bean sprouts and other fresh herbs on the side. Especially during the winter season, a steamy bowl of phở warms the soul like nothing else.
A crucial disclaimer before continuing: I don't eat Vietnamese with fish sauce. Thus, there are two Vietnamese phở restaurants in Boulder eligible to receive my unqualified professional evaluation: Black Pepper Phở and Boulder Phở.
First, Black Pepper Phở. From the moment you step into the restaurant, Black Pepper Phở's cozy, mellow atmosphere is clear. Golden lanterns hang from the ceiling, bathing the room in a warm glow; the smaller, more intimate dining setting fosters easy conversation. The restaurant is kept at a chilly temperature — perfect for a steaming bowl of soup, maybe with a cup of tea. Remember to wear enough layers because you would hate to be shivering in your seat before your phở arrives. While you sit and wait, I'd recommend trying out the various drink options, spanning from hot jasmine tea to smoothies and boba drinks. The smoothies with the addition of boba will not disappoint. In terms of the quality of their phở, both the meat and vegetarian phởs offered at Black Pepper Phở are delicious. The broth is rich, the vegetables are always fresh, the meat is lean and the noodles are smooth and thin so that they don't clump into unappetizing balls. Regarding other entrees, the tofu spring rolls at Black Pepper Phở have a fresh taste. Their sauce is tasty because the peanuts are ground to create a smoother, less viscous texture for the sauce. Finally, Black Pepper Phở's mango sticky rice is unrivaled by any dessert offered at Boulder Phở. 
Now, Boulder Phở. When entering the restaurant, the eye is immediately drawn to the numerous large TVs hanging from the walls, broadcasting cartoons, sports, and the news at all times. Whenever I go to Boulder Phở with my family, the television distracts everyone into a trance and conversation is lackluster. If you enjoy entertainment while eating, Boulder Phở will sate your appetite for both Vietnamese food and television. The interior is large and almost never too crowded, so you're almost guaranteed a table immediately. In terms of the food, the phở at Boulder Phở is just as flavorful as at Black Pepper Phở. An advantage of Boulder Phở is that they provide smaller portions that cater to children and light eaters. It's also slightly less expensive. The tofu spring rolls at Boulder Phở are fresh and tasty, but they have an earthy, fishy aftertaste that isn't very pleasant. Although there are a lot of authentic drinks offered at Boulder Phở (Vietnamese black coffee, Thai tea, and fresh coconut juice, to name a few,) Boulder Phở's smoothie drinks are overly sweet and gross, far inferior to those at Black Pepper Phở. 
While both restaurants are tasty, if you're looking for the best Vietnamese Phở in Boulder, Black Pepper Phở is the one to try. While I would recommend both restaurants if you're in the mood for a hot bowl of Vietnamese soup, Black Pepper Phở provides a superior experience with its cozy ambiance, rich and flavorful phở, fresh spring rolls, hot or cold drink options and creamy dessert to top off the meal. 
Final review: Black Pepper Phở: 4.8 stars; Boulder Phở: 3.5 stars