National Signing Day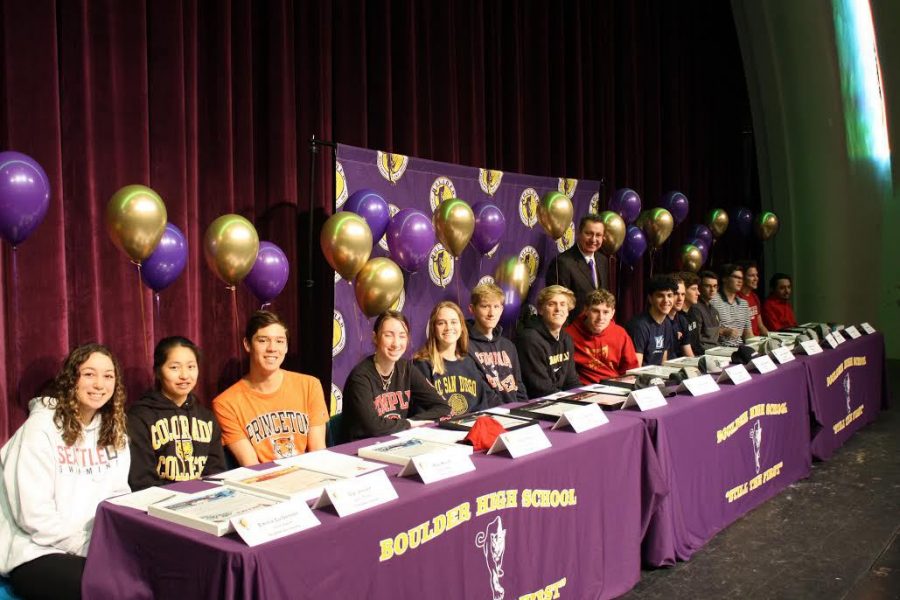 Playing varsity sports in college is an honor and a responsibility. Only a select few student-athletes have the skill7 and work ethic needed to play at this elite level. For this reason, it is especially exciting that on Feb. 5, 2020, fifteen Boulder High students committed to collegiate athletics during the National Signing Day ceremony. According to Jenni Berstein, Boulder High Athletics Assistant, "only about 1% of students get scholarships to go to D1 through D3 college." When she started working at Boulder High, "there were maybe five kids signing; this year we have fifteen kids. It's getting bigger and bigger every year, which is exciting."
Please join The OWL in congratulating Nate Bach (Baseball at Cisco College), Pete Boyle (Basketball D3 at Pomona College), Tean Brooks (Girls Fencing D1 at University of California San Diego), Toby Camarillo (Golf at Baylor Community College), Hale Chargois (Football at Hastings College), Dorsey Chatham (Baseball D1 at Xavier University), Emilia Culberson (Girls Swim D1 at Seattle University), Stefan Feiler (Boys Lacrosse D3 at Colorado College), Noah Ghiselli (Baseball D3 at Willamette University), Gigi Jensen (Girls Tennis D3 at Colorado College), Max Kreidl (Boys Swim D1 at Princeton University), Luke Pemberton (Baseball D1 at Pepperdine University), Sara Proctor (Girls Fencing D1 at Temple University), Vincent Sauza (Baseball D2 at Augustana University), and Julian Zamora (Baseball D2 at Washburn University). 
It was interesting to hear about these students' athletic journeys and their unique motivations for signing. 
When asked about his experience with the recruitment process, Max Kreidl — who took first place in 100m fly at the Colorado State Championship last year — shared, "Princeton seemed like it would be a long-shot for me, but I always thought about it because both my parents went there. Swimming opened the door for me to be able to visit and then eventually be able to commit to swimming for them. I'm excited to already have a group of friends when I get there on day one, and to be part of a team that has such storied success throughout the years." 
Gigi Jensen explained that she decided to commit to Colorado College because of its location. "I like the lifestyle here in Colorado, and I wanted to stay close because of the mountains. I really value mountain biking and skiing, which are how I cross train for tennis." Jensen enjoys tennis because it's a mental game. She is most proud of her composure on the court. "To play tennis is to be respectful to your opponent, it's not just about winning. It's about showing that you care about the game and them, too, while hopefully performing how you want." 
Pete Boyle has always known he wanted to play basketball in college. "My dad is a college basketball coach, and my brother plays at the D3 level. I love basketball so much that I'm not ready to quit." A number of D3 schools recruited Boyle, but he was drawn to Pomona. "I really liked the coach, and the California weather is great. Being able to play for a good D3 basketball team and at the same time get a really, really good education is exciting." Boyle offered advice to students with ambitions of getting recruited for sports: "do a lot of camps and play over the summer [at colleges of interest] to get exposure. That really helped with the process."
Stefan Fieler has always known he's wanted to play lacrosse collegiately. "Ever since I started playing lacrosse in 5th grade my dream has been to play in college. Lacrosse is the fastest game on two feet. I love the pace, physicality and quick thinking necessary. When people watch it for the first time they can see there's nothing else like it! It's a great spectator sport, everyone should come watch some of our home games this spring!"
Luke Pemberton, who was a key player when BHS beat Fairview twice last baseball season, believes that being an athlete has helped him balance the demands of school and his social life. "I've had to stay focused in the classroom because if my grades slip I lose a lot of opportunities with colleges. I've also met a ton of my friends through sports."
Pemberton wishes to thank those that have helped him get to this point. He is especially grateful to his family.  "They have been supportive the whole time and provided me with opportunities." He is also grateful to his coaches because they have given him the stepping stones to become the player and person he is today.
Being a member of a college sports team will make an indelible mark on each of these athletes. We wish them all the best as they balance practices, conditioning, travel, games and meets with their courses of study. We look forward to hearing about their many successes at the collegiate level.