Basketball's Achilles Heel
On Tuesday, Dec. 12, the boys basketball team headed down to Aurora to take on Regis High School. The Panthers pulled off a 54-46 win against the Raiders, which was largely due to the contributions of 16 points from senior Caleb Wehmuller and 14 points from senior Giles Schmid. Despite the positive result, the boys left the gym with dampened spirits, as star junior Alex Rucker went down during the game with a mysterious injury.
Said Rucker, "I caught the ball, took a step back, and I felt the whole back of my leg pop. After that I just kind of went into shock. I didn't really know what was happening. I thought I got hit in the back of the foot, that someone had hit me in the back of the foot with a ball, so I looked back. I was like 'oh my god' I'm holding the ball. That's when I knew it was bad."
After visiting the ER that night, Rucker learned that he had torn his Achilles tendon and would not be able to play basketball, or even walk, for a very long time. Rucker was also told that he would be able to return to action in about six to nine months. Until he heals, Rucker is scootering around the school with a walking boot or using crutches to get around the gym.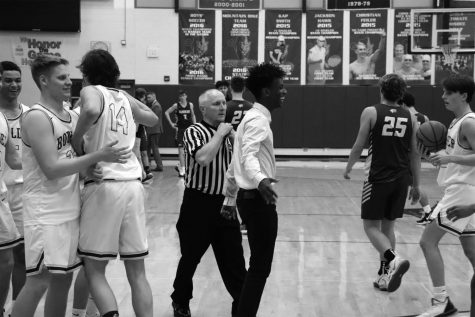 Senior and assistant coach Metkel Tewelde has felt Rucker's absence but remains optimistic towards the team's abilities moving forward. When asked about Rucker's injury, Tewlede stated, "I think [the team has] been motivated by it; losing Alex put something on us that kept on pushing us to do better, especially the game that he got injured. Everybody was playing for him." Tewelde added, "Having [Alex] makes us comfortable, but when we lost him we definitely got better, we definitely were motivated by it." Alex's injury has evidently made an impact on the rest of the team, as each player seems to play as if it's their last ever game. Alex certainly didn't know his season would end so abruptly, and all of Alex's teammates are ensuring they work as hard as they can at every opportunity in the event that their season ends early too. "We've been playing great, we've been playing amazing," mentions Tewelde, "I have high hopes for us. We're only going to get better."
For the rest of the season, you can catch Rucker manning the scorer's table or cheering his team on from the bench. Rucker mentions, "Being a team player doesn't always mean you have to play. I'm definitely still connected to the team, but not as much as I would've wanted."
Rucker is disheartened by his injury and will be sorely missed the rest of this season as the Panthers look to take the Front Range League title and make a deep run in the playoffs. However, Rucker has stayed positive, noting, "I'm definitely gonna be back for next season, and that's all that really matters."