SOS Australia: Deadly Wildfires Claim 500 Million Animal Lives
Currently trending on Instagram is #australiafires, with over 48.4 thousand posts. Australians are sharing harrowing stories, posting pictures ranging from injured koalas and kangaroos to raging fires of destruction. While some fires were caused by human carelessness, these fires are primarily fueled by Australia's ongoing drought, and in conjunction with climate change, Australia has been left in a state of despair.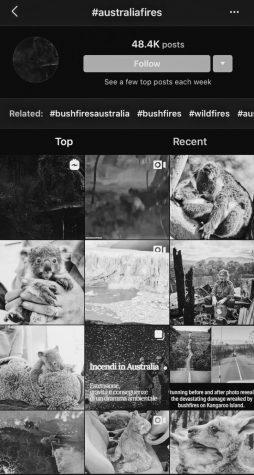 According to CNN's article "Australia's deadly wildfires are showing no signs of stopping. Here's what you need to know," over 32 people have died from burns and smoke inhalation. New South Wales has been hit the hardest with the fire destroying over 2,000 homes, with thick plumes of smoke settling over many of Australia's larger cities, such as Melbourne and Sydney. Earlier this December, the smoke was so bad that in Sydney the "air quality measured 11 times [over] the 'hazardous' level."
ABC's article "Using US map to examine scale of massive Australia wildfires," claims that the fires have burnt over 12.35 million acres and continue to claim over 480 million animal lives. Right now, experts estimate that thirty percent of koalas will succumb to the New South Wales fires.
One of the ways to help those displaced is by donating to the Australian Red Cross. According to the Red Cross, "We listened when survivors of the bushfires told us that in addition to the long-term support we'll provide for their recovery, they also need immediate help to cover everyday expenses. Our newly available Emergency Grants will meet this need, allowing people whose homes have been lost to the fires to assess and purchase what they need most. In turn, local business will start to recover." No donation is too small. Materials can also be sent to the Red Cross which will be distributed to those affected by the fires.  
To help preserve many of Australia's iconic animals, donations can also be made to the World Wide Fund for Nature (WWF): Bushfire Emergency. You can choose your own amount to donate, or select a recommended amount WWF provides. The WWF tells you exactly what your money will go towards, and how important these donations are. The goal of WWF with these donations is to restore the ninety-five percent of the koala population that has been disappearing for the past twenty years and their habitats.